Need a way to scale your LinkedIn lead generation efforts without spending hours on there every day?
This guide is for you.
I'm going to show you the best LinkedIn automation tools that you can use to automate parts of your workflow, engage with prospects at scale, and personalize your outreach.
You'll be able to generate high-quality leads on autopilot.
I'll also offer some practical advice on how you can use LinkedIn automation to deliver effective, personalized lead generation campaigns.
Why Use a LinkedIn Automation Tool?
Marketers often overlook LinkedIn as a way to generate business leads.
But out of all the social media platforms, it's by far the most straightforward one to generate leads from. It's responsible for more than 80% of B2B leads via social media.
If you put in the effort, you can get results.
Generate Leads at Scale
Doing everything manually is going to leave you with no time for anything else.
The tools in this guide will help you target people matching your ICP and personalize your outreach at scale.
Automate Repetitive Tasks
Running searches, adding prospects to your CRM, writing personalized outreach messages… They take time.
These tools help you eliminate tasks you usually need to do manually without having to compromise on personalization.
You'll be able to run your LinkedIn outreach campaigns and focus your energy on replying to people that get back to you, and converting them into customers.
Best LinkedIn Automation Tools to Drive Your Prospecting
Protect your account and get extra prospecting features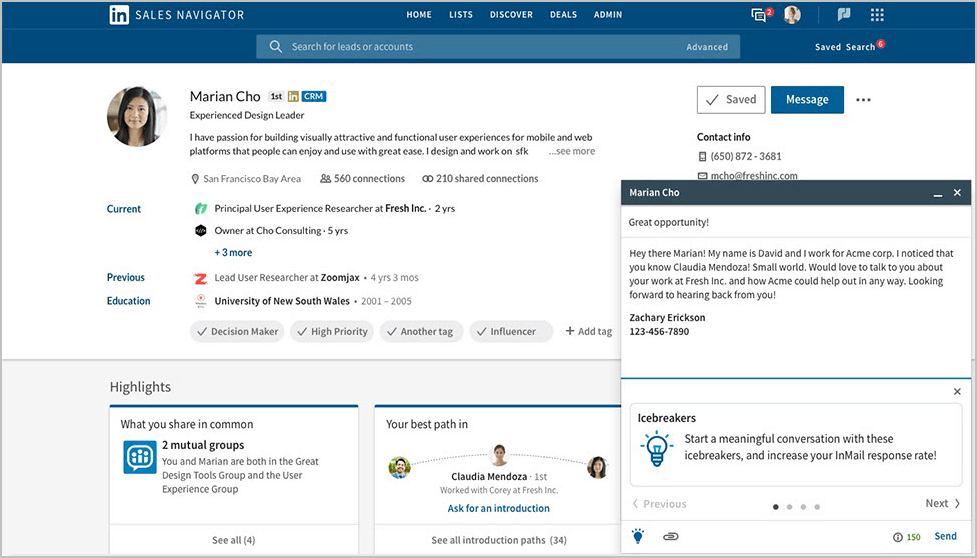 First things first. If you're using any sort of LinkedIn automation tool, you should have a Sales Navigator account.
Sales Navigator will help keep your account from being suspended, and adds useful features such as advanced search, free InMails, and a CRM integration to LinkedIn.
You can set up alerts, add notes to prospect accounts, and get suggestions for targeting based on your existing prospect lists.
You'll also get reports on your usage and activity to help you see how effectively your activity is generating results.
Features:
Advanced searching for new leads

Lead recommendations from LinkedIn

CRM integration available
Scale up your outreach generate conversations at scale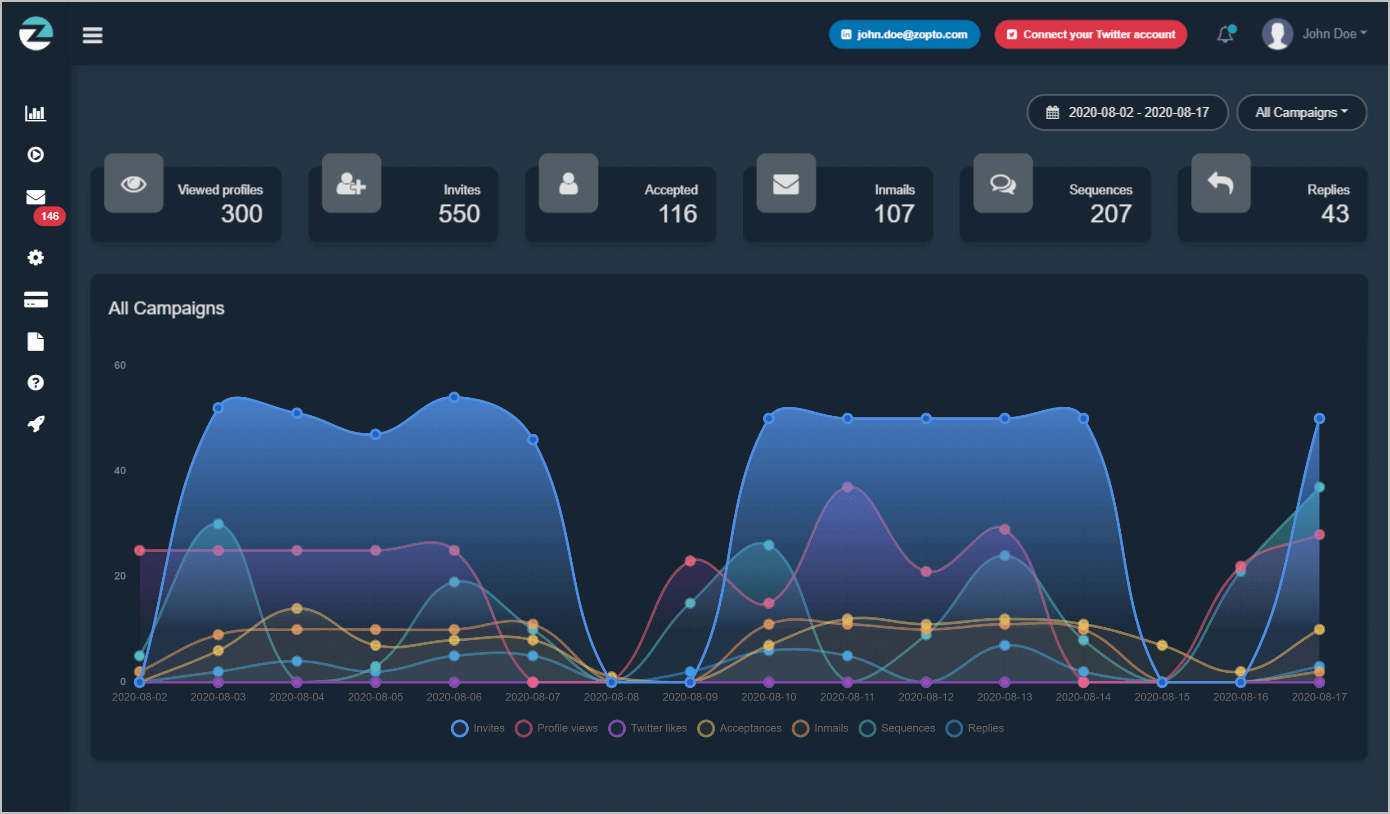 Zopto is an advanced tool that automates lead generation on LinkedIn. It offers a quick and easy way to start automating your outreach.
Zopto takes two minutes to set up. Once you're ready, you can start searching for new customers using LinkedIn Premium or Sales Navigator filters.
Once you've chosen your filters, you can build campaigns that include sending InMails, outreach, sequential messaging, and connection invites at scale.
As well as that, you can A/B test your campaigns, integrate it with your CRM via Zapier, and see advanced reporting on your metrics.
Features:
Automates your lead generation process

Gets you new customers outside of your network or industry

Includes live dashboard with detailed information and stats
Create complex lead-generation workflows, scrape data, and automate tasks.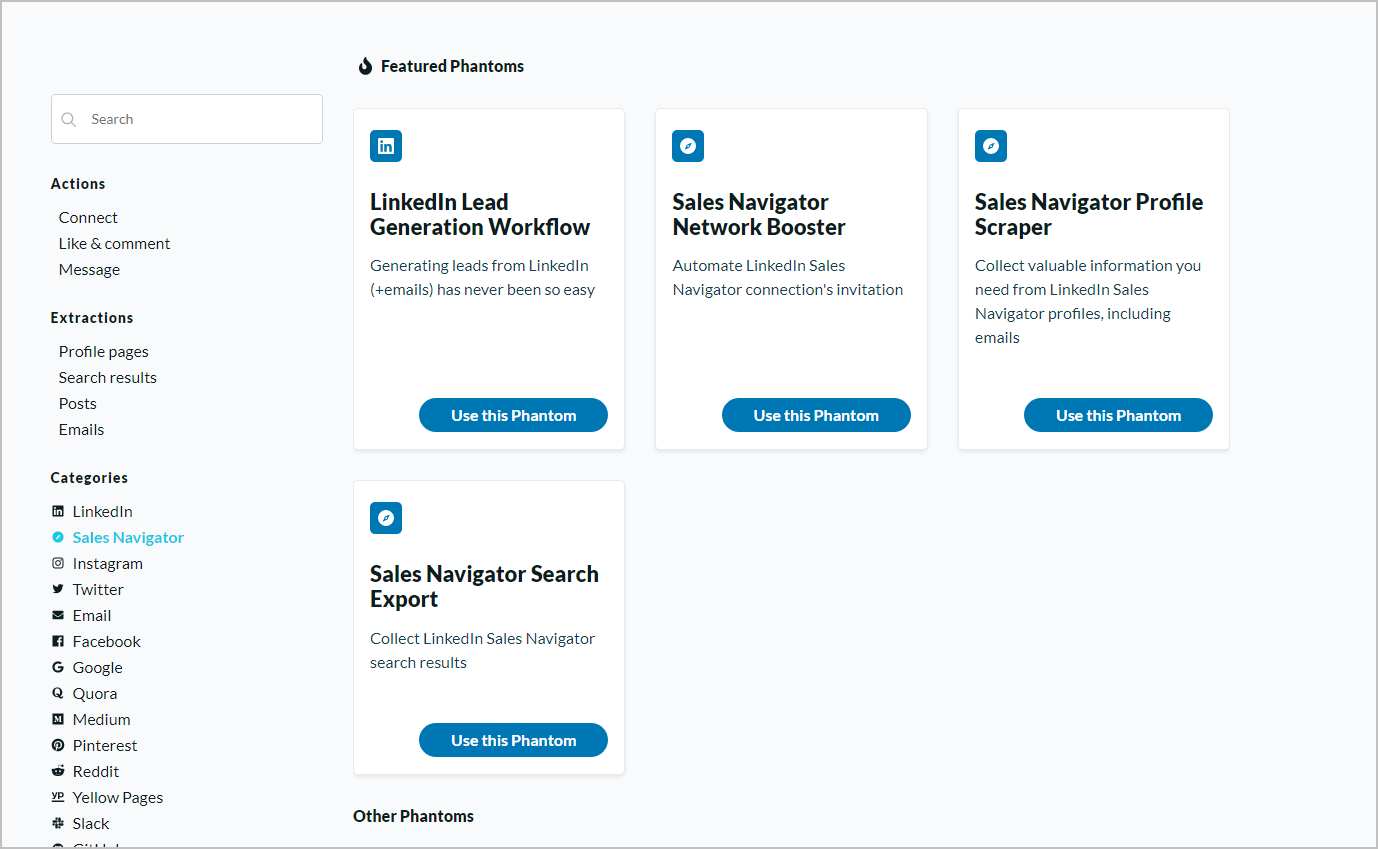 Extracting the data you need to power your lead generation strategies is simple with Phantombuster. It's a no-code LinkedIn automation and data extraction tool, and uses 'phantom' applications to scrape data and automate actions on LinkedIn.
It has a variety of workflows that will help in your lead generation efforts, such as auto-connecting with a list of accounts, auto-follow, auto-sending messages, and automatically liking posts.
Your workflows can be running 24/7, and you can set limits on how many tasks can run at the same time to avoid your profile activity generating suspicion.
Features:
Plenty of automated LinkedIn tools, including profile scraping and automated connections

Code-free automation makes it easy for anyone to set up

Data extraction tools can help you build comprehensive prospecting profiles
Automate a variety of tasks with workflows designed for automated lead generation.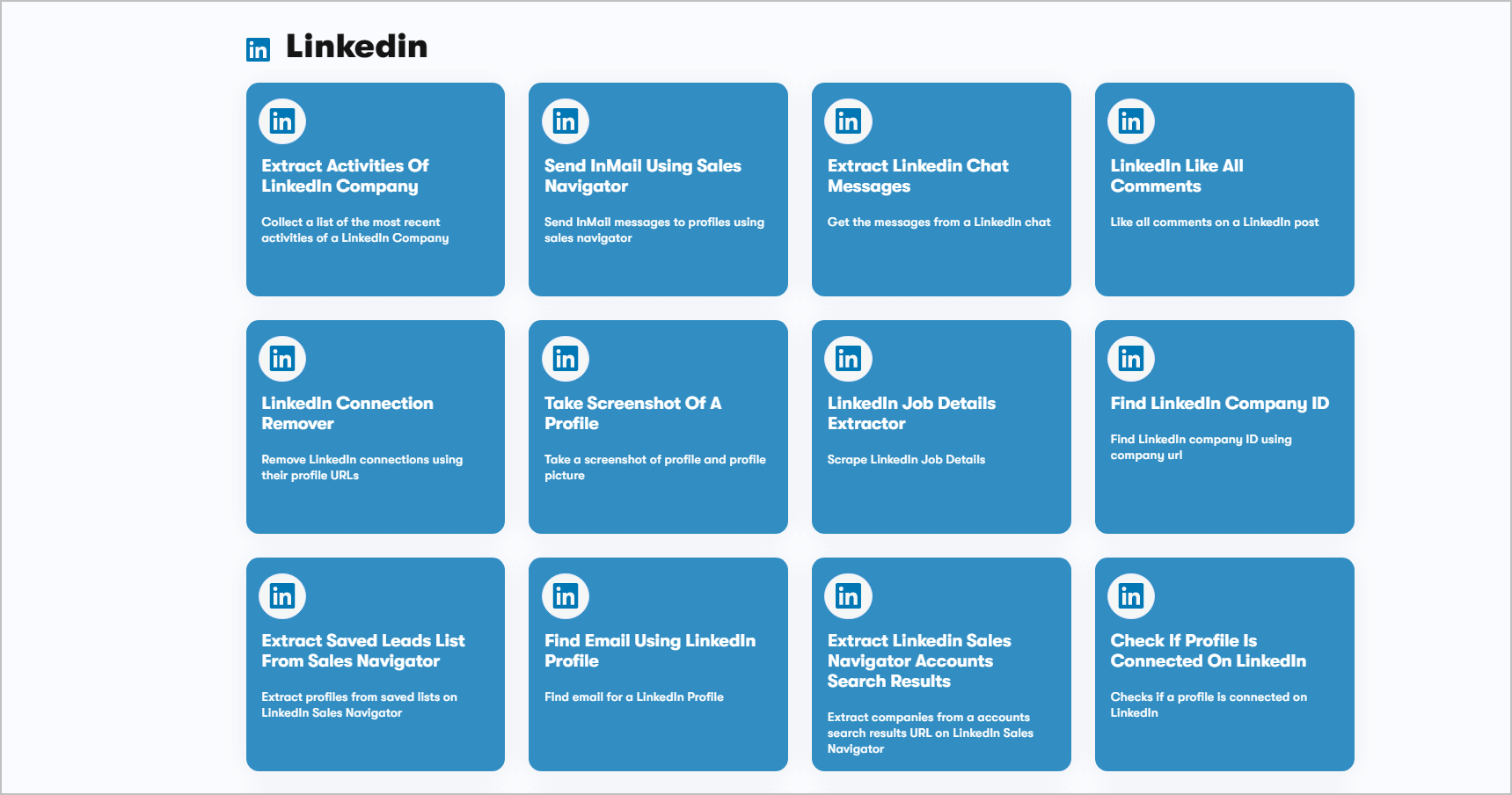 TexAu is a growth automation platform that can help you to scale your LinkedIn outreach and prospecting efforts.
The platform has more than 120 'recipes', which are automation workflows that let you connect multiple tools and apps together. You can stitch workflows together to pretty highly complex but effective systems to engage with prospects and grow your pipeline at scale.
For example, you can scrape members of a LinkedIn group, find their email address, and save those to a Google Sheet. From there, you could build a workflow with Zapier that uploads your prospect list to a cold email tool like QuickMail.
Features:
Plenty of automations for target profiles, including auto-endorse, like, comment, or message

Easy integration with other platforms you may be using to collect customer data

Pre-built workflows that you can get quickly put to work
Easy LinkedIn lead generation with a Chrome extension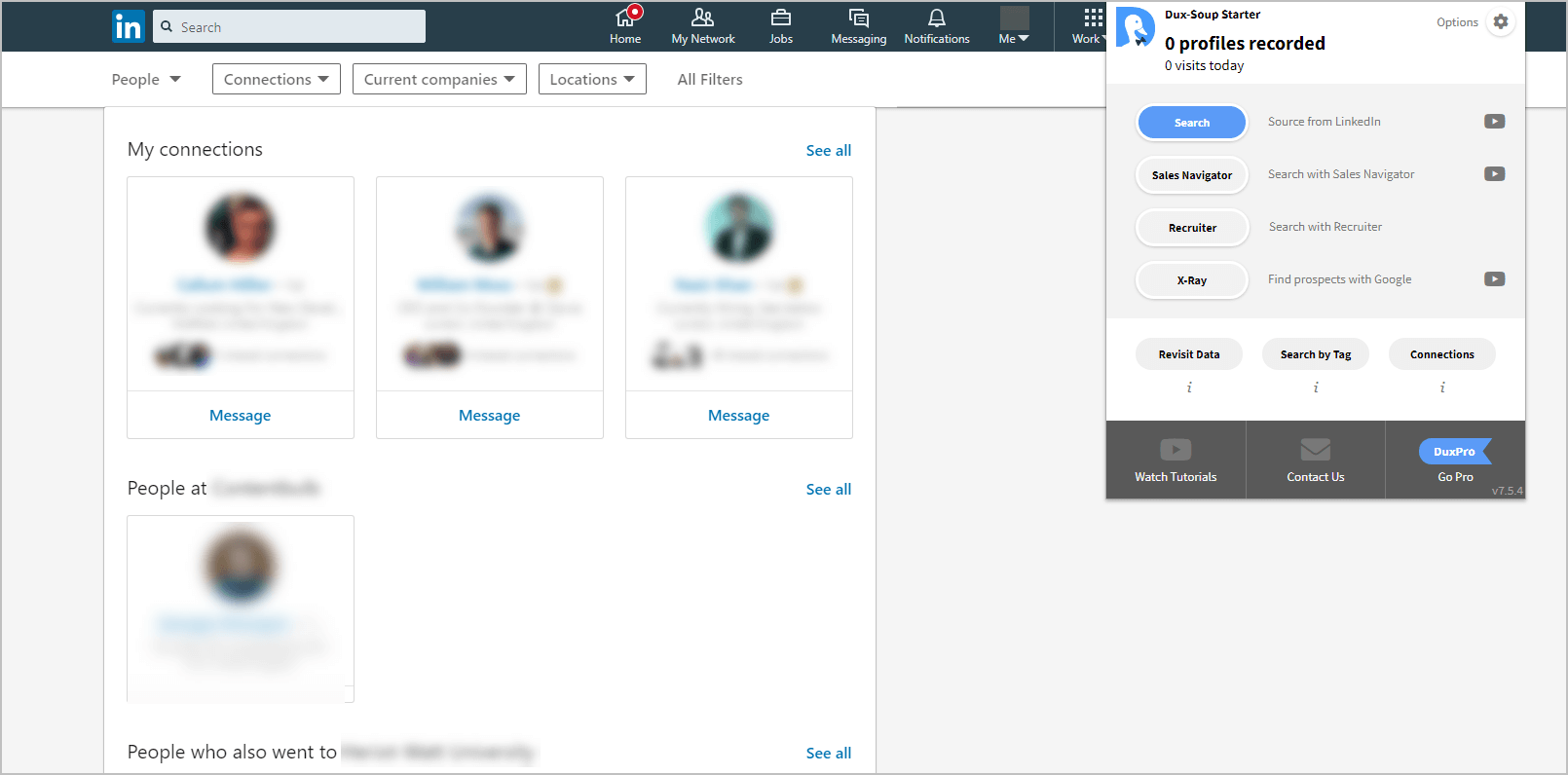 Dux Soup is one of the more popular LinkedIn automation tools for lead generation. Setting up automated drip campaigns is simple, and their live chat customer support is on offer if you need any help.
It's installed as a Google Chrome extension to use while you navigate LinkedIn. You can leave notes and tags on profiles to keep track of prospects that can be exported to your CRM.
Once you've created prospect lists you can use Dux Soup to automatically connect, message, or InMail prospects.
Features:
Enables personalized and customized auto-messaging and auto-skill endorsements

Easy to run automated LinkedIn drip campaigns until your prospect responds

Prospect profiles are easily downloaded and saved on a CSV file to upload to your CRM
Link apps together and save time on boring, repetitive tasks without code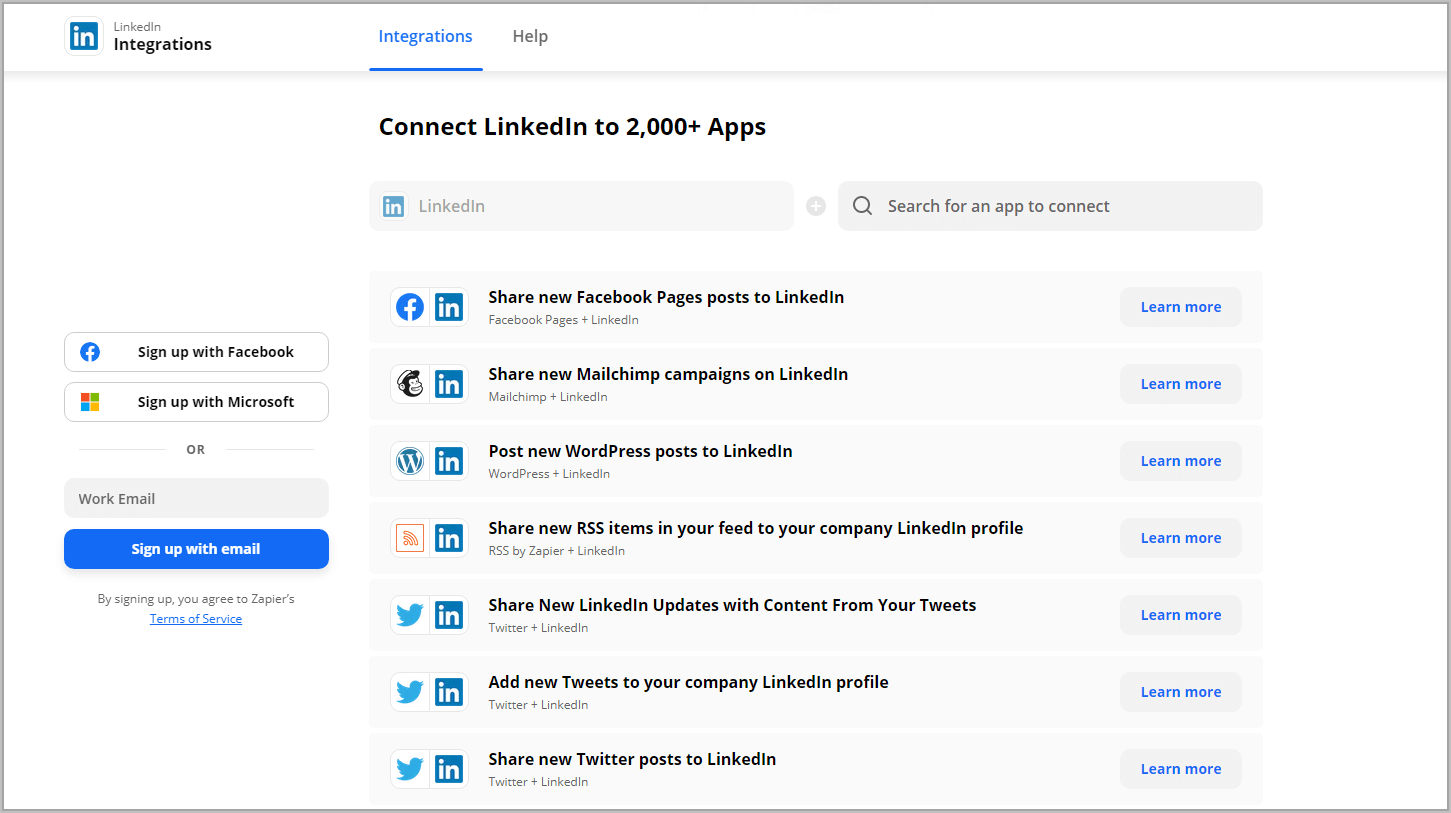 Zapier has a whole variety of use cases, and you're probably already using it.
While the automations for LinkedIn are slightly limited (due to LinkedIn's own restrictions), Zapier shines when you use it with other tools recommended in this article.
For example, you can send data from Dux Soup to Zapier, which can then update your CRM records, or add prospects to a cold email campaign.
You can also use Zapier for social selling activities, and automate posting new posts from Facebook, Twitter, WordPress, or Mailchimp campaigns to your LinkedIn personal or company profile.
Features:
Send data from LinkedIn to your existing apps, from Excel to Salesforce

Add leads to your CRM from other automation tools

Automate your LinkedIn posting
Encourage endorsements from prospects to increase credibility and conversions.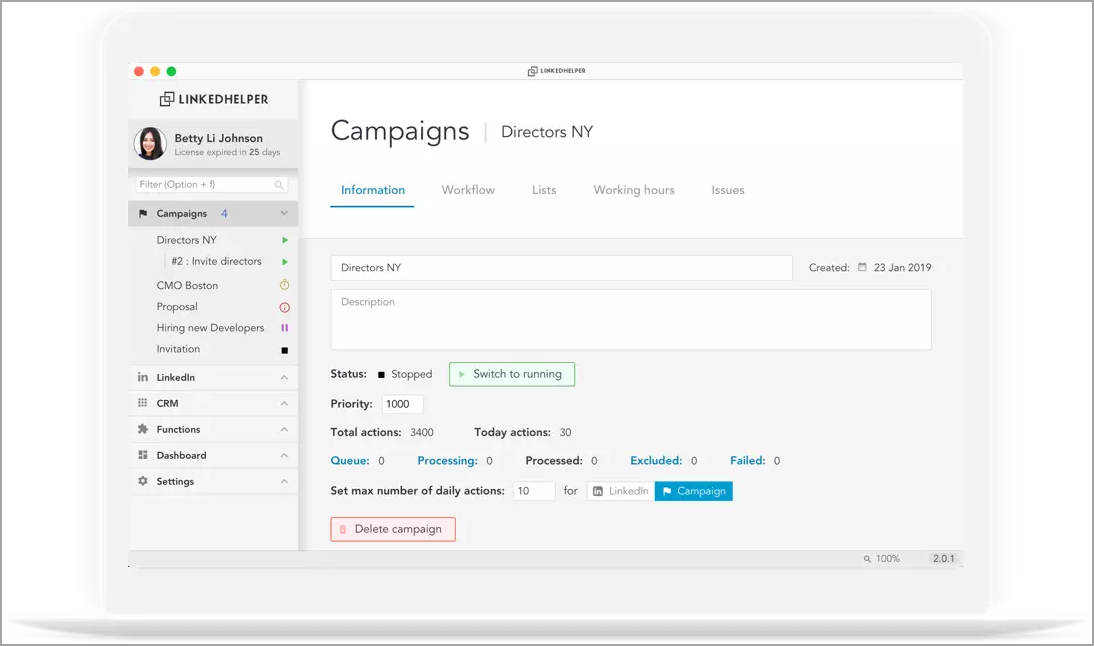 Linked Helper does what it says – helps you out on LinkedIn. It handles a variety of functions, such as automatically connecting with people outside your network, auto-responding to messages, and it helps you manage it all in a built-in CRM.
All data that you collect with LinkedHelper can be exported into a simple CSV file, which can help you build targeted lists of new leads to use in your cold email campaigns.
It's designed specifically for LinkedIn, and it's ideal if you're planning on using it for your lead generation campaigns. You can use it with a free LinkedIn account, but I'd recommend buying a Sales Navigator subscription first.
Features:
Automated endorsements to encourage your contacts to endorse you back

Automated mailing system helps personalize communications

Powerful list manager helps you build lead generation funnels
LinkedIn outreach platform designed to keep your account safe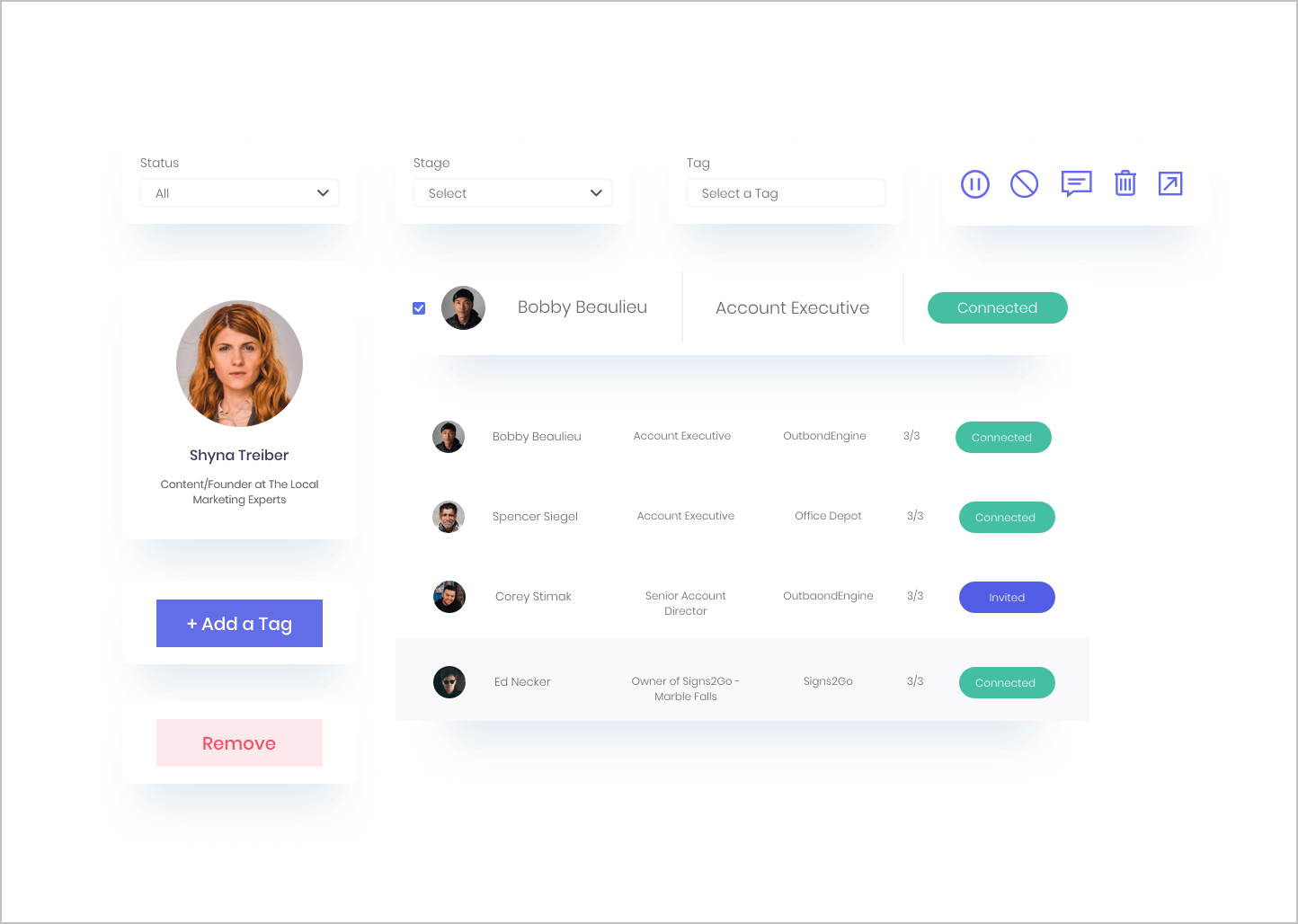 We-Connect offers a safe way to generate leads by providing you with a dedicated IP, inbuilt randomization, and usage limits to prevent your automation looking like bot activity.
It has five types of campaigns you can run. Invite new connections, Message 1st connections, endorse contacts, auto follow, and automate profile visiting.
Single and multi-step campaigns are easy to set up and run, and with the Smart Reply feature, responses can be seen and handled in one place.
We-Connect has an API and Zapier integration, so you can connect it with your CRM so your LinkedIn activity can be used hand-in-hand with your other sales data.
Features:
Safe and secure, cloud-based tool

Great user experience, with a powerful dashboard for multiple campaigns

Easy to analyze data and handle activity in one place
Find prospect contact details at scale using a Chrome extension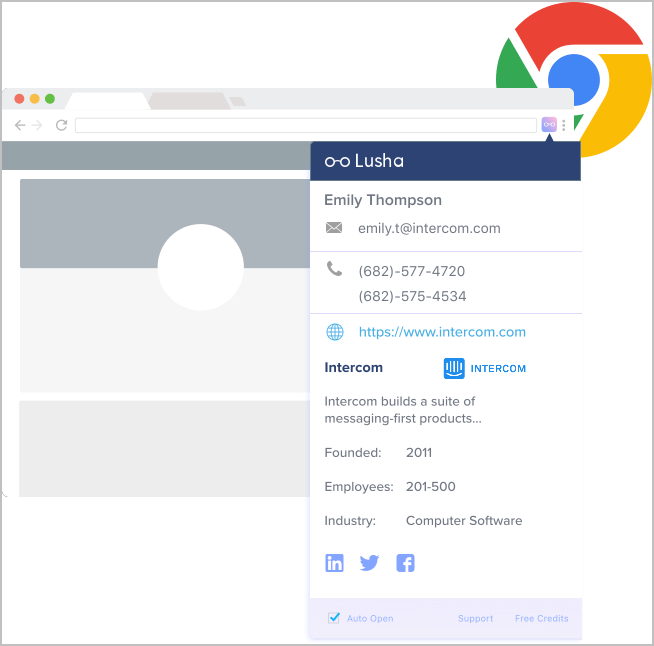 Lusha offers an easy to use platform for fast LinkedIn lead generation. Once you've added the Chrome extension, you can see prospect contact data anywhere online, including on someone's LinkedIn profile.
Once you find a prospect on LinkedIn, you can use Lusha to automatically save that lead to your CRM and see details about their company, role, and contact information.
Features:
Fast prospecting and easy-to-use

Secures data on harder-to-reach prospects

Easy to integrate with LinkedIn and your CRM as a Chrome extension
Quickly identify and send outreach campaigns to prospects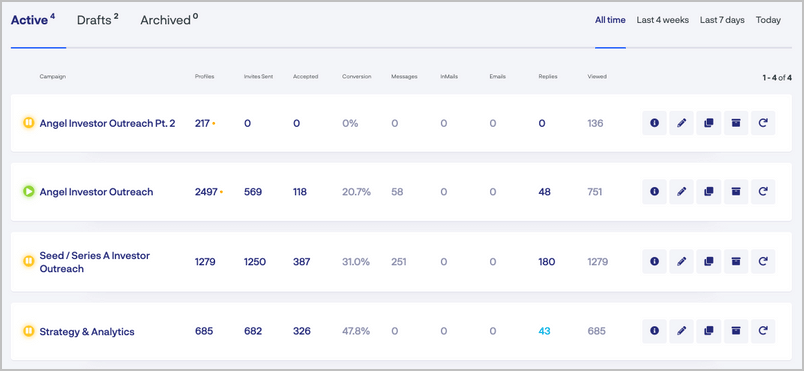 Alfred enables you to manage your LinkedIn search and outreach from one place. There's a built-in LinkedIn search feature, so you can define your ICP and start sourcing prospects that match it.
Once you've built a list, you can run automated multi-step sequences that include endorsements, InMails, and even emails.
Integration with other tools is straightforward, with connection to your GSuite account and other social platforms.
Alfred also has a purpose-built LinkedIn CRM. so, you can easily manage your leads and make lead generation easier.
Features:
Powerful features that can help with every step of your lead generation process

Built-in CRM for easy lead management

Straightforward integration with other tools
Predict personality types of your leads to enhance your approach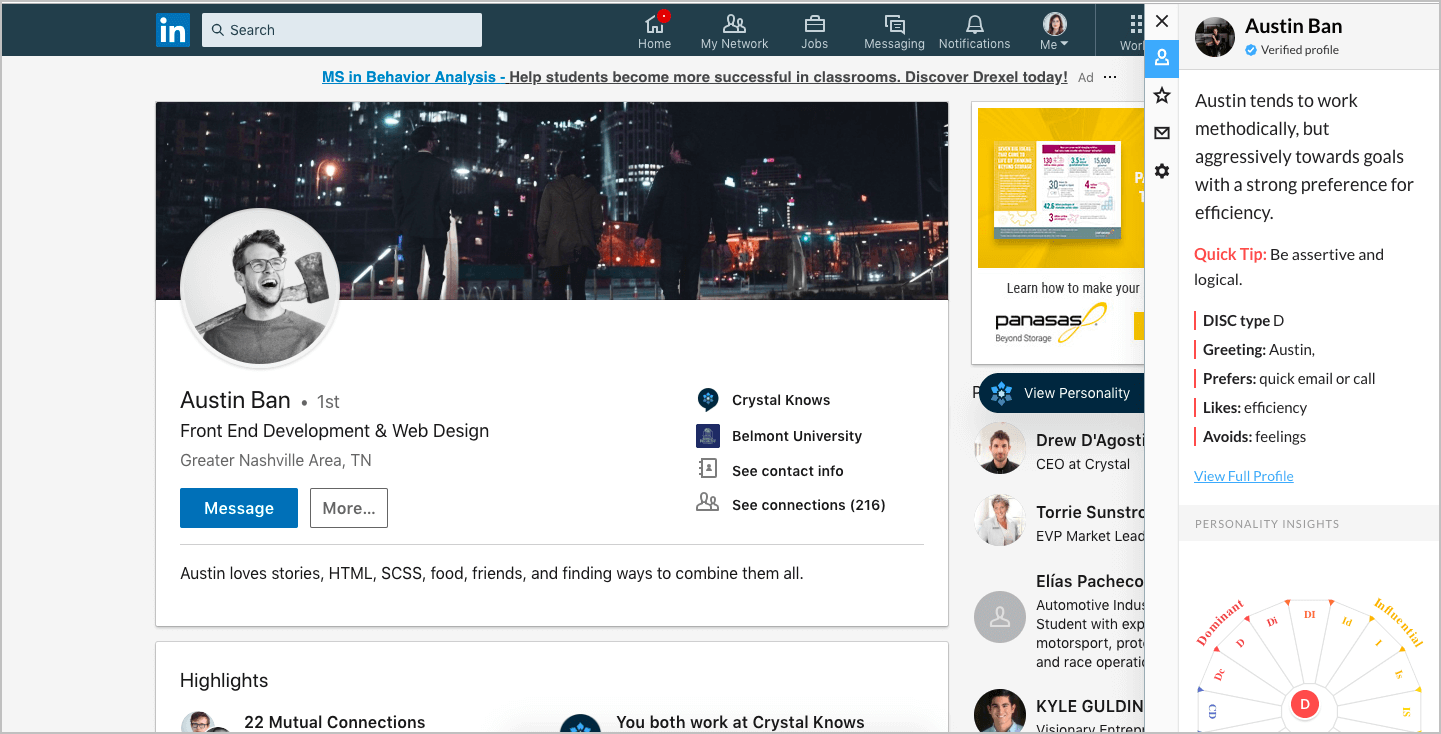 Crystal is a highly unique tool. It analyzes your leads' LinkedIn profiles and shows you actionable details on how to communicate with them. You can then use that information to tailor your outreach approach and ensure you're offering value to them.
It'll show you data on things like the tone you should use, what type of pitch is compelling to them, and even whether they appreciate small talk or not.
It'll show personality data on top of LinkedIn, so you can combine it with other tools mentioned here like Dux Soup to quickly save notes on prospects to your CRM.
Features:
View personality data for any prospect

Converts data into insights you can use to tailor your approach

Can coach your sales team to help them adapt their strategies

Browser extension to check personality data across LinkedIn
Boost your visibility through automated profile visits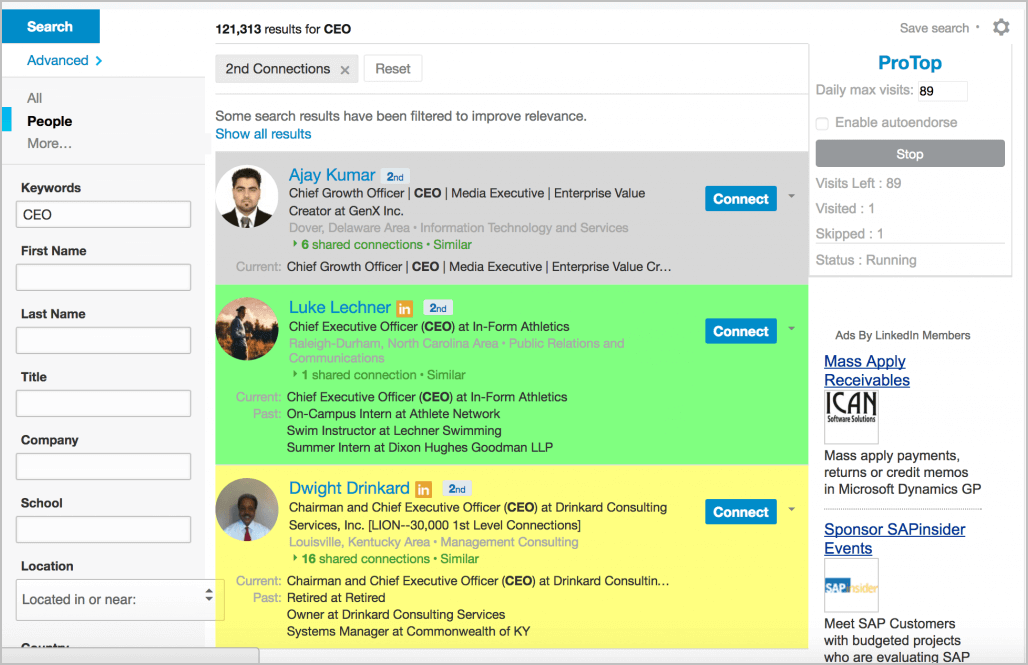 ProTop does something very specific, and it does it well. It visits the profiles of your LinkedIn leads to get you noticed and increase engagement with your campaigns.
You can add it as a Chrome extension, and from there, you can select the accounts you want it to visit, and it'll visit them on a predefined cadence.
If a prospect can see that you've looked at their profile, they're more likely to look at you back, and more likely to respond if you then send a message as you're already top-of-mind.
There's a free and paid version, so you can try it out before committing.
Features:
Automates visits to your prospect's profiles

Added as a Chrome extension for ease of use

Premium version available allows you to store profile visits into a CSV file
Run outreach campaigns and track activity across multiple LinkedIn accounts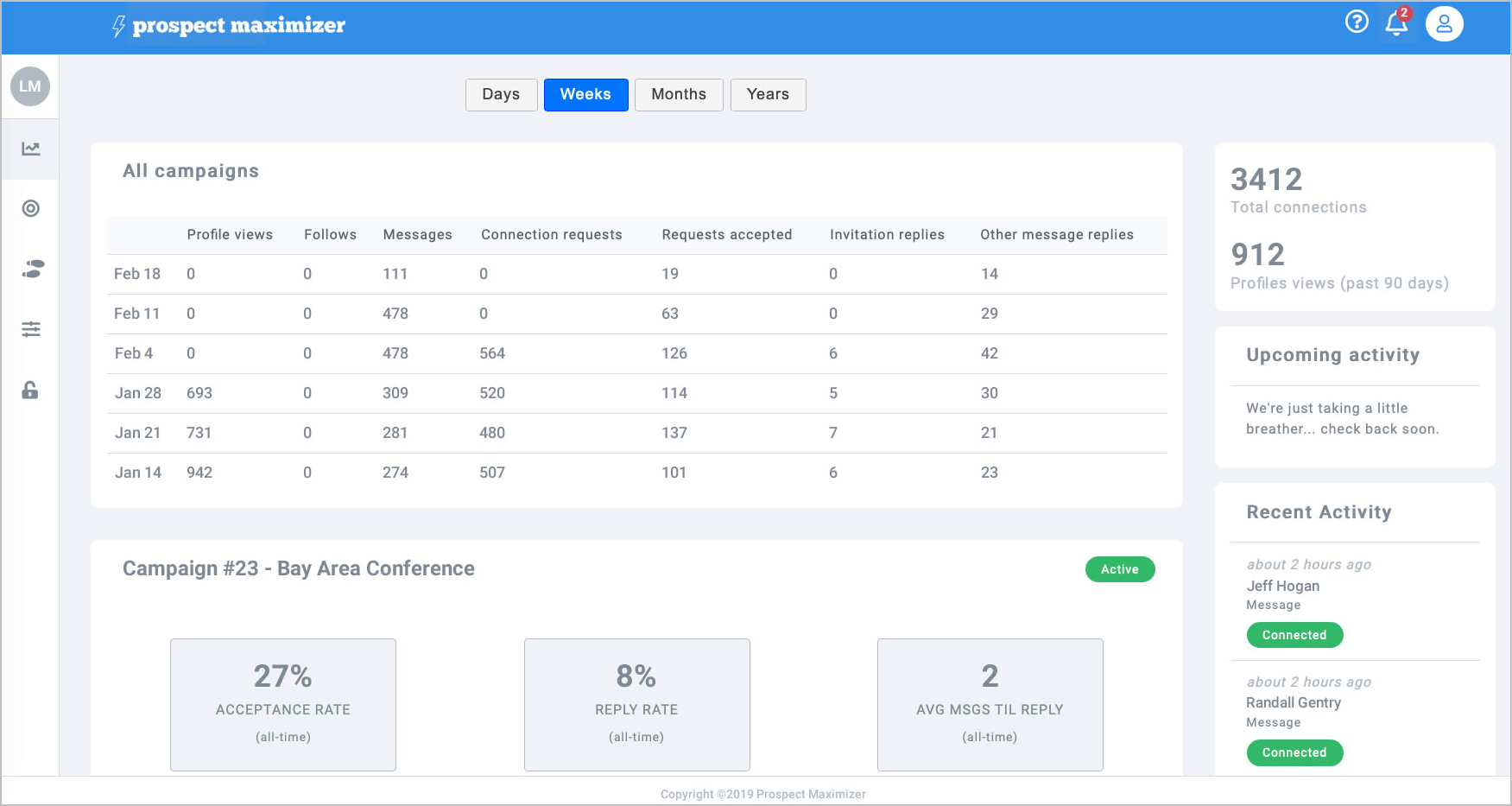 This feature-rich tool lets you run outreach campaigns from as many LinkedIn accounts as you need to, making it perfect for teams. It's cloud-based rather than being a Chrome extension or similar, so it can run even when you're not on LinkedIn.
You can use it to create automated messages to a predefined list of prospects, auto-connect, skill endorsements, and much more.
It's designed for agencies and teams with multiple sales reps, and it'll connect to your favorite tools thanks to a Zapier integration.
Features:
Dynamic usage, thanks to cloud-based software

Great at targeting users based on their activity

ROI calculator offers deeper insights into strategic planning
Send personalized messages on LinkedIn at scale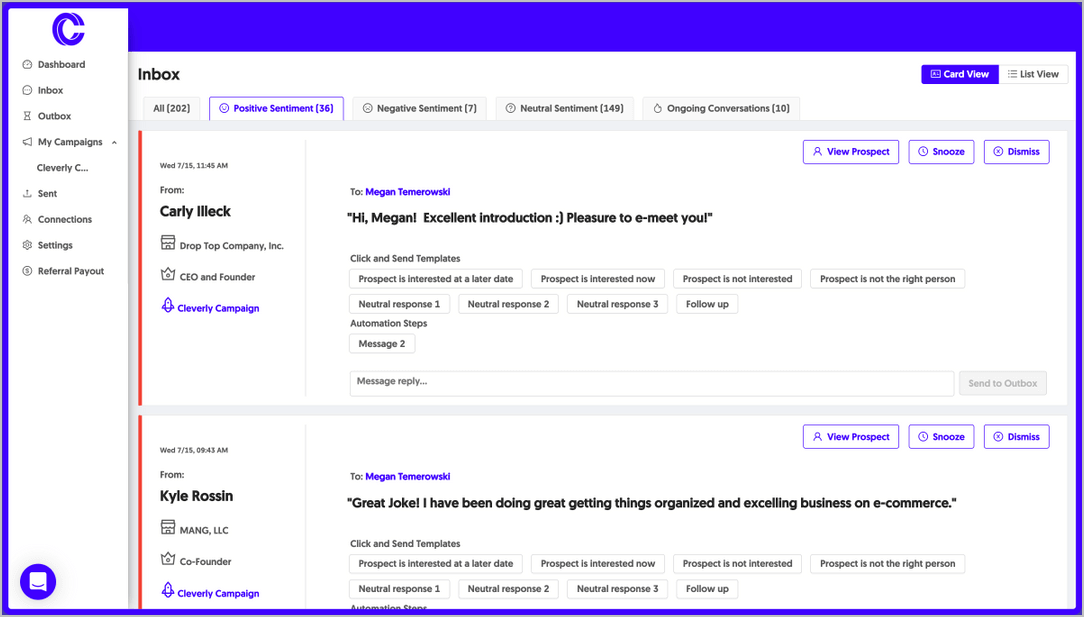 Cleverly offers a LinkedIn automation platform designed to help you identify and connect with your ideal prospects at scale. You can launch campaigns from Cleverly's own dashboard, track results, and see data on reply rates.
It acts like a CRM, and you can snooze conversations, add tags, and set reminders to follow-up with leads.
Whenever prospects reply to a LinkedIn message, you'll get an automatic email so you can follow-up immediately.
It also connects with email finding tools like Skrapp and FindThatLead so you can source emails from LinkedIn profiles, and automatically add them to HubSpot.
Cleverly also allows you to export data straight to your CRM so you can make LinkedIn a central part of your sales system.
Features:
Hands-on sales consultancy from LinkedIn B2B experts

Will provide copy for your messaging

Data-driven monitoring and automation

Connects with email finding tools to enrich your prospect profiles
LinkedIn automation with a made for HubSpot users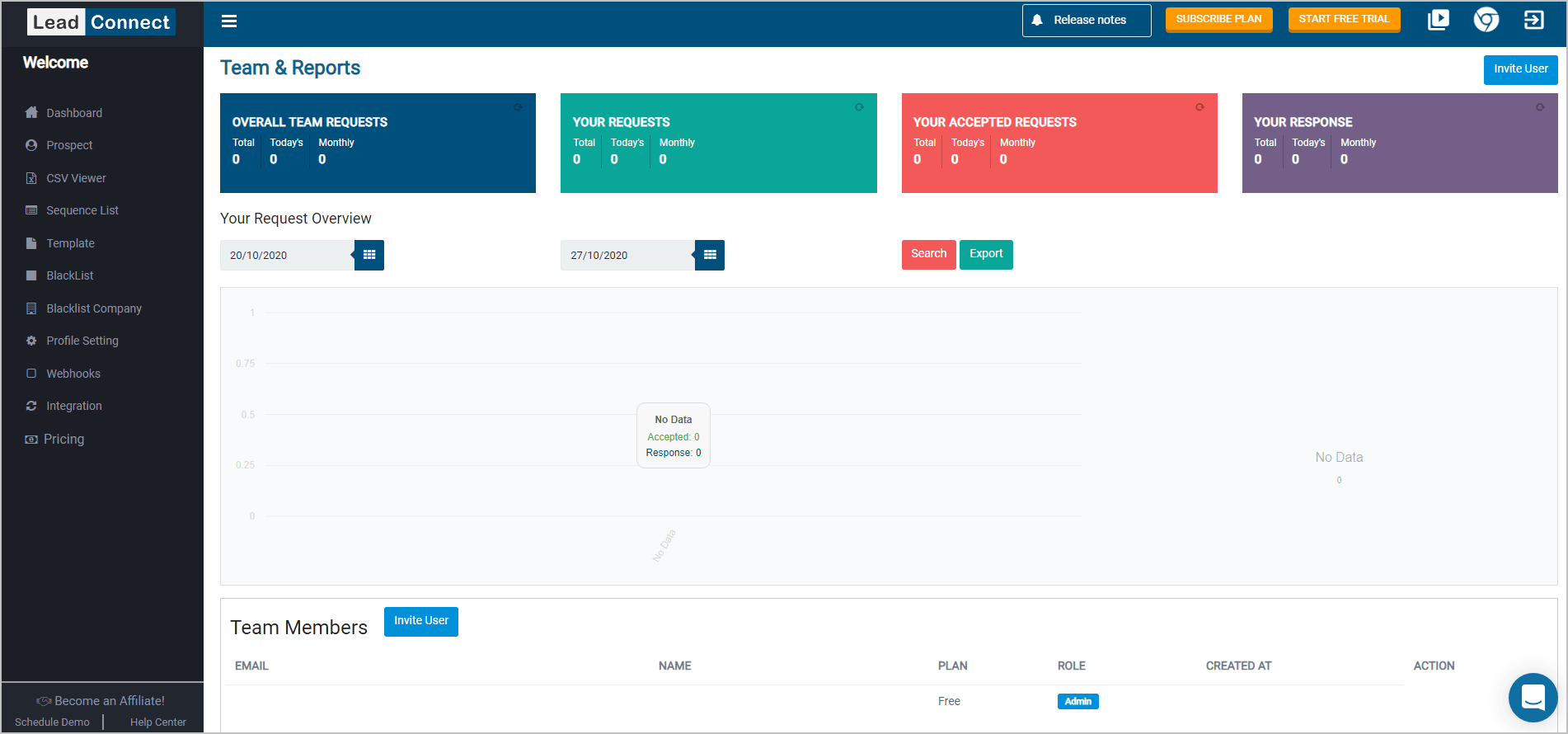 LeadConnect is one of the more straightforward LinkedIn automation tools.
As a service, all the usual features you'd expect from an automated lead generation tool are here. You can send automated messages and follow-up at scale, connect with prospects, and track responses.
One of the main value propositions is that you can sync prospect data with HubSpot, so if you're using it for your CRM already, it's a solid option. Whenever prospects connect with you or reply to messages, the activity will be logged in HubSpot so your sales team can keep track of it.
There's also the option to add people to a no-contact list, so you can avoid engaging with the same people that other team members are.
The main downside is that you'll need to leave your browser running if you want LeadConnect to run.
Features:
Automated connection requests, follow-up messages, reply detection

Personalization of messages

Easy to integrate with HubSpot for data and lead management

Add leads to a no-contact list
A complete LinkedIn CRM and automation system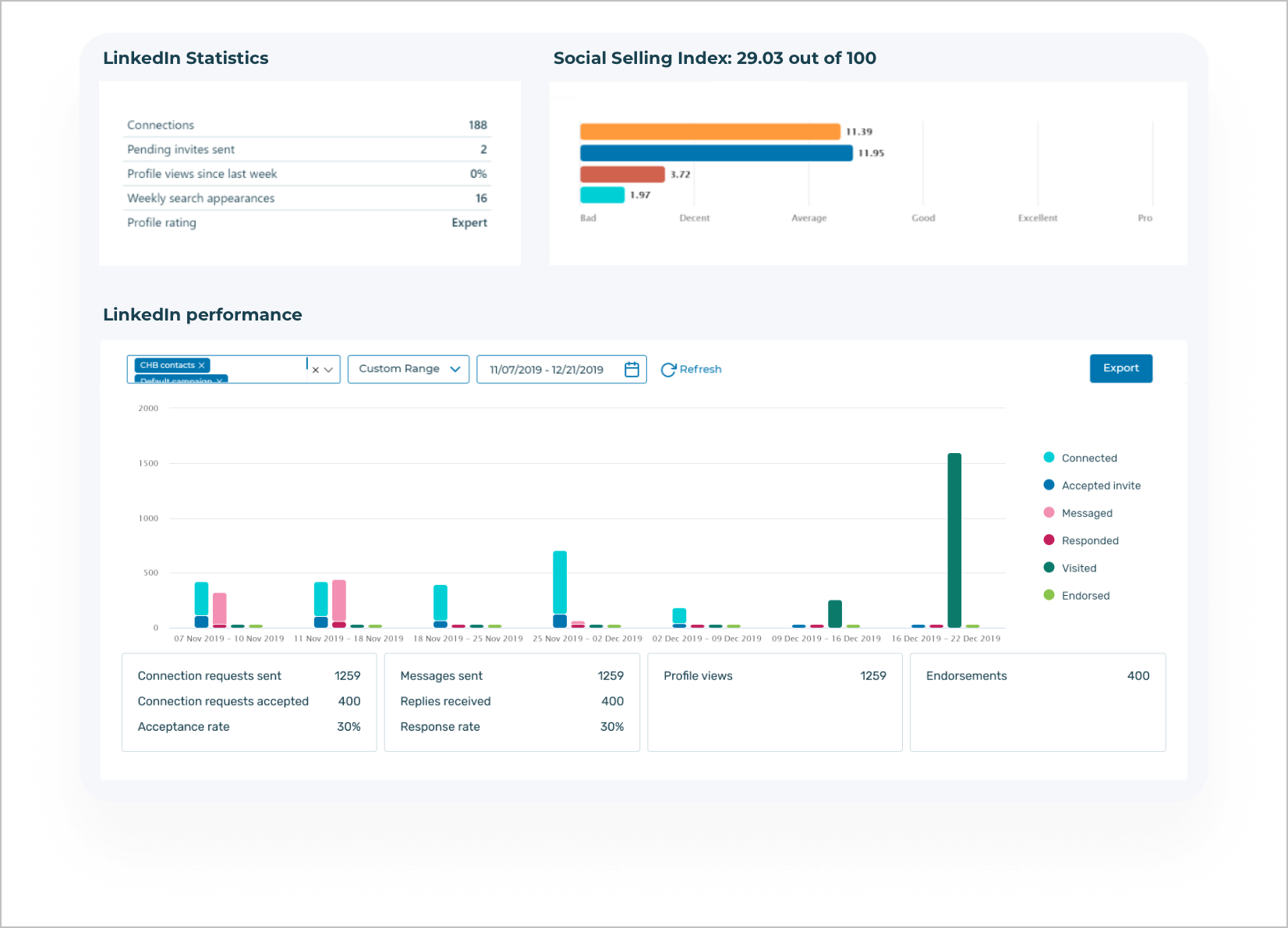 OctopusCRM is an all-in-one solution that lets you manage your outbound sales campaigns, see reports, and automate your work on LinkedIn.
You can send automated connection requests to 2nd and 3rd level connections, message connections in bulk, and send follow-ups automatically.
One nice feature is that you can link campaigns together, so you can run people through different automations. For example, you could connect with someone, then add them to an introduction message campaign where you introduce yourself, and follow-up on autopilot.
There's an integration with Zapier, so you can connect OctopusCRM to a variety of other tools to speed up your LinkedIn marketing efforts.
Features:
Automate messaging and connection requests

Create complex workflows by linking sequences

CRM included with data dashboard

Connects with Zapier to export data
Automation software with safety features and detailed campaign analytics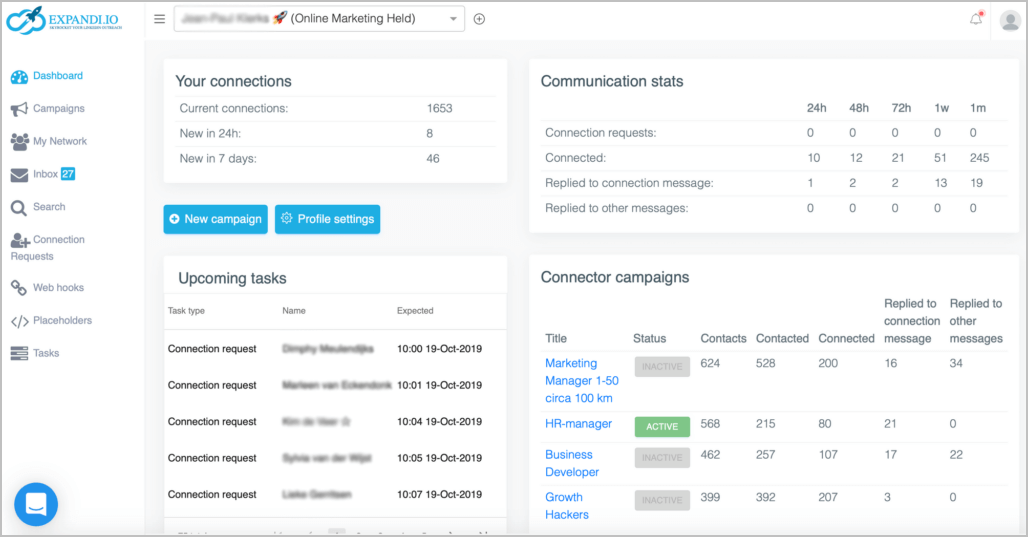 Expandi is a LinkedIn automation tool designed to keep your account from being suspended.
There's a variety of features like having your own dedicated IP, randomized delays between actions, activity limits, and an account warm up feature to make everything look as human as possible.
There are a variety of powerful features to help with your outreach, such as the ability to build target lists inside Expandi, create outreach campaigns with merge tags for personalization, and an inbox to help you track replies and action items.
You can manage multiple accounts from your dashboard, so it's perfect for agencies or sales teams running multiple campaigns at once. You'll also get access to detailed analytics to see how many people are accepting connection requests, replying to messages, and engaging with you on LinkedIn.
There's also A/B testing features, which is handy if you want to run multiple campaigns to test different value propositions and audiences.
Features:
Safety-first approach with features that replicate human behavior

Send and manage outreach campaigns

Build prospect lists on LinkedIn from Expandi

Manage multiple accounts
LinkedIn Automation Best Practices
If you're using LinkedIn to grow your pipeline, you'll need to adhere to some rules to avoid being banned or having your account suspended.
You should always exercise caution when launching campaigns and stick to a few best practices. Here are some of my recommendations:
Buy a LinkedIn Sales Navigator Plan
Before starting any outreach campaigns on LinkedIn, you need a Sales Navigator subscription. LinkedIn is less likely to ban you if you're paying them, which makes sense.
It's a small cost to avoid having your account suspended, and assuming your campaigns are highly targeted, personalized, and generate qualified leads, it's going to deliver positive ROI pretty quickly.
Start Slowly and Warm Up Your Account
Don't start connecting with hundreds of leads per day. Start slowly.
Show LinkedIn that you're a real person, using LinkedIn in a regular, authentic way.
Connect with people in your industry, interact with content on your feed, and send messages to people that get real engagement.
When you start increasing the volume of messages you're sending, it won't look as unnatural as it would if you ramped up from zero.
Even if you're generating good results on LinkedIn, don't try to scale up your campaigns too quickly. The problem with relying on a third-party platform like LinkedIn is that you can get cut off by them at any time, so it's better to exercise caution even when your results are good.
Run LinkedIn Campaigns Alongside Email
LinkedIn is a great platform to generate sales-ready leads, but there's always a risk that someone is too busy to get back to you on there.
Running cold email outreach campaigns is a great way to ensure your outreach gets noticed and you connect with the decision-makers that you need to.
Many of the tools we've mentioned here will let you export your lists of leads as a CSV file.
From there, import your prospect list to QuickMail.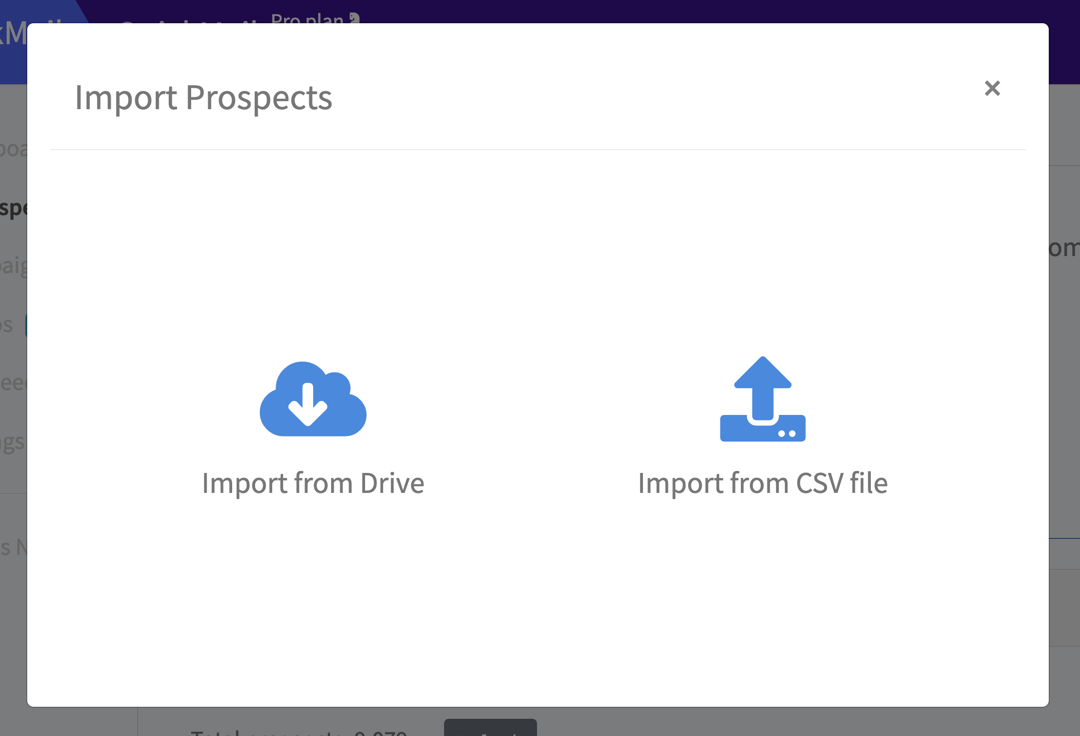 Then, build your campaigns. These can include emails, but allow you to add a variety of extra tasks to suit your needs.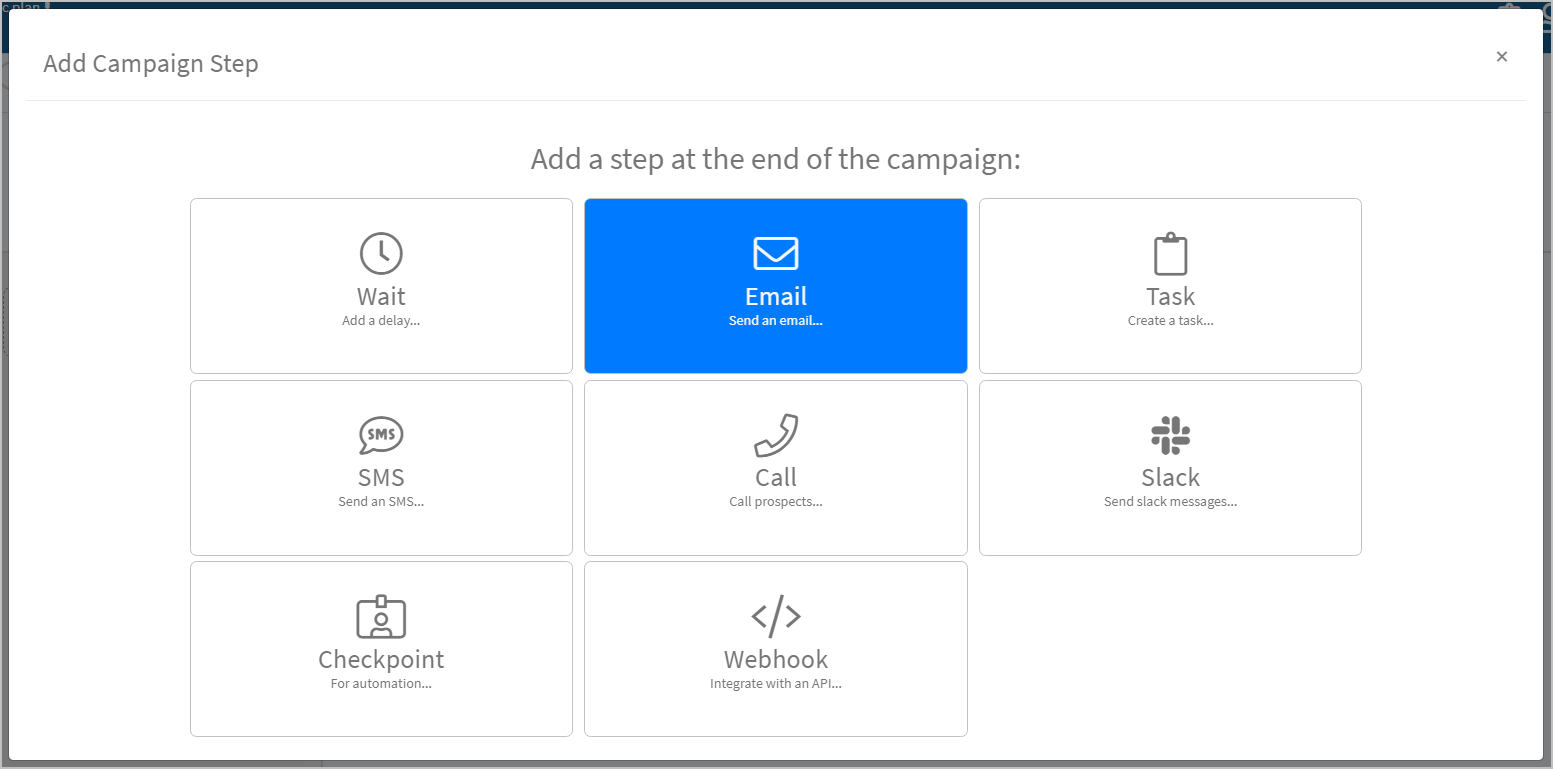 Once your campaign is ready, just add your prospects, and you'll be able to sit back and wait for the replies.
If you're ready to start sending emails that actually get replies, you can start your free trial of QuickMail here.
Wrapping Up
LinkedIn is an amazing way to generate leads, and these tools are going to help you scale up your outreach campaigns without them needing to take up hours every day.
The tools here will help you find prospects, connect at scale, and automatically schedule messages and follow-ups.
They're the perfect way to take your LinkedIn outreach to the next level. As always, be careful with them.
Don't connect with too many people at once, and set generous delays between actions to avoid being flagged for bot activity.
Test them out, find the ones that fit into your sales process, and stick with them.