Running a successful outreach campaign is hard work. Luckily, there are a variety of powerful lead generation tools out there to simplify your workflow and help you generate more leads.
In this guide, we're going to show you some of the best tools for the job.
We'll look at software to help you with:
Cold Outreach

Prospect Research

LinkedIn Lead Generation

Inbound Lead Generation

Appointment Scheduling
By the end, you'll have everything you need to design a lead generation strategy that delivers the results you want, and helps you close more deals with qualified leads.
Ready?
Let's dive in.
Software for Effective Cold Emailing
Connect with prospects at scale with personalized cold emails and automatically follow-up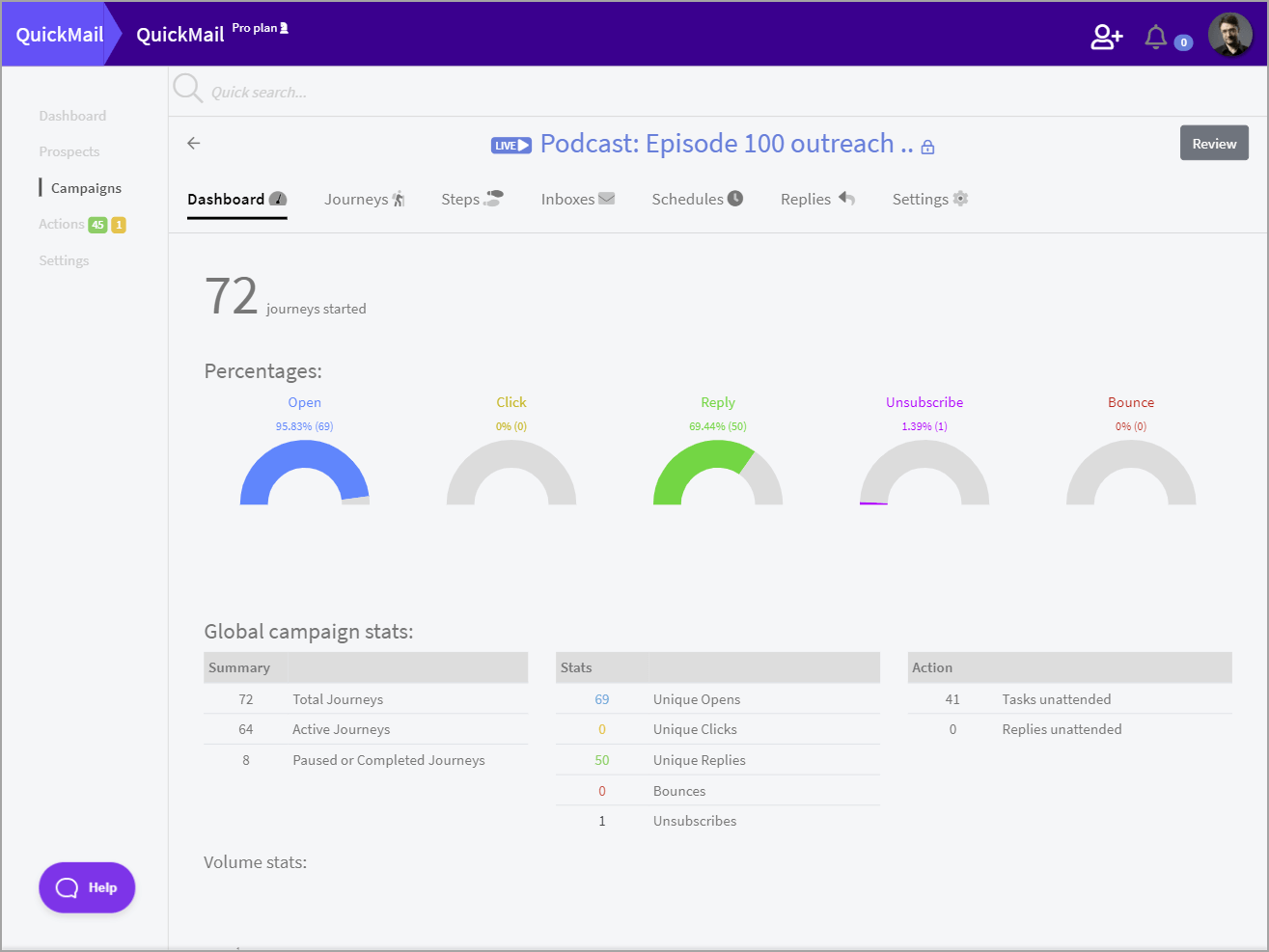 QuickMail is a cold email tool for lead generation agencies and B2B sales teams who want to use email to power their growth.
You'll be able to grow your pipeline without needing to spend hours on the phone and LinkedIn every day.
Our support team is committed to your success, and if you need help, we'll be there to support you and show you exactly how to make the most of QuickMail.
Upload Prospect Lists and Reach Out
With QuickMail you can upload your list of target prospects, write customized, personal emails, then reach out and follow-up on autopilot.
You can add extra steps to campaigns to remind your team to connect with prospects on LinkedIn, or pick up the phone to call them.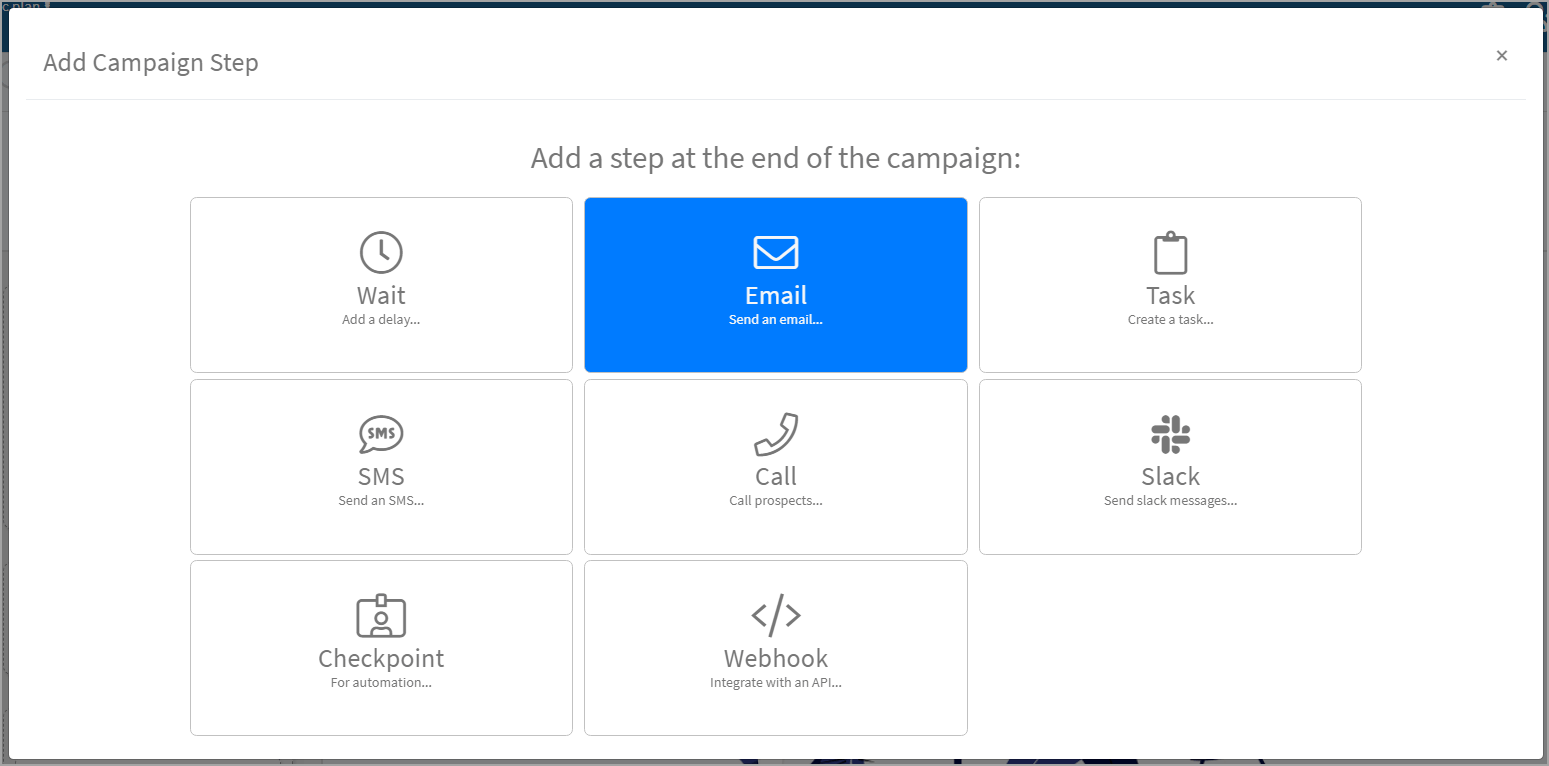 You'll save hours compared to writing your emails manually, and you'll be able to track all of your metrics like open rate, reply rate, and bounce rate in one place.
Manage Team Email Campaigns in One Place
Most cold email software isn't built for teams. QuickMail is. Your entire team can see and collaborate on campaigns, and you can even rotate the inbox that your outreach campaigns are sent from.
Emails are sent from individual email addresses, but you can see every response in one place.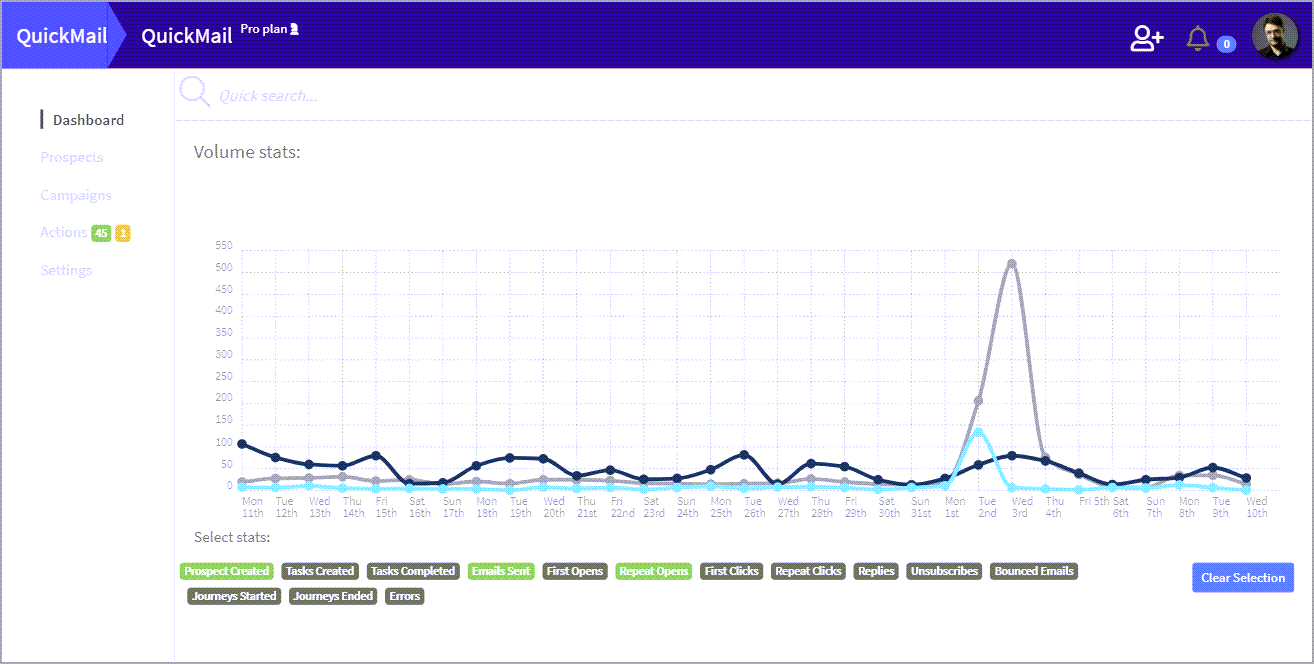 You can see campaign results and an overview of how things are going from one centralized dashboard.
No one on your sales team will feel like they're out of the loop, and it'll be easy to see who has been in contact with prospects and what information has been shared.
Features:
Personalize emails with merge tags

Easily create complex email campaigns

Automate follow-ups and catch replies

Work as a team and see detailed stats
Email verification tool to identify non-existent addresses and reduce your bounce rate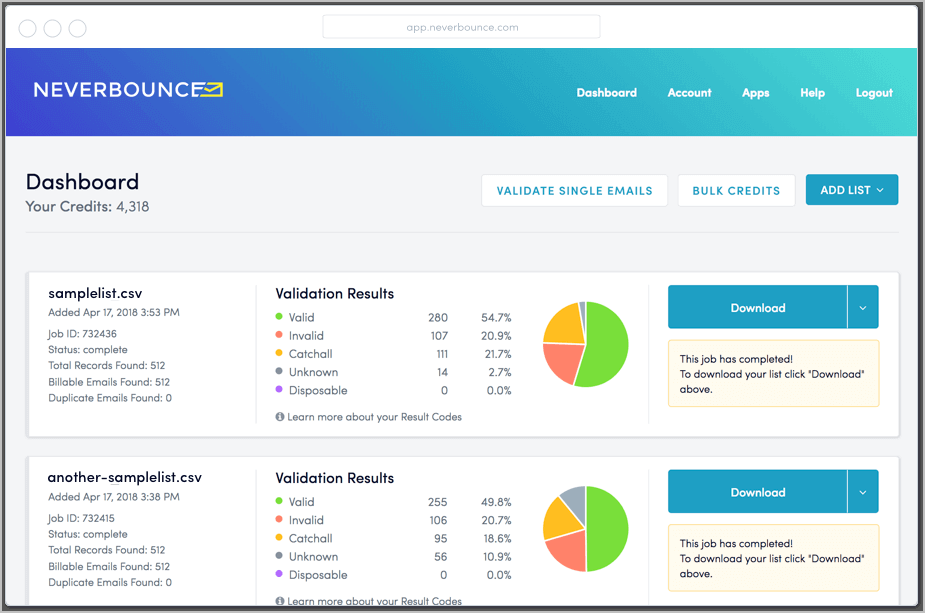 If you're using cold email to grow your pipeline, you need to watch out for high bounce rates. Anything over 2-5% is a cause for concern as you'll be more likely to be flagged as spam by email service providers.
NeverBounce is a bulk email verification tool that lets you upload your contact list and verify the emails. If they can't be verified, don't send an email to them.
It's a simple but effective way to improve your deliverability, reduce bounces, and boost your sender reputation.
It won't cause a bottleneck in your sales process, either. On average, NeverBounce takes 2-10 minutes to process and verify a list of 10,000 emails.
Features:
Find out-of-date emails and clean them from your list

Connect it with email providers like QuickMail and clean your emails on autopilot

Remove duplicate values from your prospect list
Find, verify, and enrich your prospect list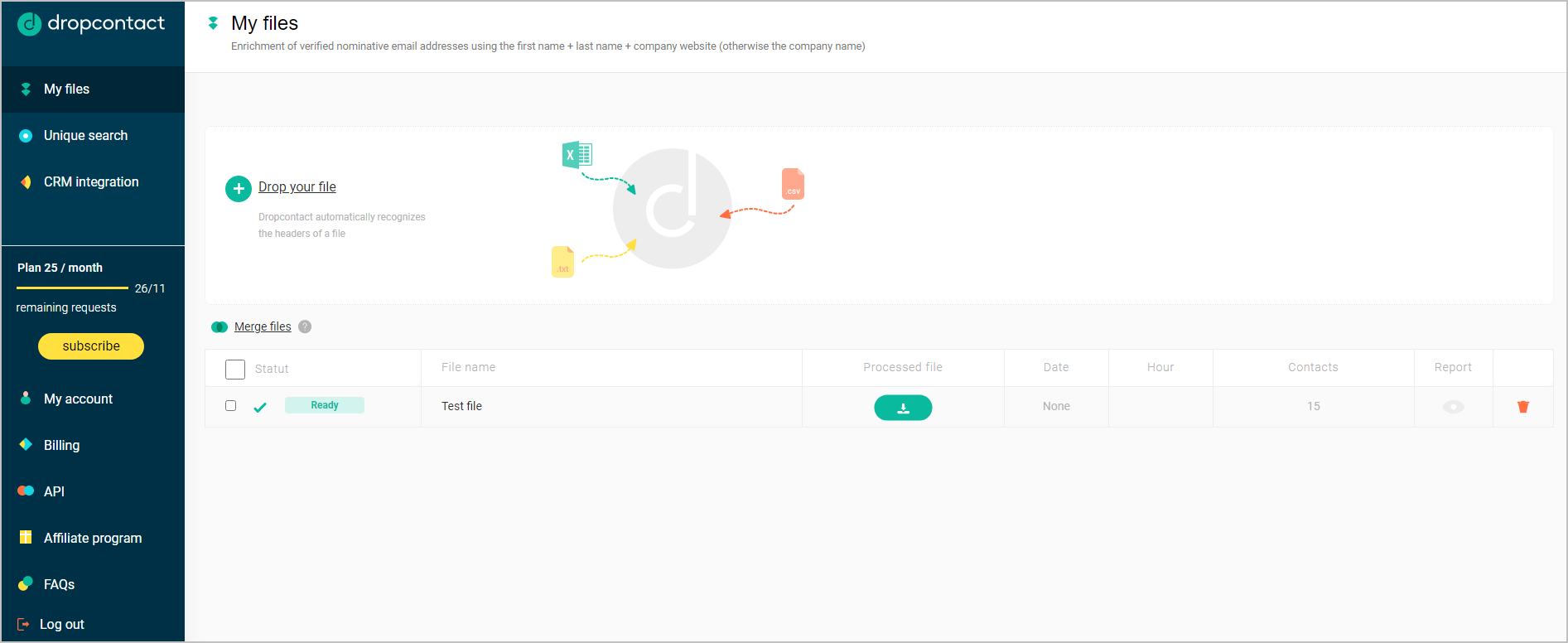 Dropcontact is a great way to quickly scale up your cold email campaigns. You can use it to find prospects' email addresses and enrich existing data in your CRM to get more information that you can use to personalize your outreach.
It integrates with Pipedrive, Salesforce, and Zapier, and your sales team will save hours every week that would usually be spent on manual research and lead qualification.
It's GDPR compliant, so you won't need to worry about the source of their contact data.
Features:
Email sourcing

Enrich CRM entries with more information

API to connect with any other tool you use
Phone system that links your CRM to improve your cold calling productivity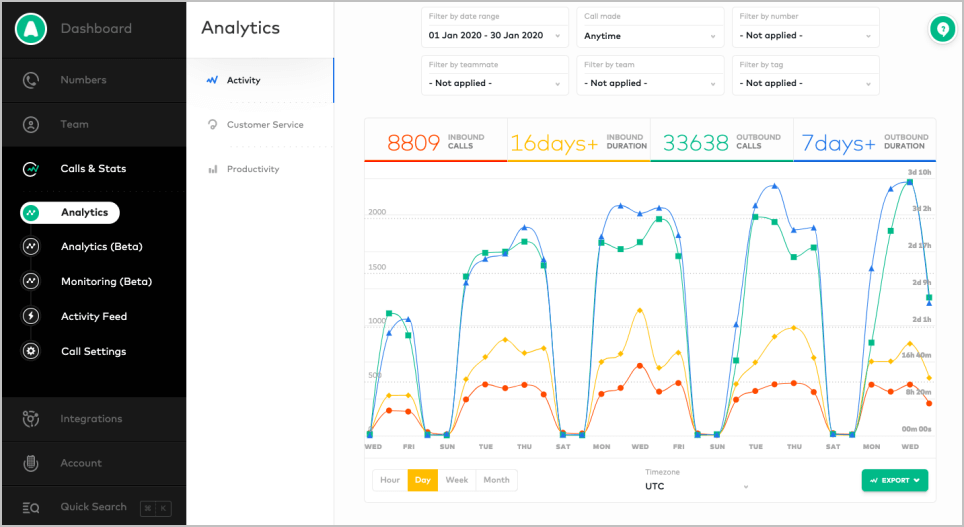 Aircall is a phone system designed to help sales professionals improve their cold calling productivity.
It integrates with your CRM and other tools to enable your team to quickly log all of their call activity and automate their post-call processes.
You can track your team productivity and find ways to improve your cold calling results and make data-driven decisions.
Features:
Connect conversations with your CRM and helpdesk

Call whispering lets multiple team members join a call and share advice

Click to dial launches calls instantly
Prospect Research Tools
Quickly find and verify emails across the web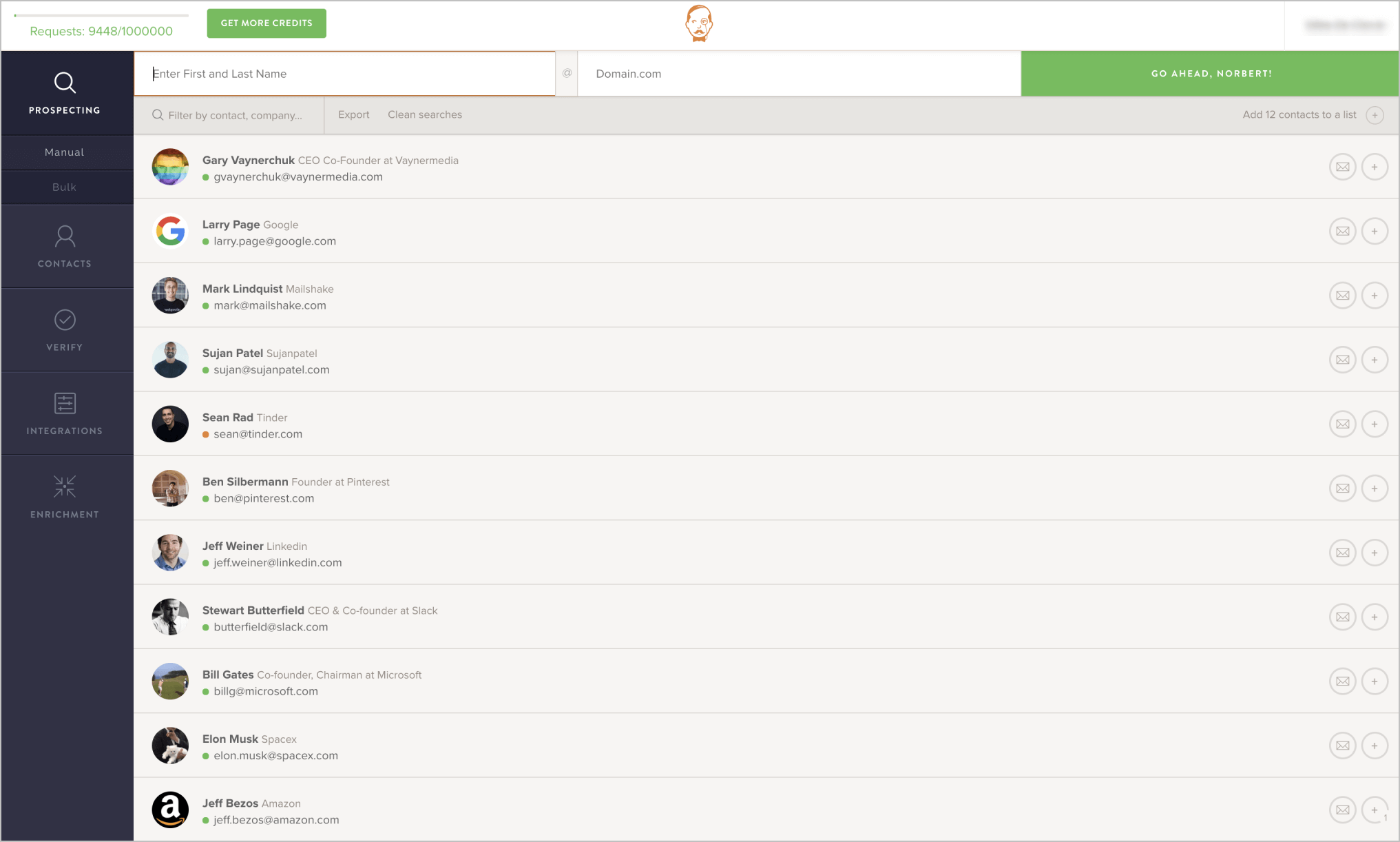 Successful lead generation teams don't do everything manually. Tools like VoilaNorbert enable you to speed up the time it takes to source emails by tapping into a prospect database.
You can find leads based on any criteria you want, validate their emails, and export them to use in your outbound campaigns.
There's a Chrome extension, so you can install it and you'll be able to see contact details for people based on company websites that you visit.
Features:
Chrome extension to see contact details in the browser

Integrates with popular CRMS like HubSpot, Pipedrive, and Salesforce

High level of accuracy when finding emails
Find companies that are an ideal fit for you based on their tech stack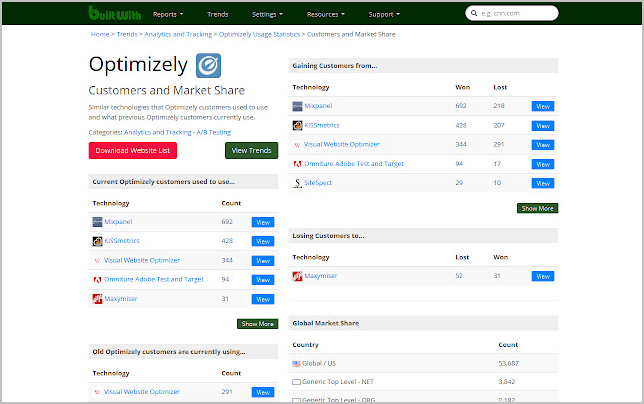 BuiltWith is an awesome lead generation tool that lets you search for companies and websites using specific technologies.
For example, if you ran a company selling a brand new CMS platform, you might want to target WordPress site owners and ask if they'd be interested in trying it.
You can build lists based on a single technology, or multiple, enabling you to get as granular as you want with your searches.
BuiltWith exports also include publicly listed company email addresses, so you won't always need to manually search for them in another tool.
Features:
Find companies by their technographic data

Stack technologies or look for companies using a particular one

Details on technology market share
Identify in-market buyers based on technographic and intent signals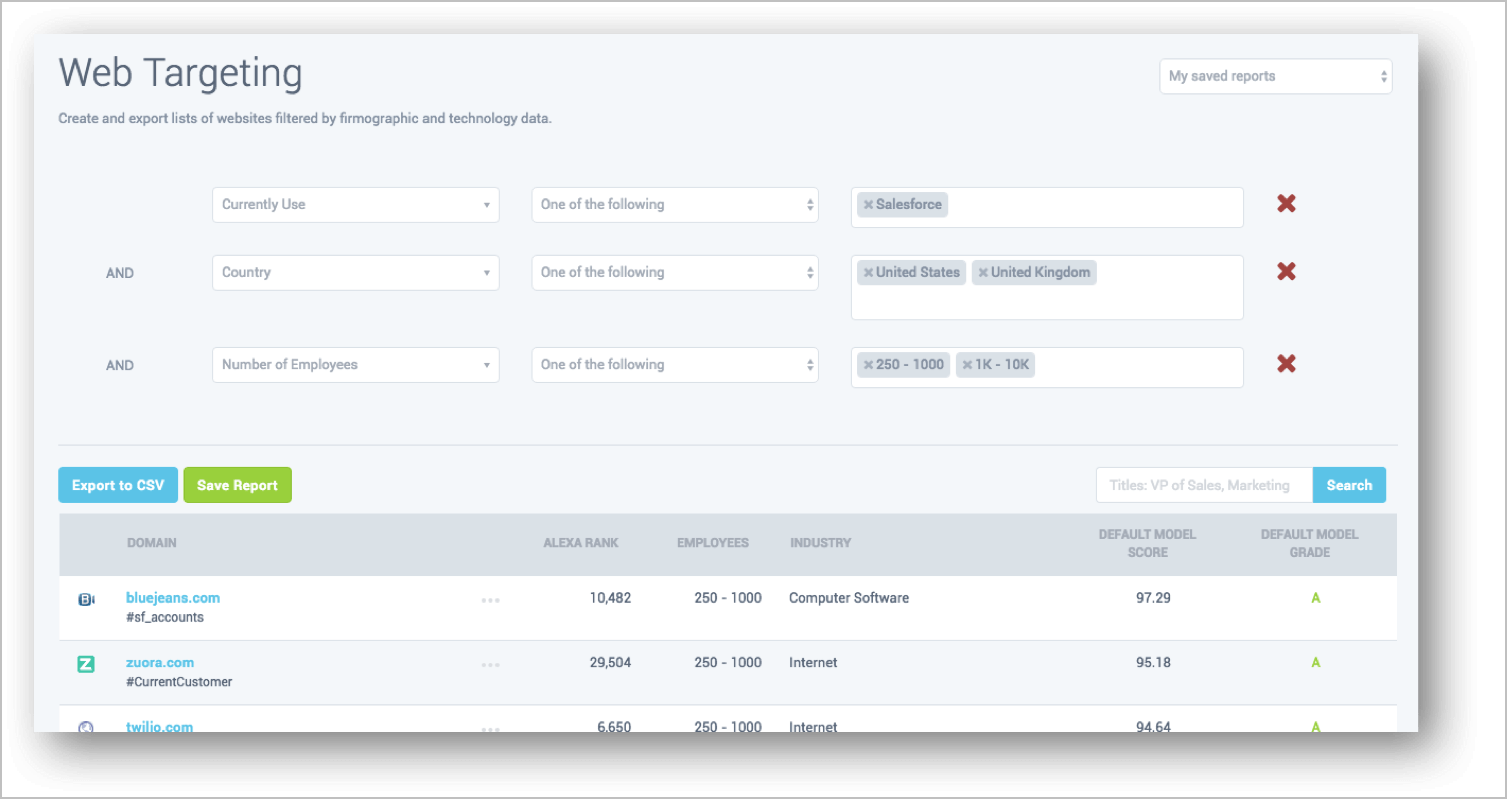 You'll be able to access detailed technographic data for companies around the world, and combine that with a predictive analytics system that identifies companies who are showing signs of being ready to buy.
You can build a qualified list of leads, complete with email addresses and LinkedIn profile details.
There's also an interesting post postings tracker that lets you monitor companies who post new jobs relevant to what you're selling. If your solution can help them with something related to that, it's an easy way to start a conversation at the right time.
Features:
Tracks technographic details for 25M+ companies

Enrich leads in your CRM

Monitor job postings and buying signals
Social media monitoring tool that helps you find conversations worth joining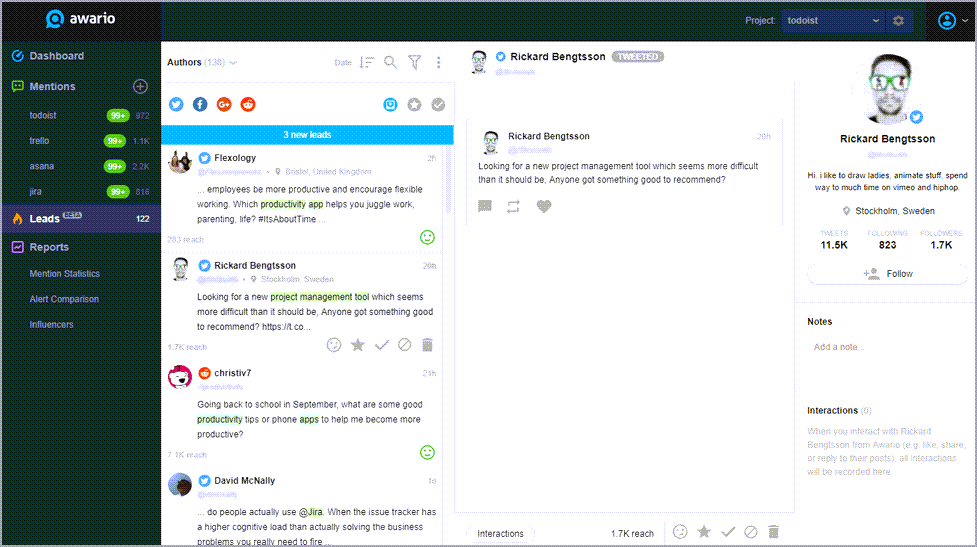 Awario is a social selling tool that monitors social media for conversations mentioning keywords of your choosing.
You can identify prospects looking for products and services exactly like yours and join the conversation to offer advice.
For example, you could specify that you want to see people who are asking questions like "Anyone know a good lead generation service for SaaS companies?". If you run a service that can help, you can join the conversation and write a friendly pitch.
You'll be able to offer genuine advice to people and even if you don't instantly find new customers, you'll start building a reputation for being helpful and if your prospect needs help in the future, they'll turn to you.
Features:
Social media and brand monitoring

Find leads on Twitter, Reddit, Facebook, and more

Dashboard that collects mentions of your keywords in real-time
LinkedIn Lead Generation Tools
Generate leads by automating your LinkedIn engagement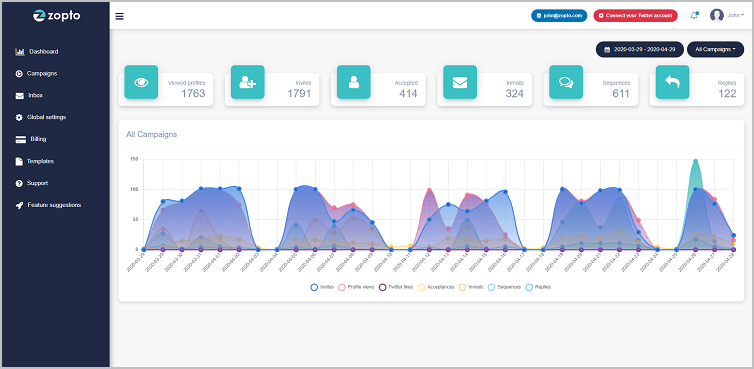 Zopto is a LinkedIn lead generation tool that lets you automate tasks like connection requests, messaging sequences, and profile viewing.
You'll need a Sales Navigator account, and once you've defined the type of account you want to target, Zopto will do the rest.
When your account starts to generate engagement and your messages are getting replies, you'll be able to see it all and reply to messages from your Zopto inbox.
You can set rules about how your account engages with prospects, for example, how many profiles it should view every day, how long between follow-up messages, whether or not it should follow prospects on Twitter for you, and much more.
Features:
Automatically view profiles of people matching your ICP

Create, schedule, and A/B test message sequences

Track LinkedIn results from a central dashboard
Find and export emails from your LinkedIn searches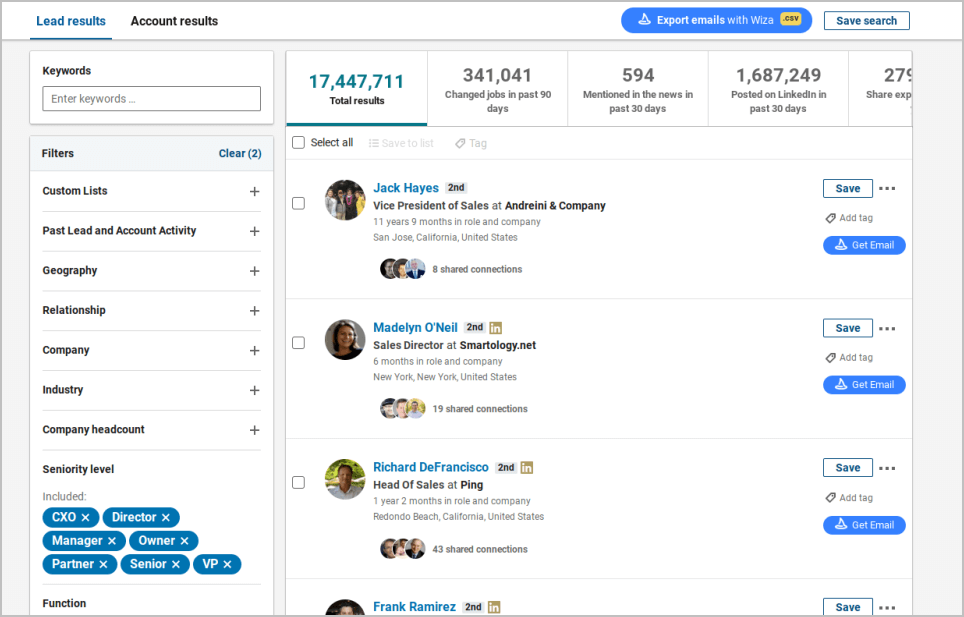 Wiza lets you extract emails from LinkedIn Sales Navigator searches. Simply input the details your prospects should match, run the search, and Wiza will export everyone's emails into a usable CSV file.
It makes things super simple, as you can then upload that CSV to an email verification tool, and you can then reach out to prospects using a tool like QuickMail.
Wiza is a great tool to speed up your LinkedIn sales prospecting, but as always with LinkedIn, you'll need to make sure you follow the rules they advise to avoid your account being flagged.
Features:
Find emails from a simple LinkedIn search

Verify emails upon export to ensure validity

Export leads to a simple CSV that you can use in other tools
Automate tasks on sites like LinkedIn without needing to code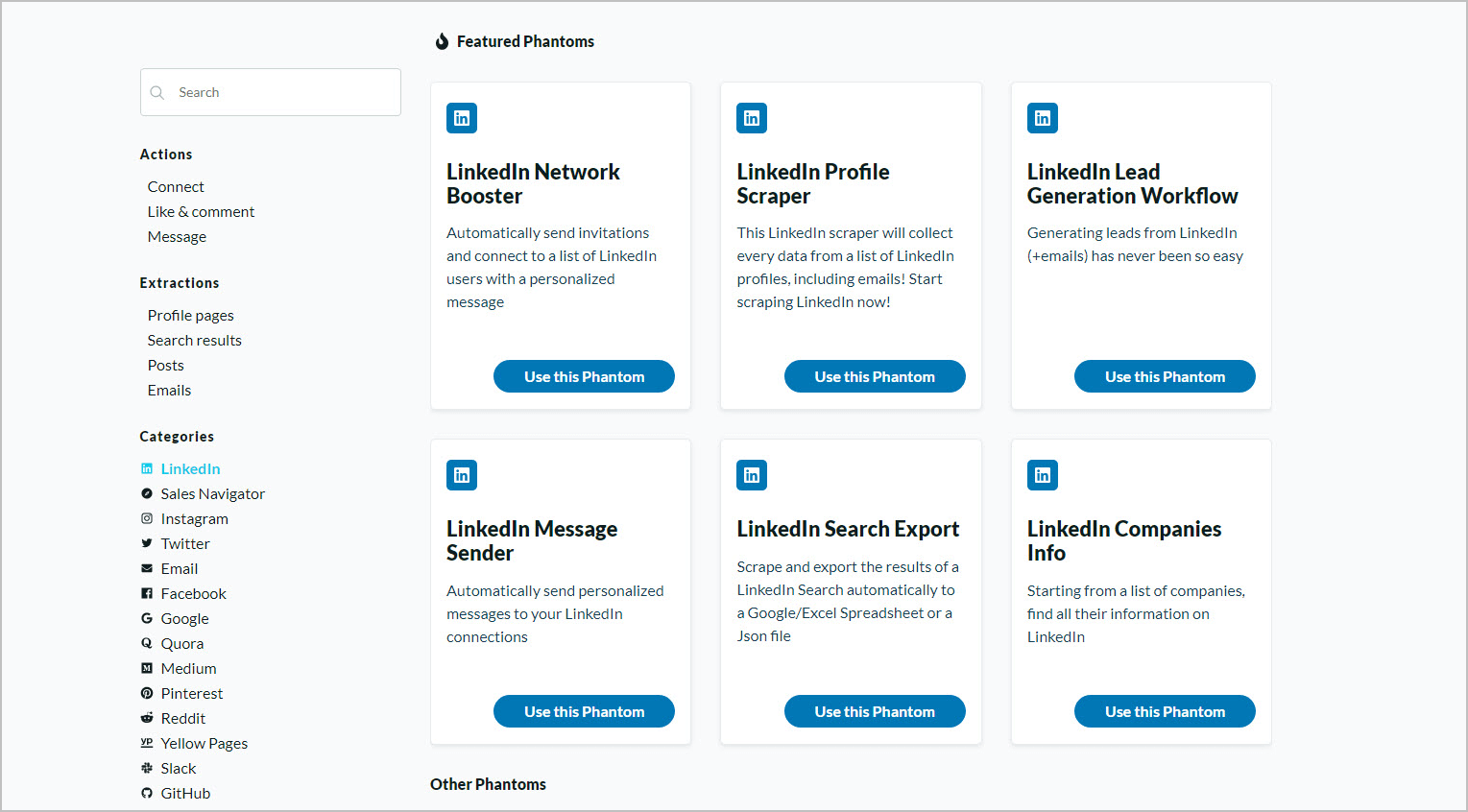 Phantombuster is a powerful tool that lets you automate tasks and improve your lead generation productivity.
The automations are called 'Phantoms', and there are Phantoms for tasks like:
Find information on LinkedIn from a list of companies

Automatically export Sales Navigator searches

Automatically follow a list of Twitter profiles
It lets you grow your network and build target account lists without having to lift a finger once your Phantom has been set up. You'll be able to use the data it collects, verify it, and add it to your cold email tool.
Features:
Powerful automations to speed up prospecting and lead gen activities

Build systems and workflows without coding

Start conversations on Twitter and LinkedIn with the right people on autopilot
Unlock useful prospecting features on LinkedIn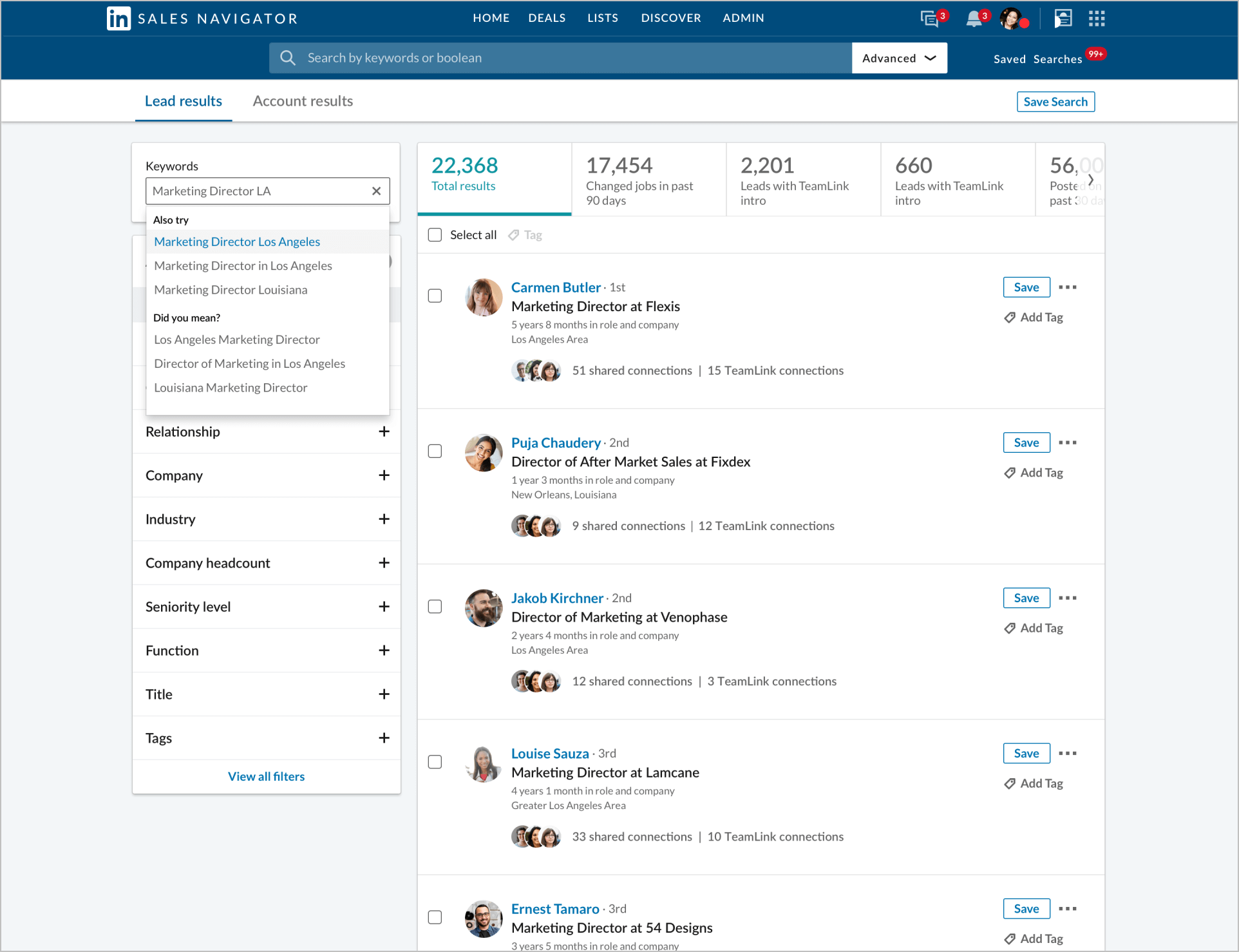 If you're serious about LinkedIn, you need a Sales Navigator account. It enables you to run advanced searches for prospects that aren't available on a regular plan so you can build highly qualified lists of leads that you can then start connecting with.
Alternatively, you can save your lists, then use tools like Wiza and Zopto to start your engagement sequence.
If you're using any LinkedIn automation tools like those mentioned above, you'll need a Sales Navigator account to protect your account from being flagged as a bot.
Features:
Advanced search features and lets you save prospect lists

Connect with people outside of your network

Send more InMails per month
Inbound Lead Generation Software
See what companies are visiting your website in real-time and track your inbound marketing efforts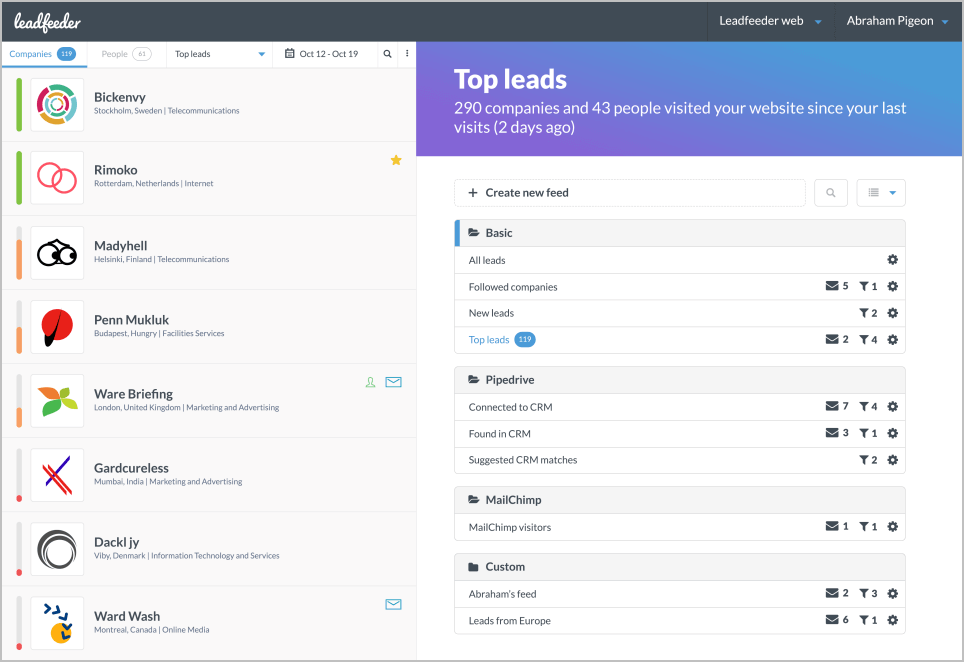 Assuming you're running outbound campaigns with cold email, cold calls, or LinkedIn, you're going to have people visit your website even if they don't all reply to you immediately.
Leadfeeder is a tool that monitors your website traffic and links individual visitors to companies based on their IP address.
So, if you send a cold email and don't get a response but see someone from that company on your website a few days later, you know it's a great time to send a friendly follow-up as you're still top of mind.
You'll also see data on where they came from so you know which acquisition channels are working for you and which ones are generating qualified leads.
Features:
Links site visitors to companies

See data on inbound leads

Track which marketing campaigns lead to engaged site visitors
See companies on your website, launch targeted ad campaigns, and start conversations at the right time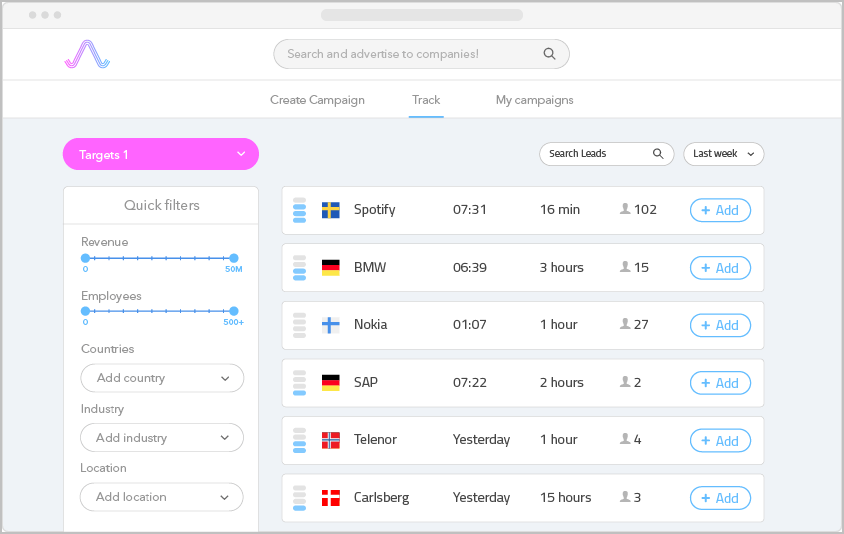 Similar to Leadfeeder, Albacross enables you to see companies on your website. But, in addition, they let you personalize your website content and copy to specific accounts. You can then showcase value propositions that are going to be most compelling for your target audience.
They also have an account-based marketing advertising platform, so you can choose specific accounts to advertise to and Albacross will show your ads to the most relevant prospects on the platforms where they're most likely to see it.
Finally, you can see details on buying intent by filtering your leads based on the pages they visit, how often they visit your site, and how long they stick around for.
Features:
Rich features for B2B lead generation such as ABM ads and visitor IP tracking

Build profiles on visitors by linking them to their company and enriching their data

Send data to other tools, like your CRM or Slack
Start calls with prospects visiting your website in real-time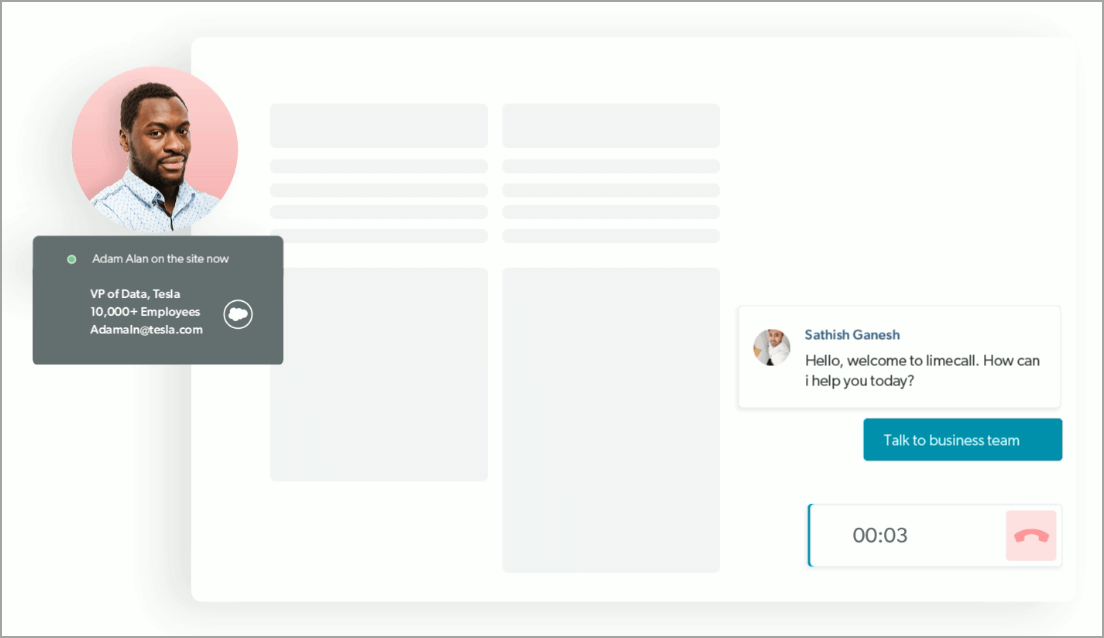 Lime Call is a tool to help you improve your inbound lead conversion rate by connecting prospects with a sales rep over the phone, in real-time. When someone is on your site and matches your criteria for a qualified lead, they'll see an offer to instantly get a call from your sales team to answer their questions.
If your prospects are serious about buying, they'll want their questions answered and will be happy to jump on a quick call. You can also allow visitors to book meetings at future times.
It's a great tool for improving your sales pipeline as you know the people you're going to talk to are showing interest in your product or service.
Features:
Let prospects and website visitors book calls without leaving your landing page

Send lead details to other marketing tools

Automatically qualify potential leads with smart rules
Appointment Scheduling
Easy meeting scheduling to save time and energy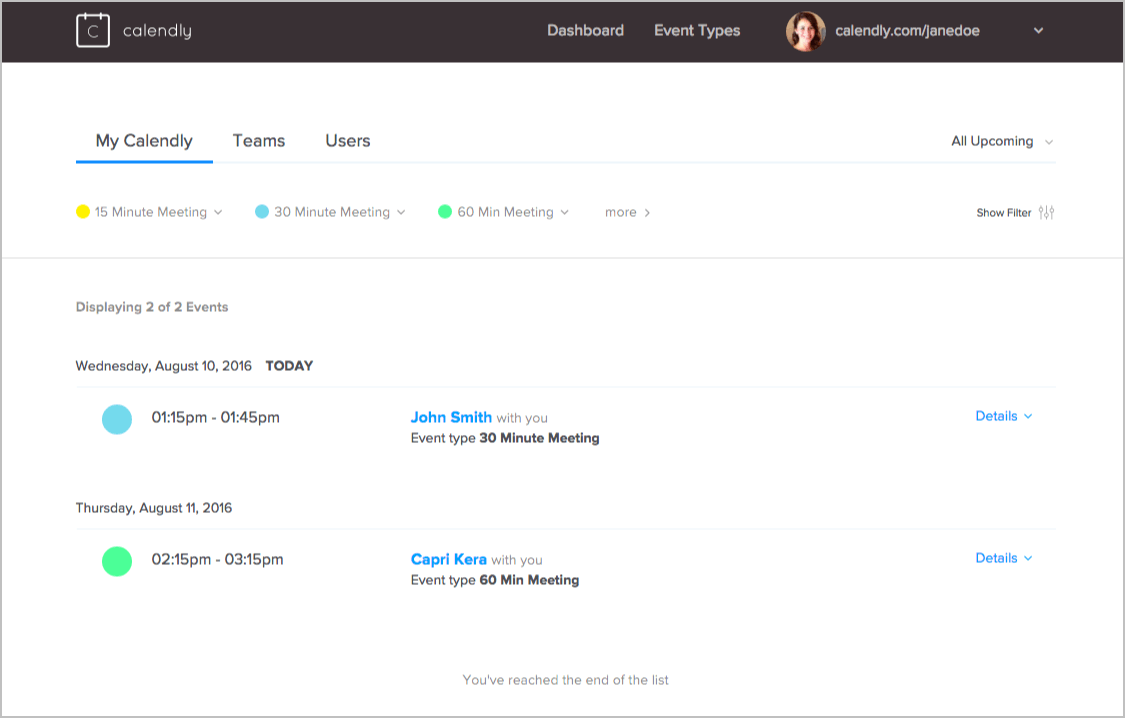 Your team needs to be able to move fast and book meetings whenever prospects are ready to. Calendly is a great option for that. It's fundamentally simple – you share a unique link, and anyone can book a time slot on your calendar in a few clicks.
You can connect it to your Zoom or Google Meet accounts, or a phone number, and the calendar event will auto-fill with the meeting details.
Add your Calendly link to your email signature or have it ready to share whenever a prospect is ready to meet, and you'll book more meetings and avoid the unnecessary back and forth trying to find a time that suits you both.
You can trigger QuickMail to pause campaigns as soon as a prospect books a meeting with you on Calendly, so you'll never need to worry about conflicting information being sent out.
Features:
Calendar integrations

Simple meeting scheduler

Links with your phone or video call system
Run professional remote sales meetings with all the information you need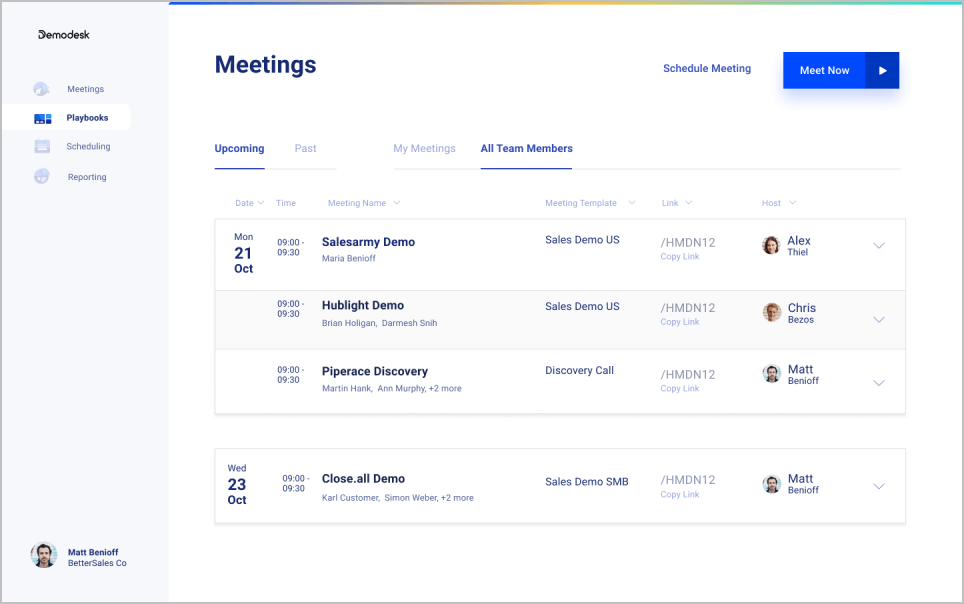 Demodesk is a tool for running meetings that will take your demo calls to the next level. It runs directly on the browser, and you and your leads can interact with your slides and meeting content.
It integrates with CRMs like Salesforce and will show you your CRM records for the person you're on the call with (but will be hidden from their view) so you're always up-to-date when joining a sales call.
You can create meeting playbooks that show you predefined questions to ask, and there's a notes section where you can write down important takeaways during the call.
It's a great sales-focused alternative to Zoom or Google Meet.
Features:
Create meeting playbooks so anyone can handle sales calls with ease

See your CRM notes and past interactions during the call

Integrations with Gmail, Outlook, and multiple CRMs
Insights on the best ways to communicate with people based on personality data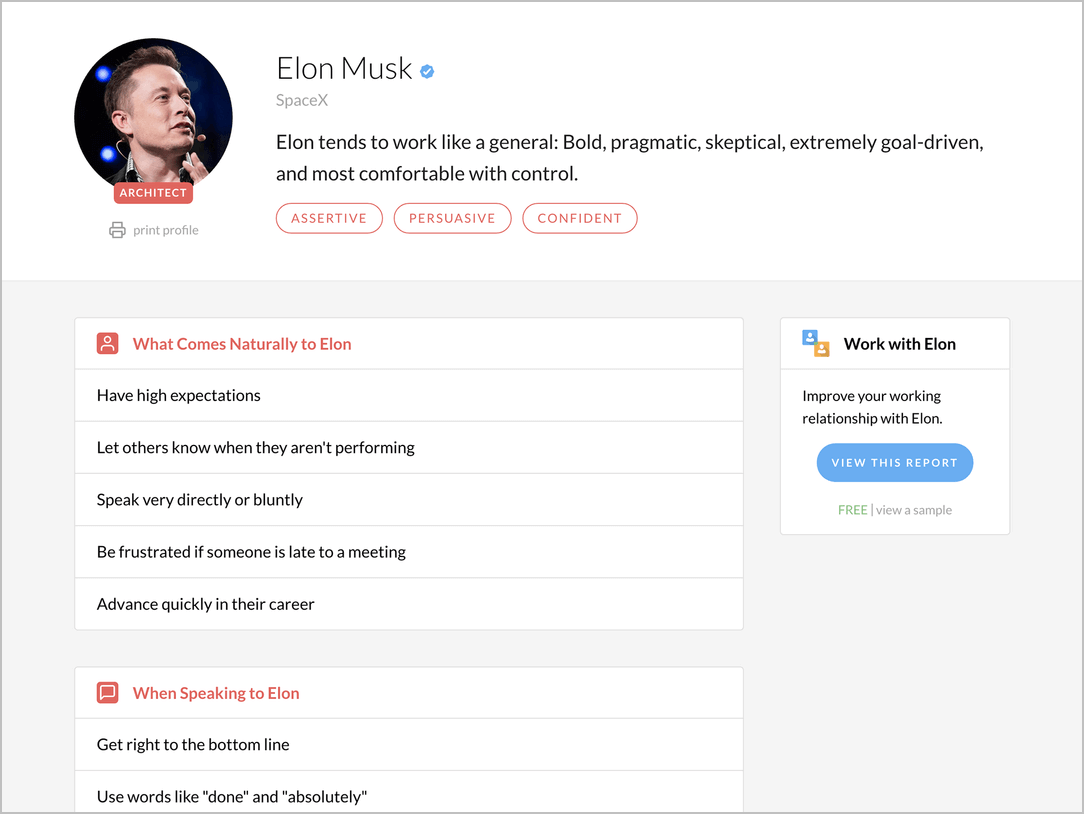 When you're sending cold emails, picking up the phone to cold call, or reaching out on LinkedIn, your message and tone are vital. If you can showcase your value proposition in the right way that resonates with potential customers, you'll start more conversations.
Crystal lets you see detailed data on what communication style people like.
For example, should you share a success story? Do they care about small talk? Do they take quick action or prefer more detail before making decisions?
It's a great way to verify that your messaging will meet your prospects' expectations and gives you the best chance of starting a productive conversation.
Features:
Personality insights for customers and sales leads

Extension lets you view personality traits of leads on LinkedIn

Personalize outreach and get more responses
Get Started with Cold Outreach
Cold email is arguably the most simple and effective way to generate more leads for your business.
With QuickMail you can quickly import your prospect lists, write personalized emails, and schedule your follow-ups on autopilot.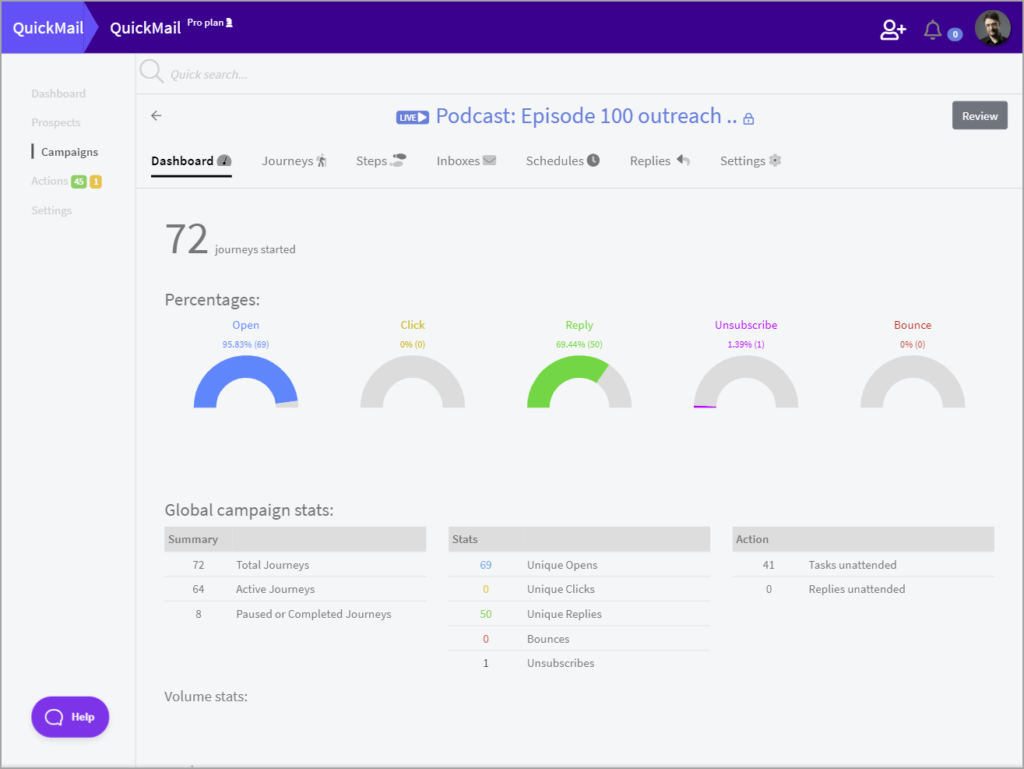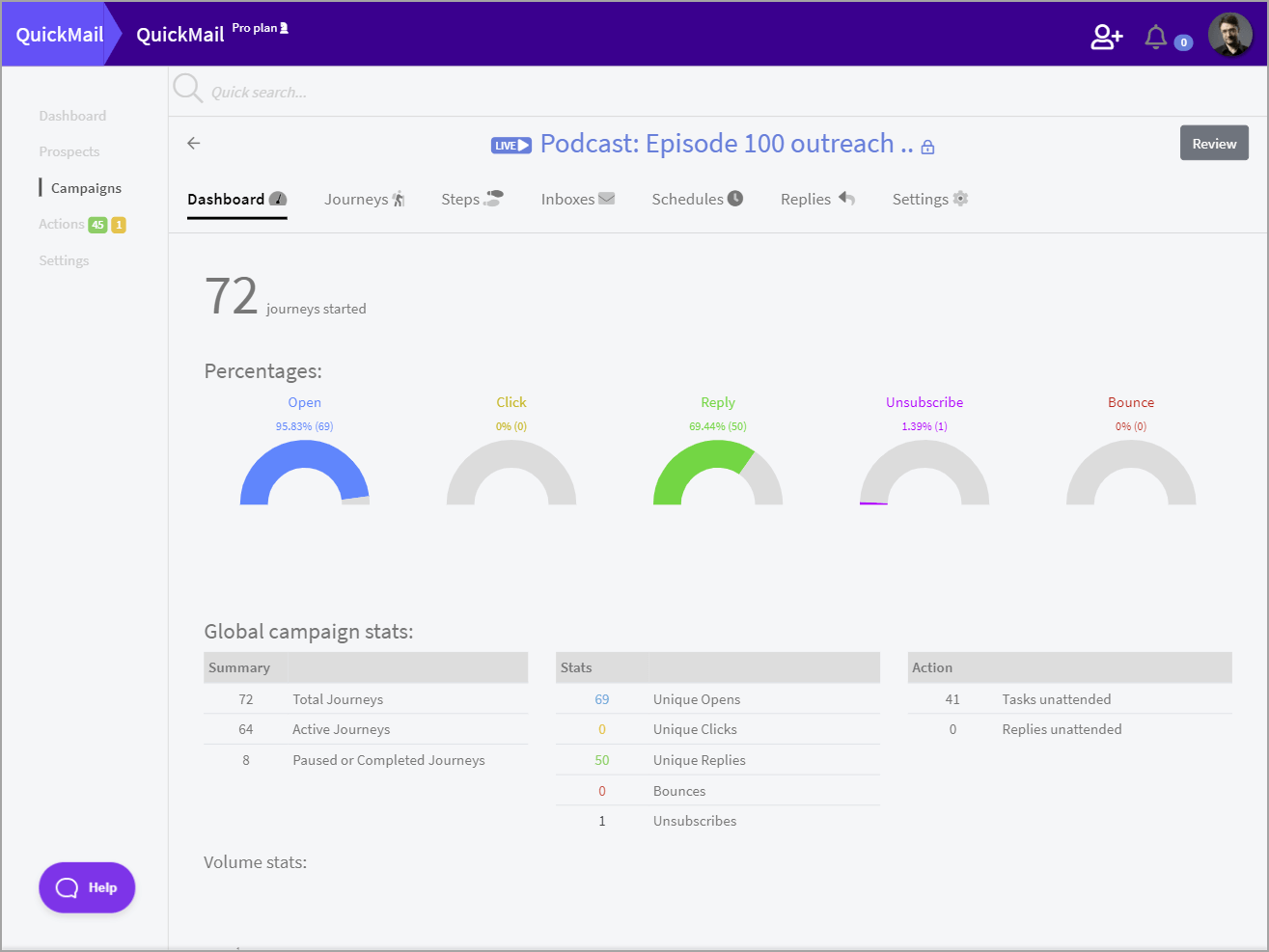 You can connect QuickMail with email verification tools like NeverBounce to ensure high deliverability, and our Zapier integration means you can send your QuickMail data to a huge selection of tools including your CRM, Slack, or spreadsheets.
You can easily collaborate with your whole sales team and see detailed performance metrics.
Click here to start your free trial today.