Grow your agency, not your admin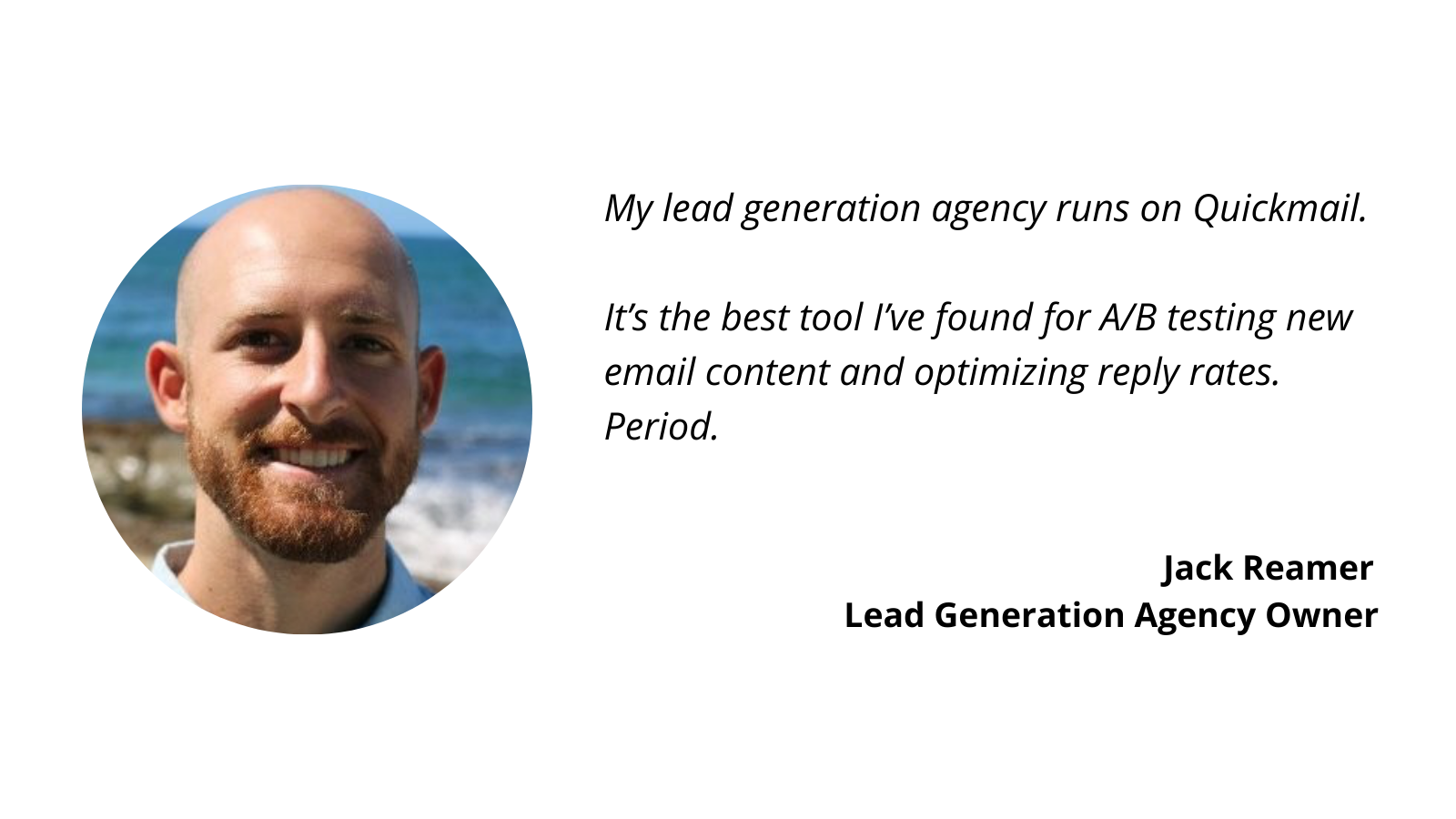 Hundreds of agencies use QuickMail to focus on delivering results to their clients instead of getting crushed by a mountain of manual work.
QuickMail gets your emails into people's inboxes with as much automation as possible. Meanwhile, you can focus on growing your agency.
Manage all clients in one place
QuickMail is built with agencies in mind. You don't need to log in and out of accounts just to check the stats on your clients' campaigns. You can have all of your clients' accounts (and your own, too) under the same organization.
Bring your whole team
We don't charge you per seat. Only for the inboxes you use for sending. So you can forget about sharing a single login with the rest of your team or paying extra when new people join.
Scale easily and quickly
Ready to send more volume? Just add an inbox (or five) to your existing campaign and we'll start sending the same campaign from multiple inboxes. Forget dealing with the duplicated campaigns hell.
Reduce tedious tasks
Prospect import, follow-ups, to-dos, Zapier integration – QuickMail lets you automate as much of your work as possible, so you can focus on important things that can't be automated. Like growing your business.
Bypass the need for exports
Tech-savvy agencies can use a single webhook to monitor when a prospect opens, clicks, replies, unsubscribes, bounces, completes a campaign, for all your accounts.
Leverage Google Drive
QuickMail integrates with Google Drive natively, so if you need to grab your prospects from a Google Sheet, we'll do that automatically.
Share campaigns across all your accounts
Found a winning template that you want to replicate for another client? No problem. Just clone it into the other account. No need to manually re-create the steps, copy-paste the email content, and risk making mistakes.
Always know who did what
QuickMail keeps a log of all the changes made by your team. In case something breaks, you won't need to spend hours trying to figure out who did what or watch your team point fingers. Just check the logs, fix the problem, and move on.
Enjoy top-notch deliverability
If people aren't getting the emails that you send, nothing else will matter. QuickMail is laser-focused on getting your emails into people's inboxes – from the way we handle sending to warming up your inbox for free.
Never miss a lead
Archived, Deleted, or even Spam. QuickMail checks everywhere to not miss a single reply to your outreach. If a prospect replied to your outreach, we'll detect it.
Enjoy the (truly) best support
Our customer support is in the business of solving problems, not marking tickets closed.
Your business workflow is specific to you, so we won't insult you by using canned replies, templates, or asking you to turn on and off your computer.