Tired of manually updating your CRM, losing critical information from sales calls, and being so buried in repetitive tasks that you can't focus on the bigger picture of growing your business?
You need to automate your sales process.
When you find ways to automate your sales process, you'll free up time to focus on high-impact tasks.
You won't feel like you're drowning in repetitive work, and you can be confident knowing that your business is running smoothly behind the scenes.
In this guide, I'm going to show you:
What sales automation is

Key benefits to sales automation

Practical ways to automate your business

Useful tools to help with your automation needs
This guide is ideal for anyone running a lead generation agency, or growing company that uses outbound sales to find new leads and customers.
Sounds good?
Let's dive in.
What is Sales Automation?
Sales automation is the process of automating repetitive tasks in your sales process. These are generally low-value tasks that don't have any major impact on sales or revenue. Most importantly, they take you away from more important work. As someone running a business, you shouldn't be spending time on these.
There are no defined rules over what you can automate, but a few examples include:
Updating CRM records so you're always up-to-date

Sending cold emails and following up

Creating a library of email templates you can use

Enriching data on leads to give you more insight
By automating key parts of the sales process, you'll be able to increase your ROI on time spent, and never miss an important meeting, deadline, or critical piece of information.
Next, we'll look at more specific benefits of automating your sales.
Benefits of Automating Your Sales Processes
1. Spend More Time on High Impact Tasks
Agency owners, founders, and anyone running a sales team shouldn't spend their time on administrative work and easily automated tasks like data collection, lead enrichment, or remembering to send emails.
By automating tasks like these, you'll free up time to spend on the things that matter.
Talking with prospects and customers.
Finding new ways to position your service.
Building your network.
2. Prospect More Effectively
Once you start automating your sales process, your productivity will skyrocket.
You'll be able to reach more people with the same (or less) effort.
In the past, you may have had to manually enrich your leads with information to help you understand their needs, but using sales tools like Clearbit you can automate that. Instead of searching for data on prospects manually, they'll be automatically enriched with up-to-date information that you can put to work.
3. Shorten Your Sales Cycle
Your sales cycle can be artificially lengthened due to poorly managed processes.
For example, if after every consultation call you need to chase team members for information or write up your post-call emails manually, you'll be wasting valuable time.
If a prospect tells you they're ready to become a customer and you still need to send them multiple back-and-forth emails to clarify how you'll run the contract, then you could be hurting the trust a prospect has in your processes and lengthening your sales cycle for no reason.
Instead, creating a simple, step-by-step process for onboarding new clients will mean it becomes repeatable and scalable. Anyone on your team can manage the process, and your clients will benefit from the simplicity and clarity you have.
4. Keep Your Team On the Same Page
Another major benefit of sales automation is that you can keep your team up-to-date and ensure nothing ever falls out of place.
When you open a CRM record, you won't need to ask your coworker when it was last updated, if they've had any calls since then, or worry about outdated information.
You can use tools likeZapier to create workflows that match your goals, and automate boring but necessary tasks like updating your CRM, or for time-sensitive tasks like notifying your team to check their inbox because a prospect replied to yourcold email.
You'll avoid having to ask your team repetitive questions, search for vital information, and know exactly where each prospect is in your sales pipeline.
High-Impact Ways to Use Sales Automation In Your Business
Warning: You can't automate anything if you don't have clear processes for them in the first place.
You'll end up automating tasks that don't make sense, don't have any impact, and won't have any value in your agency or company.
Rather than jump straight into tools likeZapier orIntegromat trying to automate tasks that don't make a difference, figure out where most of your effort is going on a day-to-day basis.
Look for ways to simplify those repetitive areas without quality being affected. Once you know that, you can automate in a smart, efficient way.
1. Automating Your Cold Email Outreach
Cold email is the main sales strategy for successful agencies around the world, and for good reason.
But, it's time-consuming to do well.
Writing emails, following-up, reviewing your campaign metrics… Without automation, you'll spend all week creating and managing one campaign.
Here are the key steps to automating it.
1. Start Using a Cold Email Platform
If you've been sending sales emails at a low volume up until now, you might have been doing it manually. However, as your company and team grow, you'll need one hub to manage it all.
Using QuickMail, you can manage multiple inboxes, manage multiple campaigns, and view detailed analytics on how each campaign performs.
If you're sending high-volumes, you'll also want to split your campaigns over multiple inboxes, and QuickMail has inbox rotation built-in.
Simply add your team's email accounts, and prospects will be auto-assigned to different team members upon sending.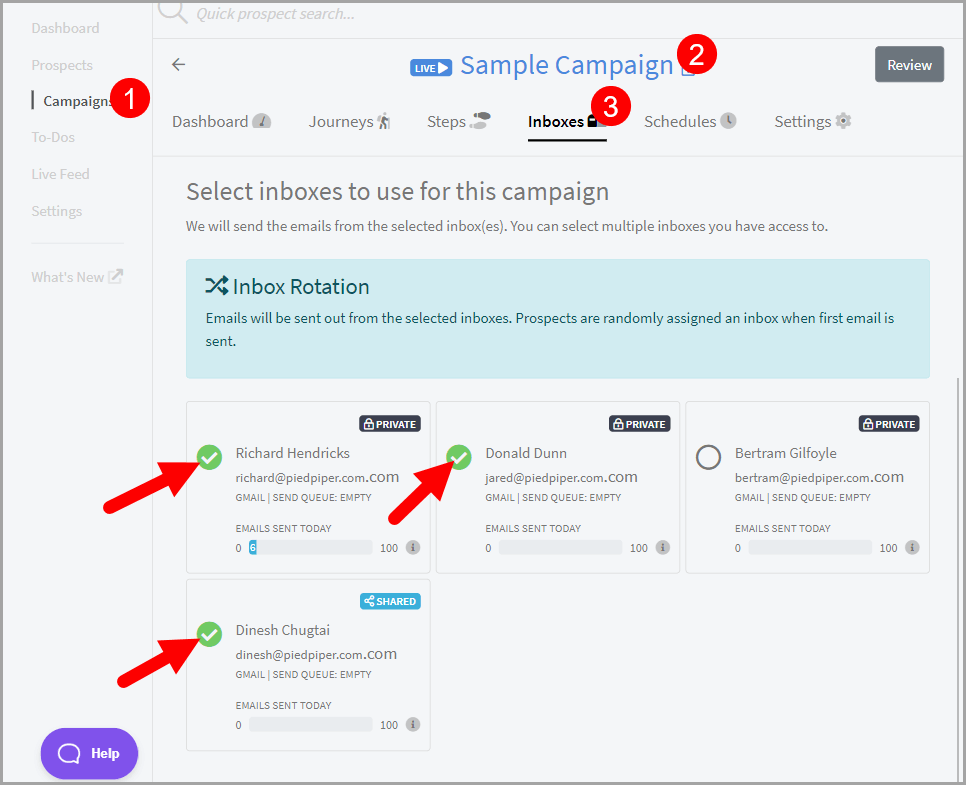 It's a simple way to manage email volume, and automate your outreach.
2. Instantly See When Prospects Reply
If your prospect replies and you ignore them for hours, it's not a good look.
Luckily, there are easy ways to get notified when prospects reply (without having your email open all day).
One simple way to do this is to link your QuickMail account to a tool you have open all the time, like Slack.
Using our Zapier integration you can quickly set up automation like the one below.

When a new reply comes in from your outreach campaigns, you'll get notified in a specific Slack channel (you can set a specific channel, or have it sent to you as a direct message).
You'll never miss a reply, and as soon as you get the notification, you can head to your inbox and reply to your prospect.
You'll instantly look more credible as you're not leaving your prospects waiting, and it'll ensure you never have loose ends in your sales process.
Alongside automation like this, you could also log the reply to the prospect's CRM record in HubSpot, Pipedrive, or other CRM you use.
Your information will be up-to-date immediately, and there will never be a case where two members of your team are reaching out to a prospect with different information.
3. Automating Your Outreach
Once you've set up your account, you can start creating and sending your emails.
Head to the campaign editor to write your emails. You can personalize them as much as you need to with merge tags so every email is unique.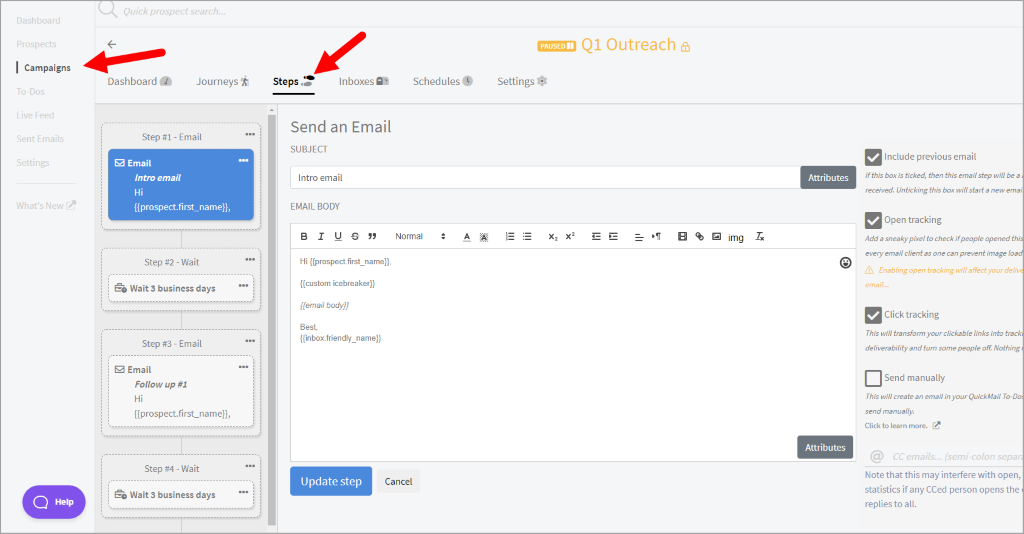 Then, simply add your prospects to the campaign, and watch the replies roll in.
2. Automating Cold Calling and Dialing
It sounds like a small task, but if you have to manually dial a number every time you're making a cold call (or following up with a prospect), it'll eat into your day.
Look for software that eliminates this, and lets you call prospects with a click. You'll never type a phone number incorrectly and can spend more time on the phone with prospects.
Once you link QuickMail with your sales calling tool, likeAircall or Skype, you can dial your prospects' number with a single click.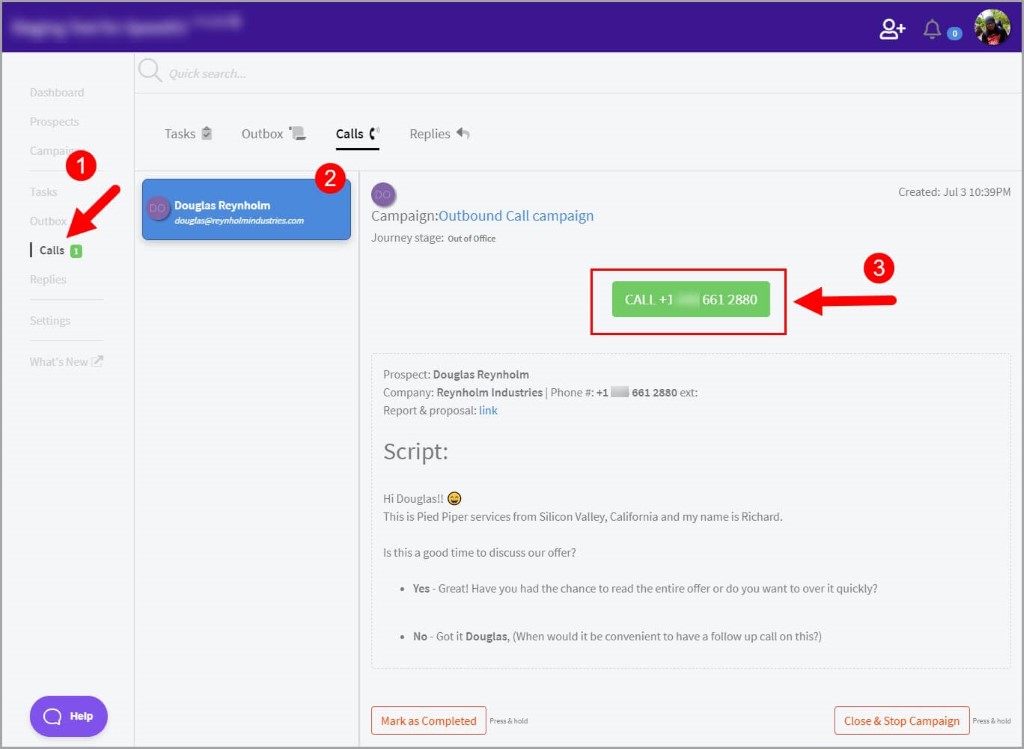 The script you added in your campaign call step will be right there to help your call run smoothly, and you'll no longer worry about missing important details on your calls.
3. Simplifying Your Lead Pipeline Management
If your sales and marketing efforts are working, and we'll assume they are, then you'll have a pipeline full of opportunities.
Next, you need to turn those opportunities into customers.
But it can be hard to stay on top of your pipeline if you have multiple team members, and multiple inboxes to manage.
Luckily, there are a few simple ways you can automate the process and improve the data available to your team.
Data accessibility for sales teams can shorten their sales cycles by8 – 14%, according to Nucleus Research.
The more simple it is for your team to find and access data on leads, the more effectively they can perform.
You can link your CRM with sales tools likeGong. Gong lets you see information and detailed reports on what topics your team has discussed with prospects, points of interest, barriers to purchase, and more.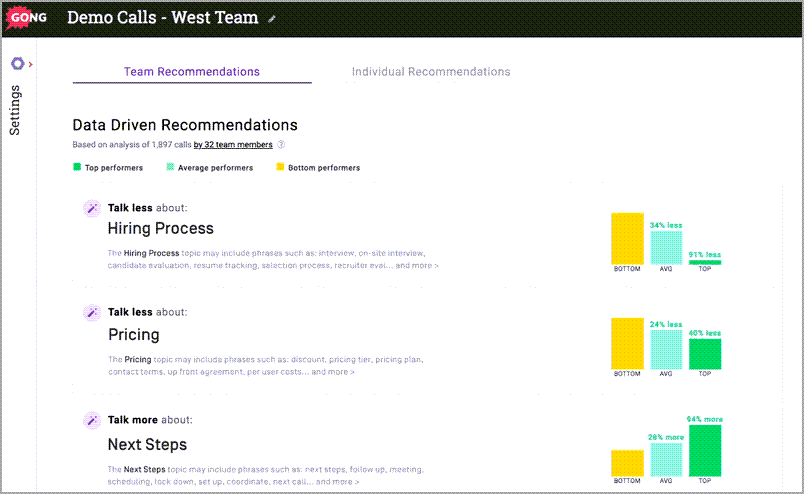 Automating your sales system to provide your team with up-to-date information is a powerful way to close more deals, reduce internal miscommunications, and improve your sales function.
10 Essential Sales Automation Tools
Sales automation tools are specifically designed to help you automate and improve your sales process. You'll find tools that help with everything from prospecting, to signing the contract.
Here are some of our favorite, recommended sales automation tools.
Boosting Your Results from Cold Email
Firstly, cold email. To automate your cold outreach, useQuickMail.
You can schedule cold email campaigns, send automated follow-ups, andconnect with your favorite sales tools including Zapier, Aircall, Neverbounce, Twilio, Calendly, and more.
QuickMail is an essential part of any good sales stack, and you'll be able to easily collaborate with your team and see your metrics in one place.
Creating campaigns can be done in a few clicks.
Head to the campaigns tab, and create your first campaign.
You can add multiple steps to a campaign, including emails, calls, tasks for your sales team, and more.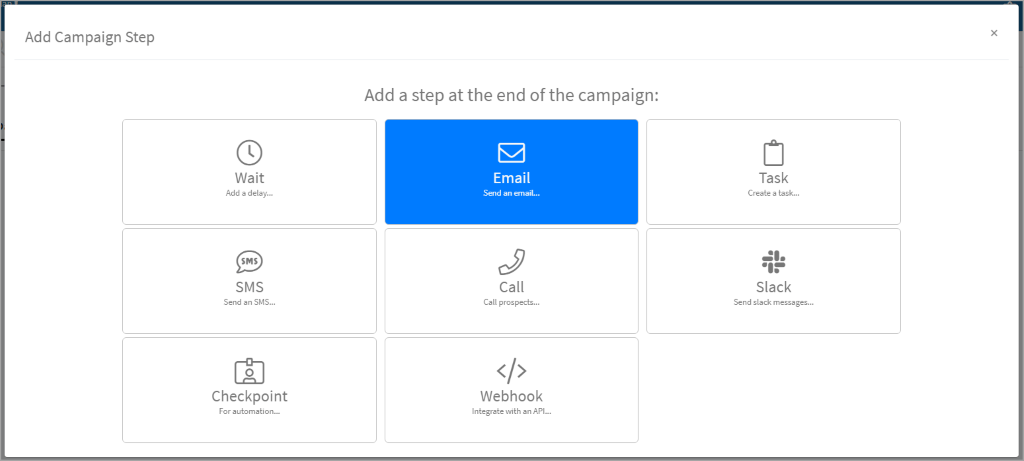 You'll be able to see when your prospects open your emails, and if they click on any links inside your emails.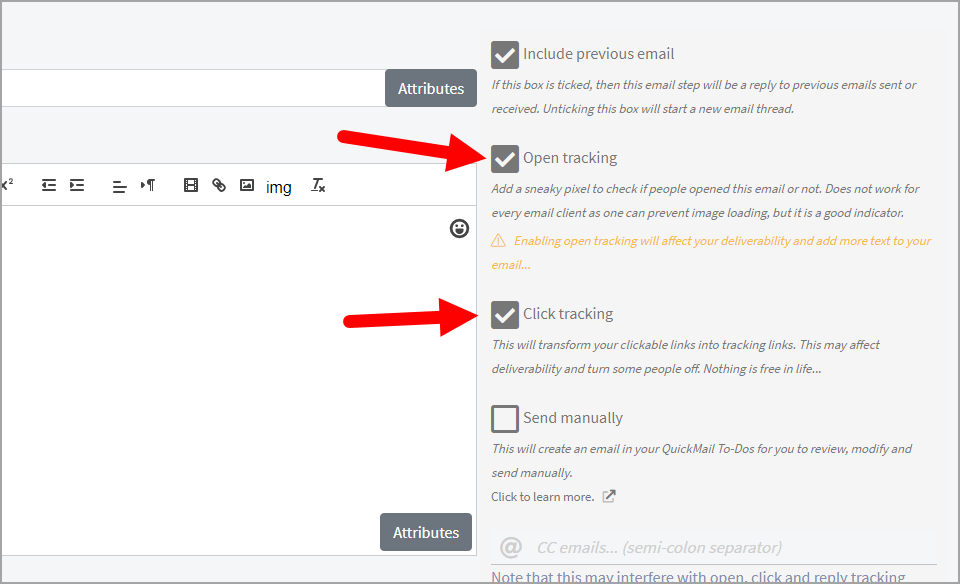 If you're looking to automate your cold outreach in a personalized, simple way, it's the perfect platform for growing agencies to do so.
You can save and re-useemail templates, see detailed analytics, and if you ever need help, our support team will be there to help.
You can test out QuickMail with afree trial.
Improving Your LinkedIn Prospecting
LinkedIn is a great place to engage with B2B decision-makers.
There are a variety ofLinkedIn automation tools to help you speed up and automate your prospecting on the platform.
A few of the most useful include:
Zopto

– automation tool to find and connect with prospects matching your filters

Lusha

– find contact details for any LinkedIn profile

Alfred

– manage multi-step LinkedIn outreach campaigns with a CRM
Prospecting manually on LinkedIn takes time, and by combining any of the tools above with your Sales Navigator account, you can put your prospecting on autopilot.
Quickly Schedule Meetings with Prospects
If the agency or company you run has a high customer lifetime value, you'll need to talk to prospects before they want to sign any contracts.
To quickly and effectively manage your meeting scheduling, use tools like:
Calendly

– simple, affordable online scheduling tool that integrates with your calendar
There are a variety of alternatives to Calendly, such asx.ai, orYouCanBook.me.
That said, there's no need to overthink the tool you pick. Most scheduling apps have similar features, and the choice is unlikely to have any negative effects on your business.
Creating Proposals and Signing Contracts Remotely
Assuming you're not meeting every client in person with a paper contract, you'll need a simple way to create and sign proposals.
Ideally, you'll need a tool that makes it easy to:
Quickly update contract details

Use similar contracts for multiple clients without having to rewrite from scratch

Can be sent over email
There are lots of good options out there.
Some of our favorites include:
HelloSign

– save contract templates, collect legally binding eSignatures on documents, and integrates with Salesforce

PandaDoc

– create proposals, quotes, contracts, and collect eSignatures and payments in one place
These are both great proposal and contract creation tools that you or your sales reps can use to quickly create contracts. You won't need any design skills, and while it's always recommended to have your contracts reviewed by a lawyer, they both have a variety of pre-vetted templates available.
Your team will have a faster turnaround time, and you'll impress your potential customers with documents that look far better than a generic Word Doc or plain-text PDF.
Automating Every Repetitive Task
If you want to take your sales automation to the next level, there are a variety of automation platforms that you'll love. These will help you eliminate repetitive administrative tasks, as well as sales tasks.
Some of the best include:
Zapier

– lets all of your apps talk to each other. Connect tools like QuickMail with any other web app to remove manual work and boost sales productivity

Phantombuster

– extract data from around the web to use in your

outbound sales

campaigns

TexAu

– sales automation platform designed for growth activities. Includes sales workflows for LinkedIn, Facebook, Twitter, and more.
These three tools can all be used to find huge points of leverage in your sales process.
For example, you can completely eliminate the need to do data entry, or CRM record updating, thanks to Zapier. Your sales tools will essentially talk to each other, and data automatically sent between the two.
An example 'Zap' could be that when you receive a new email tagged with 'Sales Lead', a new record is added or updated in your CRM. Then, when you have a call with that prospect, you'll have every conversation you've had saved. It's a good alternative to paying for more costly sales systems, and you don't need to know any code to use it.
Taking the Next Step
At the end of the day, the more repetitive tasks you can automate for you and your sales team, the more productive you'll be, and the higher the ROI on your time will be.
These steps will help you start, improve, and optimize your sales automation processes.
Remember, build processes manually before trying to automate them. If not, you'll be automating the wrong things and you'll end up wasting time that could have been spent talking to your prospects and customers.
Then, once you know you're spending too much time on essential, but repetitive tasks, you can automate them.