Email finders are an awesome way to get more people to open your emails. If you're on a mission to win more sales deals and you're emailing prospects, deliverability is vital to your success. Email finders & email verifications can help avoid bounces.
Without the correct email addresses of your prospects, your deliverability will go down, you'll get bounces, and it may even result in your domain being penalized or being marked as spam.
And want to know the worst part?
Without the right email, you'll get fewer opens, responses — and ultimately — meetings and sales.
With so many tools out there today, it can be difficult to know which ones to give a try.
But don't worry: we've done all the hard work for you.
After comparing all of the top email discovery and verification tools around, we've come up with a roundup of the best tools to find email addresses. We took into account established, long-time tools, along with new ones gaining traction, to give you a variety of top options.
Depending on the type of functionality you're looking for, results, budget, and team size, there's something here for you!
PS: I also only included tools that had stellar reviews from multiple sources (typically Capterra, G2 Crowd, and/or Product Hunt). Figured it would be better to show you 10 awesome tools rather than 20 sub-par ones, you know? 😁
Here's a list of the best email finders out there today:
NeverBounce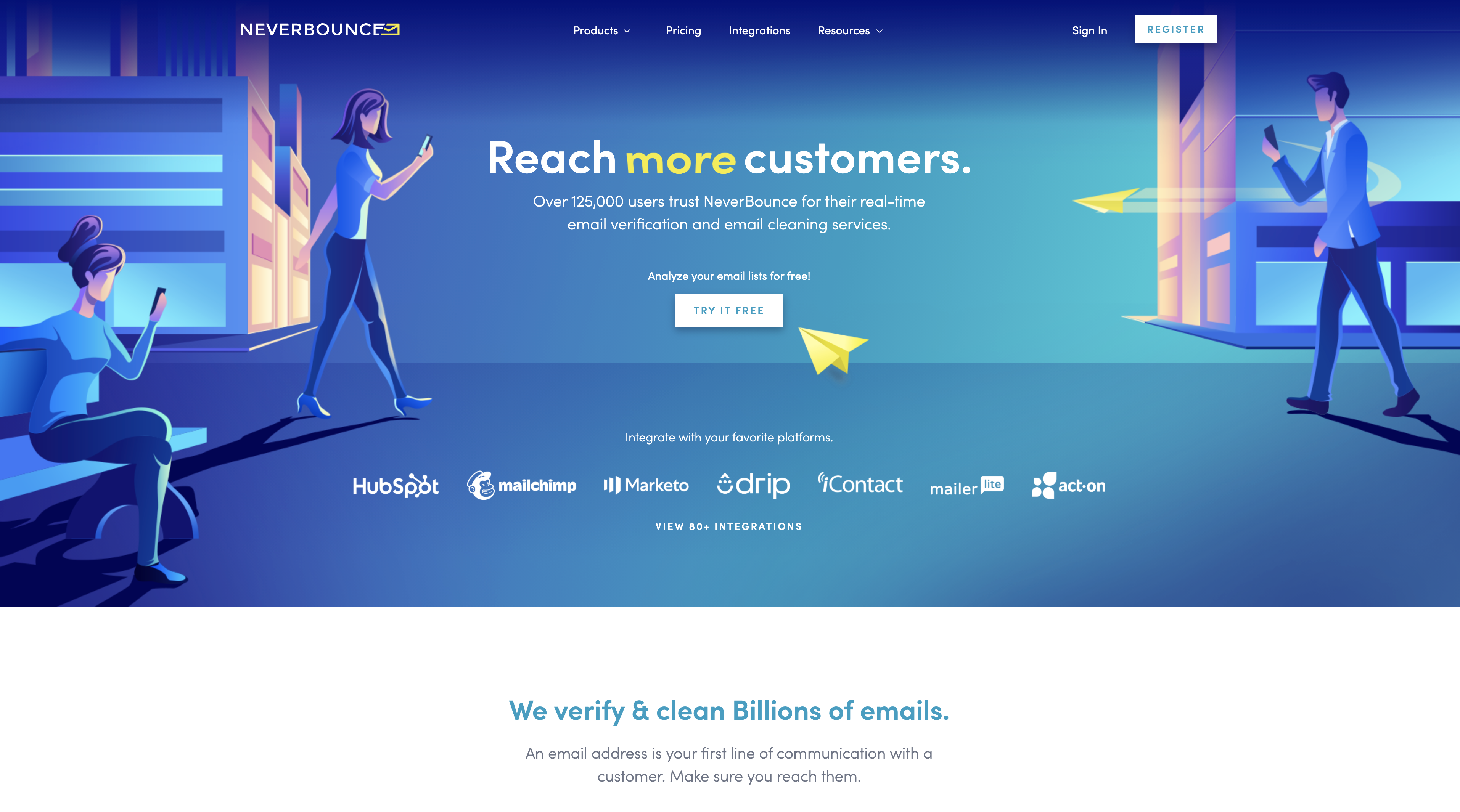 Features: Email verification
What makes it awesome: Bulk email list cleaning with best accuracy so far
Price: Less than 1 cent per verification
NeverBounce has become my go-to for email verifications. Looking at our data on QuickMail, this has produced the least amount of bounces.
Why are they the industry go-to?
Because their email verification data is so ridiculously accurate.
I also like their email alert should your number of email verification goes below a threshold.
Hunter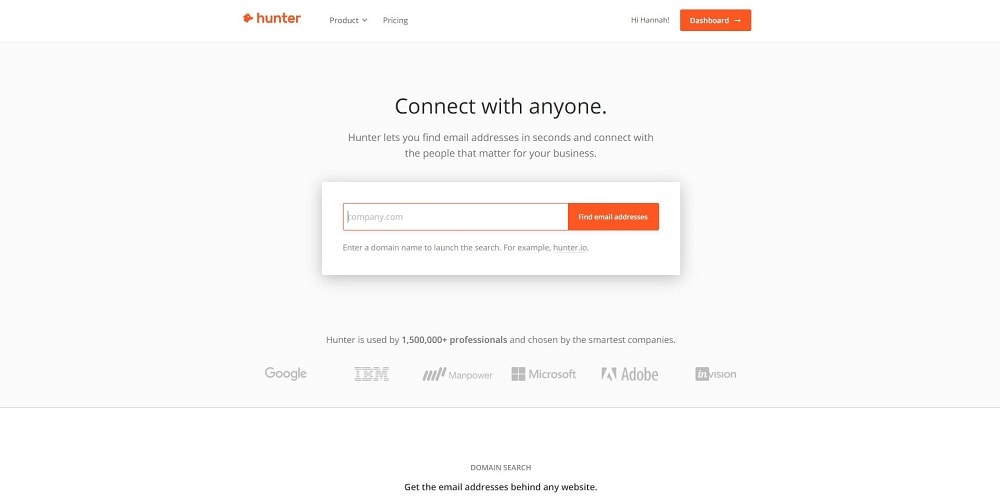 Features: Domain email pattern lookup, email deliverability verification
What makes it awesome: It's more than email verification, but a tool to help you find an email from a certain. You can search for a company domain and it will spit out the recommended syntax (for example, f.last@company.com). That way, you don't have to manually search until you find variations.
Price: Free up until you hit 50 requests/month. If you want over 50 requests and a CSV import of the contacts you generate, paid plans start at $49/month for 1,000 requests (email checks).
Want more than just deliverability likelihood stats? Hunter (formerly known as "Email Hunter") is an email verification tool that allows you to search for email patterns for any domain.
While it's a fairly new player in the space, it's been gaining traction for a good reason.
It will give you the confirmed sources it has on file to prove what they know about a domain's email syntax. That way, you'll have a better idea as to whether or not someone's email at their company domain starts with their first name, first initial, first.last, and so on.
I also like the fact that they are fully transparent about where they source their data (they find data on public websites). They list exactly where each email was found, so that you're never left wondering if they're engaged in questionable acts of witchery.
Plus, it's lightning fast — which makes it pretty ideal for people who tend to be impatient (like me).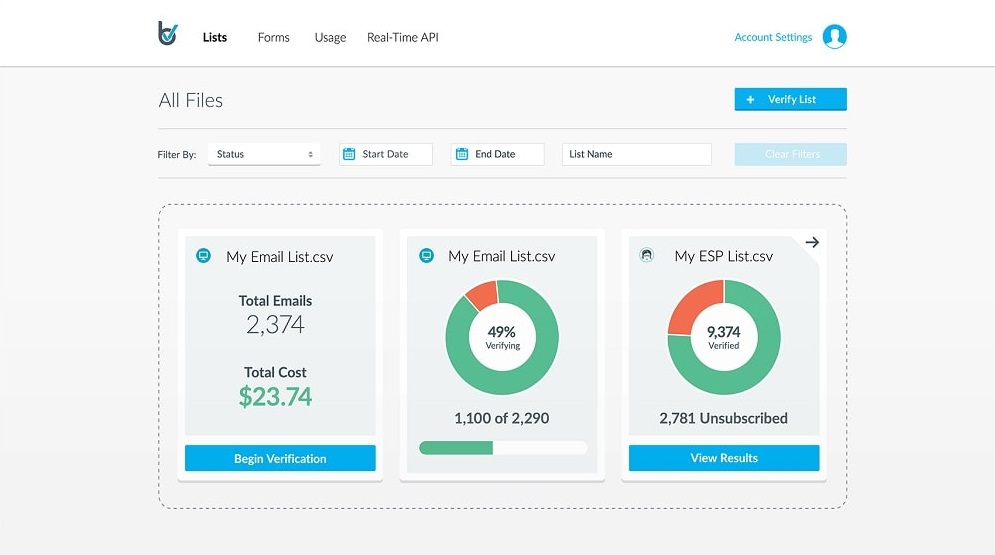 Features: Email verification
What makes it awesome: Bulk email list cleaning with crazy accuracy
Price: 1 cent per verification
BriteVerify used to be a long-time leader in the email verification space before bought by Validity.
Accuracy is still good but it became expensive without being as good as NeverBounce.
Here's how it works: upload your contact list, then sit back while they work their verification mojo. After that, you'll receive a list separated into different categories: what they consider to be "clean" emails, inaccurate emails, and "risky." You can choose to export the emails from any of those categories.
After that, log in to your CRM and import your new, squeaky clean contacts!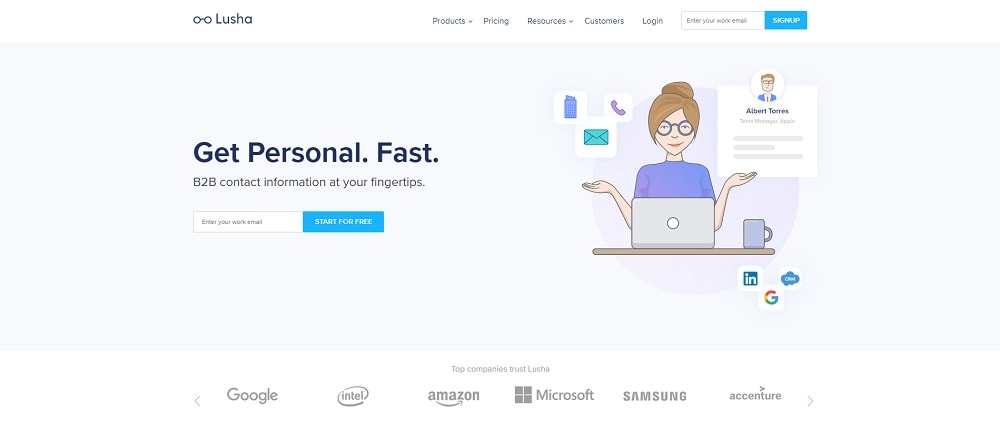 Features: Find contact information on social profiles
What makes it awesome: Find things like email, company information, and/or phone number of a contact in Gmail, LinkedIn, and more.
Price: There are free and paid plans, however, you must select their enterprise plan in order to export contacts or connect to the API
Are you often viewing potential prospects on social media sites like LinkedIn, but can't find a contact email that is immediately obvious?
Lusha's got your back. It connects with a bunch of sites, including LinkedIn.
In many cases, it can also miraculously give you the phone number and company information (name, size, industry) of people sending you messages in Gmail.
Having background information on the prospect's company will equip you with quick and useful information for that lead so that you go into conversations and meetings with knowledge (rather than panicking due to running short on time).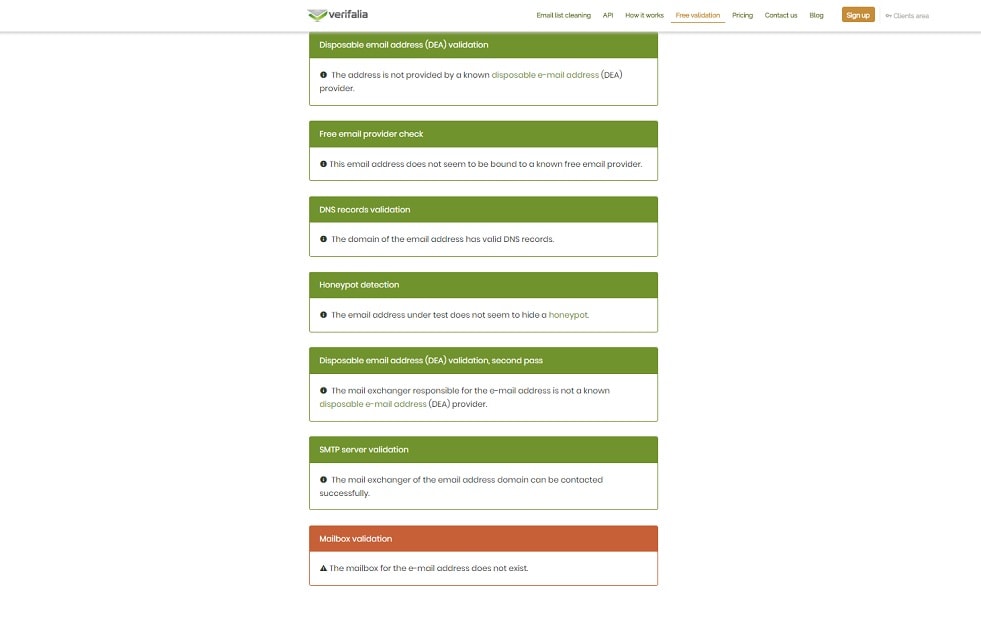 Features: Email verification
What makes it awesome: Ease of use, plus it gives you a list of factors that contribute to their decision of whether or not an email is valid
Price: Free for single contact email verifications. If you want to verify bulk lists, paid plans start at $9/month
Verifalia has a free email verification tool for anyone looking to verify emails individually, which is pretty cool.
I often find myself going back to this tool for verifying emails on a one-off basis, if I'm looking to check multiple sources before sending out a message.
If you're looking to verify a list of contacts, you may want to look into their paid plans.
They get major points for usability and ease of use; everything is intuitive.
The other thing I appreciate is the fact that they give you a list of factors behind the validity of an email.
After all, determining whether or not an email is valid isn't exactly as straightforward as we'd like to think — the backend has to take into account things like: syntax validation, DNS records, honeypot detection, SMTP server validation, mailbox validation, and more.
Phew! There is quite a lot going on behind the scenes when it comes to email deliverability tools.
If all of those factors make your eyes glaze over, no worries — you can just let Verifalia handle it all for you.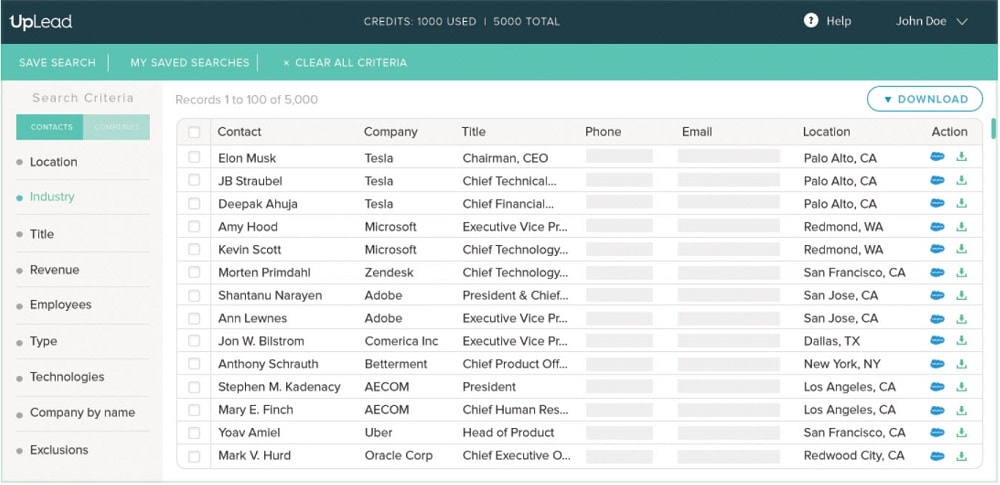 Features: Lead database, email verification
What makes it awesome: Advanced filtering and sorting of contact/company type, plus it fills out "missing" contact info for your existing lists
Price: Free test run for up to 5 credits, then paid plans start at $79/month for 200 credits.
UpLead is a B2B-focused database with over 46 million contacts and email addresses (from multiple sources). They also claim a whopping 95% accuracy.
You can verify the validity of any of their contacts in real-time, helping you prevent getting data that may be out-of-date.
They give you the unique ability to also upload your existing lists, and from there, it helps you find missing contact information (email or phone).
They also don't waste your time by adding any invalid or uncertain emails to contact exports.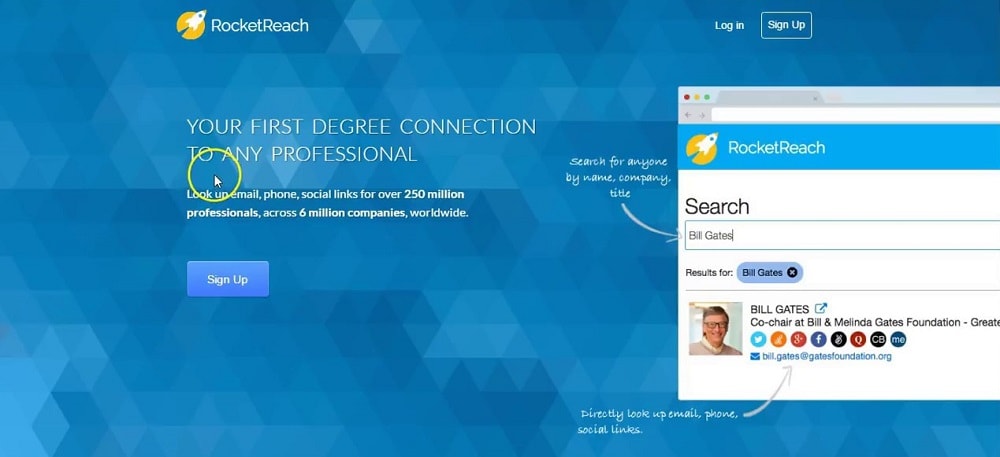 Features: Contact and email finder
What makes it awesome: Reveals contact information via social profiles
Price: A few initial lookups for free, then paid plans start at $49/month for 170 contact lookups/month.
RocketReach helps you find the contact information of leads on social profiles. With their Chrome extension, you can reveal contact details of prospects you're viewing on LinkedIn, Crunchbase, AngelList, and more.
They also offer list enrichment, so if you have an existing list from a conference or some other event, you can easily upload it and they will fill in the blanks.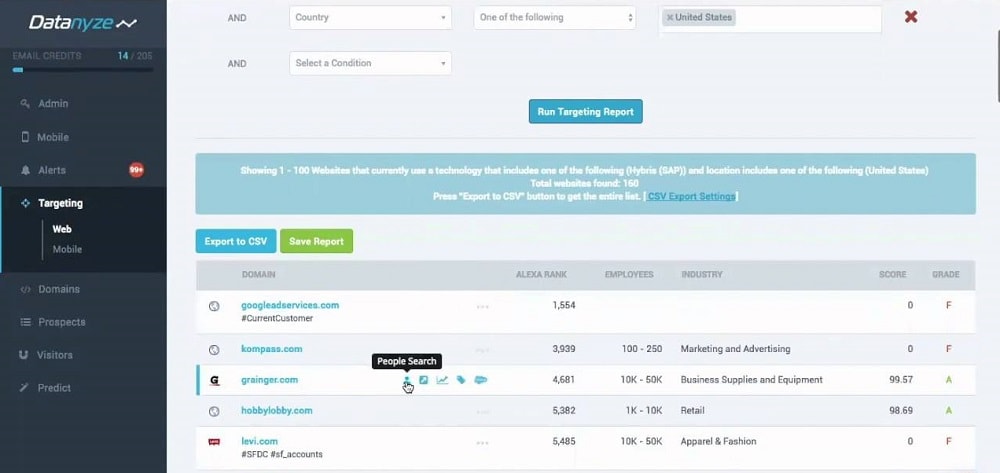 Features: Prospecting tool, contact info (no native email verification, so you'll want to use a separate tool for that)
What makes it awesome: Intelligence meets prospects data (it gives you some interesting facts that may impact prospect's buying decisions)
Price: The sales prospecting Chrome extension is free with a cap, and paid plans start at $600/mo. Cost varies based on company size and needs
Datanyze goes beyond most prospecting tools in that it also provides you with business intelligence that you can use to help you in sales meetings.
For example, you can easily see what technology your prospect's company is running on their website and what tools they use on their pages.
You can also see whether or not they've recently posted new jobs, which might help indicate what your lead is currently needing help with.
You can export your leads to Salesforce.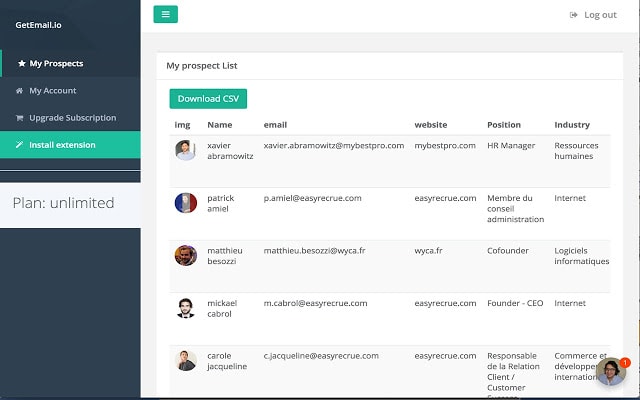 Features: Contact information finder, email verification
What makes it awesome: Ridiculously accurate for finding prospect contact information, and when they're uncertain, they will tell you ahead of time
Price: Free for up to 10 contacts/month, with paid plans starting at $49 for 300 contacts/month
GetEmail is an extension that works with LinkedIn and helps you find the contact details of potential prospects.
You know how not all tools will show you up-to-date emails from LinkedIn?
Well, this tool is well known for displaying extremely recent contact details that may not be immediately obvious to other tools — especially when it comes to LinkedIn.
One customer on Capterra even said that if GetEmail ever can't find an email, then chances are, the prospect lives in a cave with no internet connection. 😂
It's just that reliable.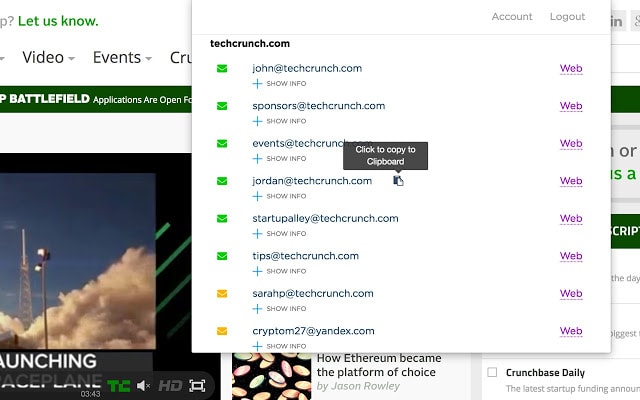 Features: Contact information from social profiles and sites
What makes it awesome: Domain intelligence (ownership details)
Price: Free 7-day trial, then $99 for up to 1,200 queries/mo
This little Chrome extension helps you in finding contact information for people on websites.
In addition to helping you find the domain owner's contact details, it also shows you estimates for website traffic, plus any other domains that person owns.
Note: This extension was last updated in 2017, but has raving reviews. I'd recommend testing it out first, though, before considering a paid plan.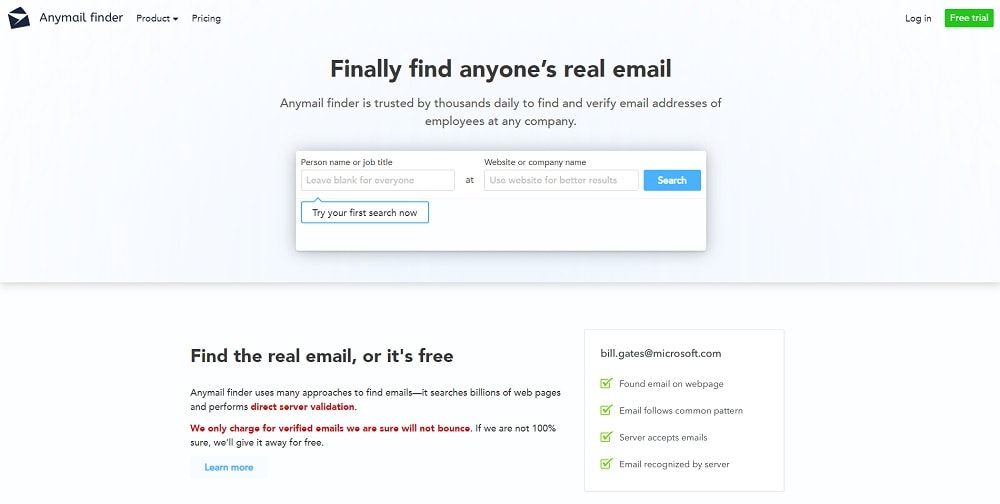 Features: Email verification
What makes it awesome: You only pay for verified emails that they're 100% sure are correct (any emails that are marked as "unsure" are free).
Price: Free for up to 20 emails, then paid plans start at $49/mo for 1,000 verified emails.
Search for first name, last name, company name and it will automatically show you the exact email address (you can also upload bulk lists).
Many services that offer email validation make you pay for invalid or uncertain emails (ugh!), but Anymail Finder does not.
I like that their pricing system is fair, and with the way their pricing works, it is actually in their best interest to provide people with the most accurate emails.
You only pay for emails that actually work, which is pretty cool.
Conclusion
I hope you've found this roundup helpful. My goal with this resource is to save you many hours of time, and to save your browser from having 20+ research tabs open at once.
Each tool was placed on this list based on experience, research, and review evaluation from multiple sources to help you weigh all factors.
All in all, finding email addresses for your prospects (and making sure they're accurate and actually delivered) can be a seriously tedious and time-consuming task.
That's why these tools can be absolute life-savers if you and your team would rather be focused on winning deals.
As you scale, adopting time-saving (and revenue generating) tools is the way to go if a lot of your time is currently being spent doing manual work.