Whether you're a seasoned sales expert looking to further explore automation, or you're just starting out and looking for ideas — sales automation tools can help boost your productivity and save your time.
Not to mention, sales leaders are always on the lookout for the best new tools to help streamline their team's processes.
The more productivity you can add to your day, the more time you will have to successfully close sales deals and crush your quota!
In this post, you'll also learn specifically what you can use these tools for. Rather than just spout off a list of companies, we'll give you specific ideas and tactics that you can apply to your workflow right away.
But we won't just talk about tools and processes that you've heard of before. In addition to some of the big players in the industry, we'll also tell you about the latest unique tools to enter the scene so that you don't miss a thing.
Here are the best sales automation tools out there right now: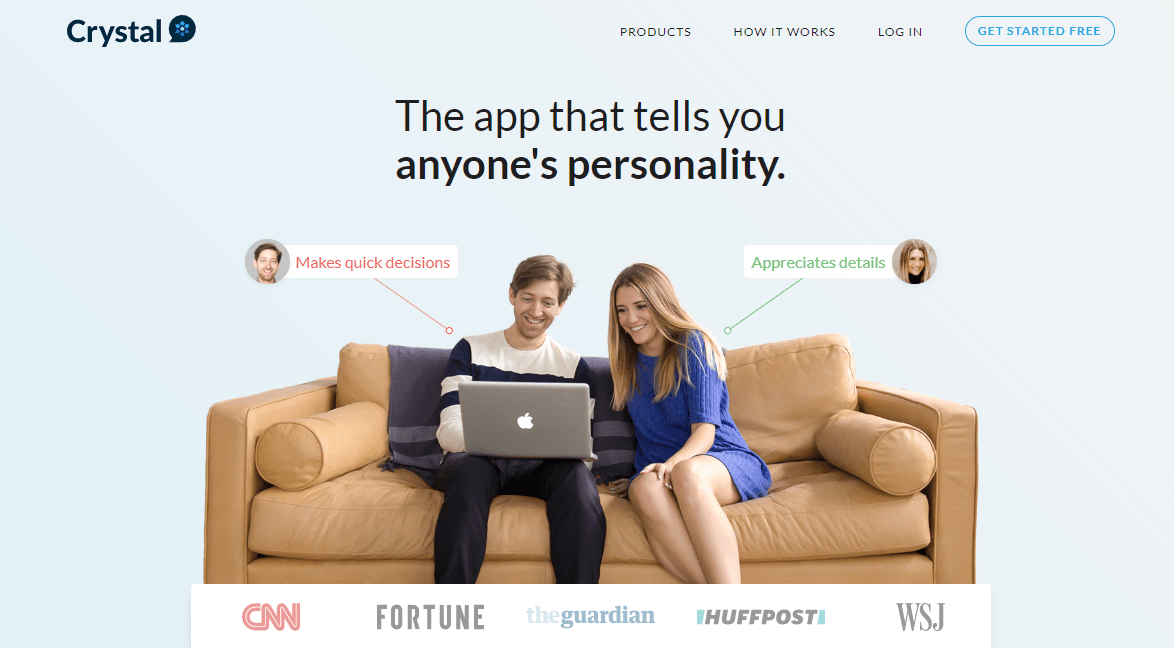 This tool is insane. Crystal also isn't your typical sales tool: it combines sales intelligence and psychology.
It does something pretty unique: using some creative magic, it gives you an instant personality analysis of a sales prospect based on what they provide online.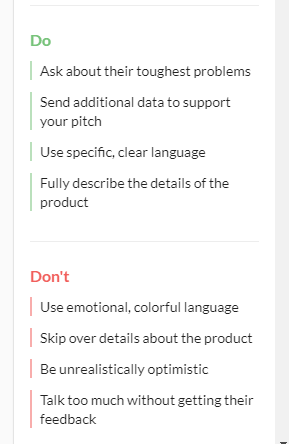 Think of it as that friend who's just given you an intro, then pulls you aside to give you some insider information like, "One thing you should know about Sally is that building rapport goes a long way."
It gives you tips about how to best approach the person for a meeting via phone or email, with insights into advanced personalization that is most effective for that personality type.
Using their browser extension and visiting LinkedIn, this tool analyzed my profile, and I have to say that (much to my surprise) it was very accurate.
Then, they provide recommendations about how to best sell to people based on their personality type.
By the way, their recommendations were eerily accurate.
I also visited profiles of friends, and again — eerily accurate.
Whether you're looking for the best way to approach an email to a prospect, or you want to know how to best frame your product or what to expect from a prospect during a sales call, this tool can give you more than a few useful clues.
Features: Sales intelligence to equip you with the knowledge you need to make a sale
What makes it awesome: Crystal analyzes sources online to paint a picture of your prospect's personality, giving you insights into what works/what doesn't when it comes to selling to certain personality types.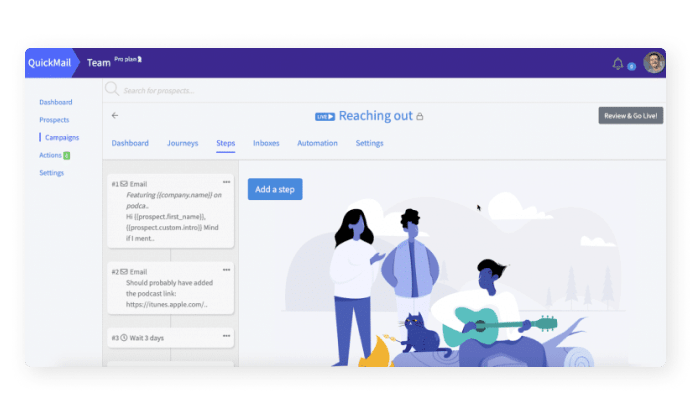 I'm including our own tool in this list, because it's one of the sales automation tools that we use every day ourselves for sales prospecting, account management, marketing, and customer success.
Whether you're an account executive or a sales development representative, chances are, you spend a lot of time sending manual prospecting emails and follow-ups on your team.
QuickMail helps you automate your emails and follow-ups, with a team version if you want to add different reps to different stages of your sales cycle — or multiple inboxes.
Features: Automated email outreach with personalization and follow-ups
What makes it awesome: Have many 1-1 conversations at scale, whether you're sending messages for client management or prospecting.

Price: Plans start at $49 a month, with a free trial available.

Have you ever needed to record your screen for a tutorial or a quick demonstration?
Or, maybe a more important question: have you ever used crappy, clunky video editing software?
I know I have.
Not only is most video editing software expensive, but it also takes up a lot of space and is often laggy.
Loom changes all of that. It's a simple browser extension that lets you record your screen (or yourself, or your voice) without the hassle. Everything is then stored in the cloud, and you can download it whenever.
You can also make any edits or cuts as necessary.
Loom is still relatively new to the space, and has been quickly gaining traction — and for good reason.
What makes it awesome: Easily record your screen without video editing software.
Price: There is a free plan that covers most needs. Paid plans start at $8/month.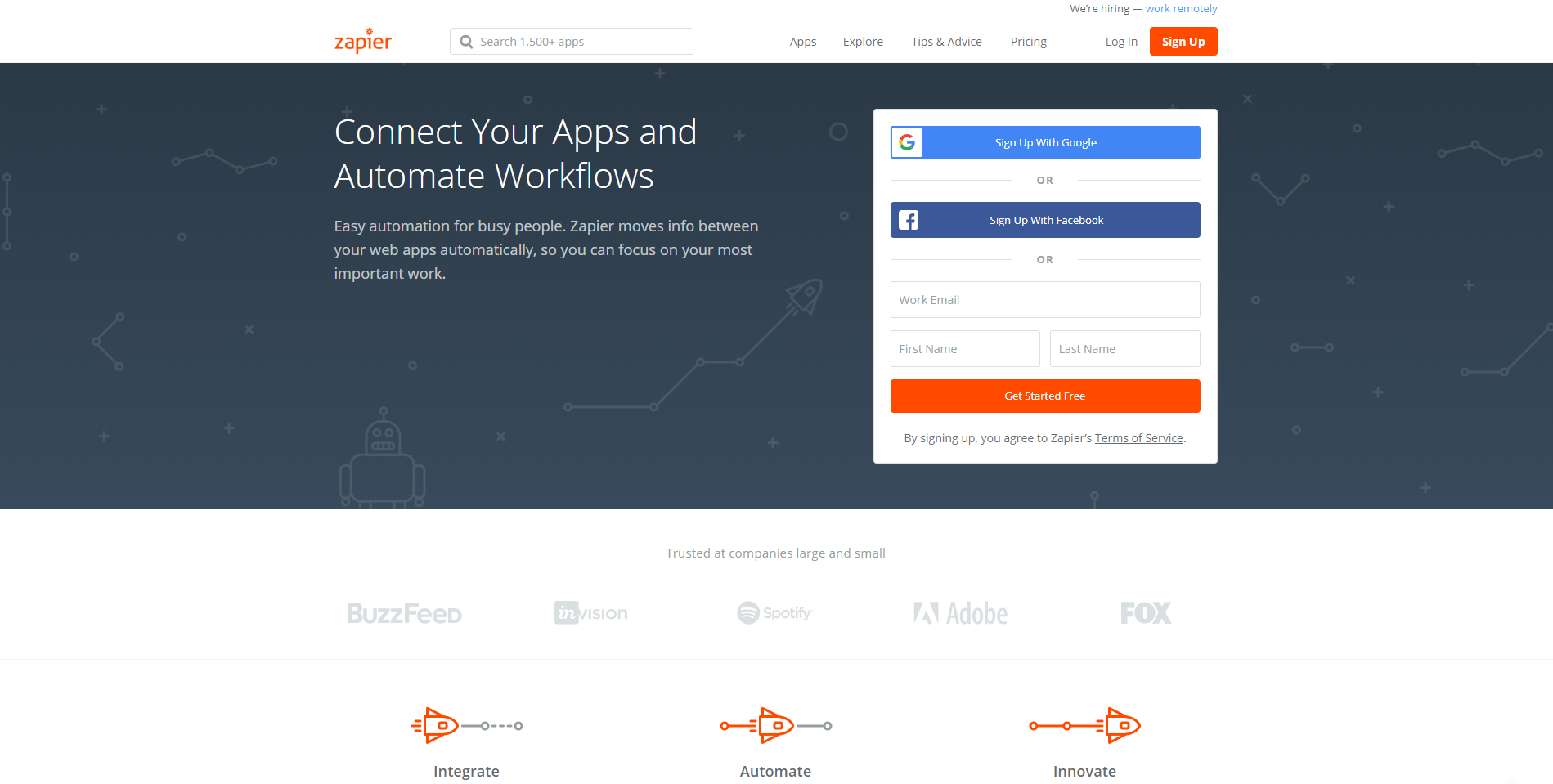 While this is one you may have heard already, it's such an incredible tool that it has to be mentioned just in case you haven't tried it out yet.
If you've ever wanted to connect two (or three, or four) apps together (apps that didn't already have an integration), this is the best way to do it without having to bother a developer.
You can choose from thousands of apps to connect and create your own custom integration without the need for code.
Features: Integrate and create automations with the tools you love
What makes it awesome: Connect apps without a developer
Price: There is a free plan for up to 5 zaps. Paid plans start at $19.99 monthly.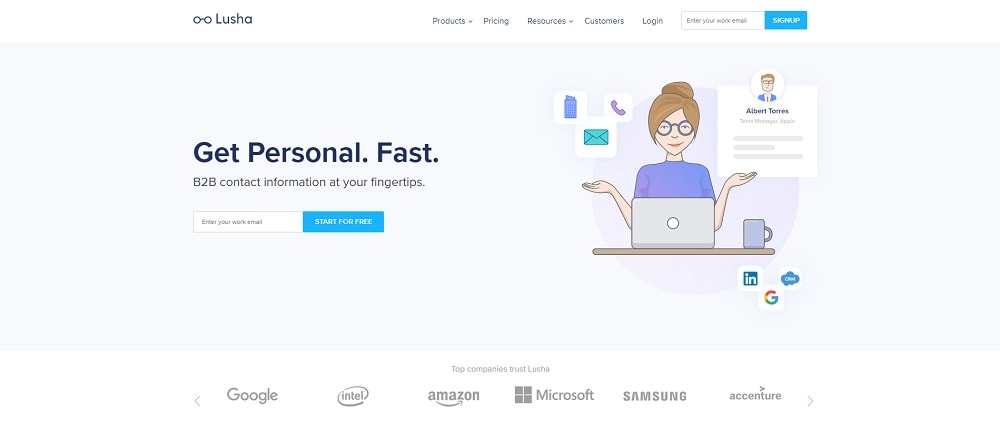 Are you often viewing potential prospects on social media sites like LinkedIn, but can't find a contact email that is immediately obvious?
Lusha's got your back. It connects with a bunch of sites, including LinkedIn.
In many cases, it can also miraculously give you the phone number and company information (name, size, industry) of people sending you messages in Gmail.
Having background information on the prospect's company will equip you with quick and useful information for that lead so that you go into conversations and meetings with knowledge (rather than panicking due to running short on time).
Features: Find contact information on social profiles
What makes it awesome: Find things like email, company information, and/or phone number of a contact in Gmail, LinkedIn, and more.
Price: There are free and paid plans, however, you must select their enterprise plan in order to export contacts or connect to the API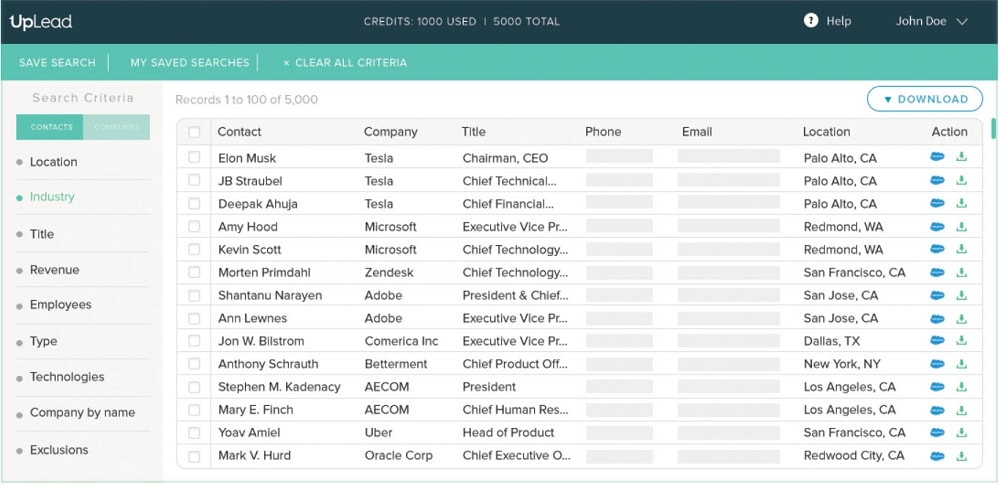 UpLead is a B2B-focused database with over 46 million contacts and email addresses (from multiple sources). They also claim a whopping 95% accuracy.
You can verify the validity of any of their contacts in real-time, helping you prevent getting data that may be out-of-date.
They give you the unique ability to also upload your existing lists, and from there, it helps you find missing contact information (email or phone).
They also don't waste your time by adding any invalid or uncertain emails to contact exports.
Features: Lead database, email verification
What makes it awesome: Advanced filtering and sorting of contact/company type, plus it fills out "missing" contact info for your existing lists
Price: Free test run for up to 5 credits, then paid plans start at $79/month for 200 credits.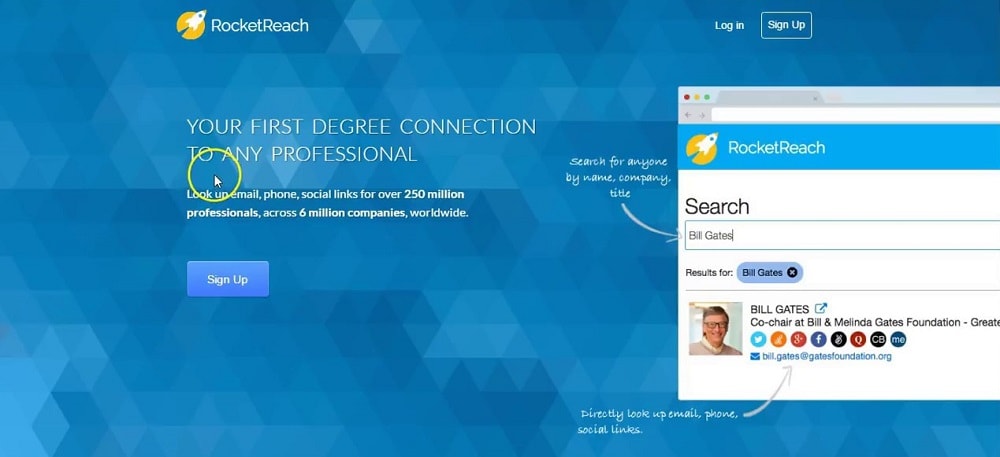 RocketReach helps you find the contact information of leads on social profiles. With their Chrome extension, you can reveal contact details of prospects you're viewing on LinkedIn, Crunchbase, AngelList, and more.
They also offer list enrichment, so if you have an existing list from a conference or some other event, you can easily upload it and they will fill in the blanks.
Features: Contact and email finder
What makes it awesome: Reveals contact information via social profiles
Price: A few initial lookups for free, then paid plans start at $49/month for 170 contact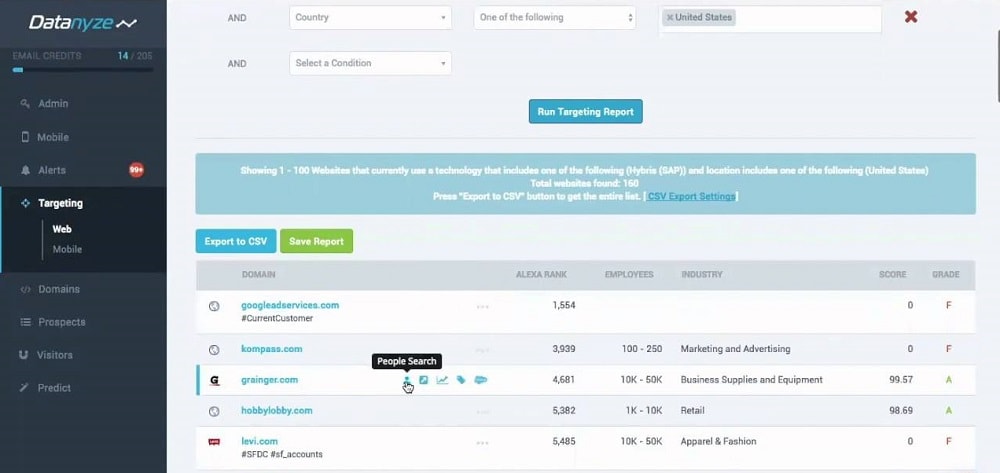 Datanyze goes beyond most prospecting tools in that it also provides you with business intelligence that you can use to help you in sales meetings.
For example, you can easily see what technology your prospect's company is running on their website and what tools they use on their pages.
Another benefit is that you can also see whether or not a prospect's company has recently posted new jobs, which might help indicate what your lead is currently looking for help with.
You can export your leads to Salesforce.
Features: Prospecting tool, contact info (no native email verification, so you'll want to use a separate tool for that)
What makes it awesome: Intelligence meets prospects data (it gives you some interesting facts that may impact prospect's buying decisions)
Price: The sales prospecting Chrome extension is free with a cap, and paid plans start at $600/mo. Cost varies based on company size and needs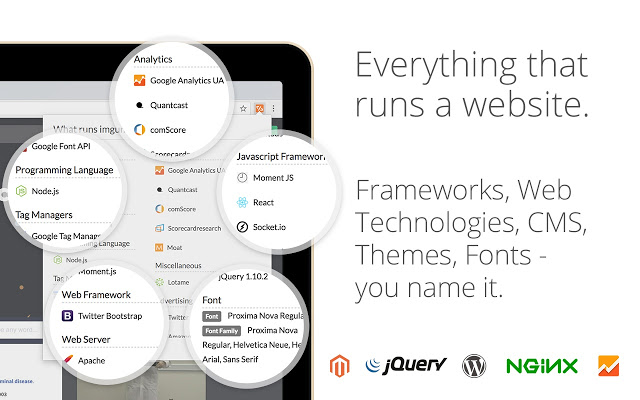 Want competitive intelligence/superpowers while you're prospecting?
This handy (and free) Chrome extension will show you all of the tools that are running on a website.
So, if you have a complementary tool, you can reach out to relevant prospects with this knowledge.
Let's say you discover that your prospect's website is running Google Analytics, and they're in marketing. You could say something like,"If you're currently using Google Analytics and tired of not getting the full story, our tool can help you turn that data into actionable goals and help you recover thousands of dollars worth of lost revenue."
Rather than send a generic email, you'll come ready with instant personalization and value (and you'll be much more likely to get a positive response, as a result).
After all, knowledge is power.
Features: See the tools that are powering any website
What makes it awesome: Competitive sales intelligence without the high price tag
Price: Free (Chrome extension)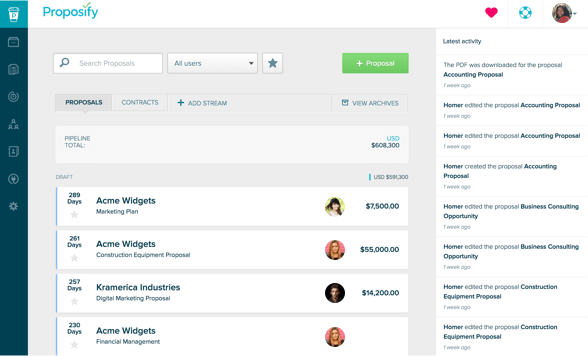 Tired of creating proposals manually, which can take many hours of time and preparation?
If so, it's time to automate that tedious manually process!
As an all-in-one digital proposal solution, Proposify lets you create online proposals for your clients, and keeps you updated along the way. You can also collect payment quickly and easily with their many payment processing integrations.
Features: Easy digital proposal software with smart alerts and payment integrations
What makes it awesome: Digital proposals and invoicing
Price: Plans start at $19 per user per month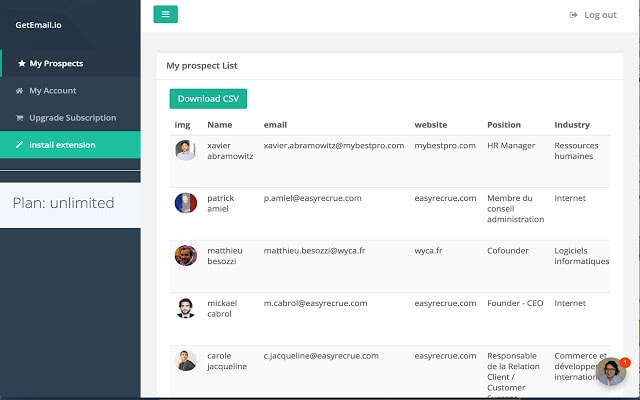 GetEmail is an extension that works with LinkedIn and helps you find the contact details of potential prospects.
You know how not all tools will show you up-to-date emails from LinkedIn?
Well, this tool is well known for displaying extremely recent contact details that may not be immediately obvious to other tools — especially when it comes to LinkedIn data.
One customer on Capterra even said that if GetEmail ever can't find an email, then chances are, the prospect lives in a cave with no email address or internet connection.

According to users, it's just that reliable.
Features: Contact information finder, email verification
What makes it awesome: Ridiculously accurate for finding prospect contact information, and when they're uncertain, they will tell you ahead of time
Price: Free for up to 10 contacts/month, with paid plans starting at $49 for 300 contacts/month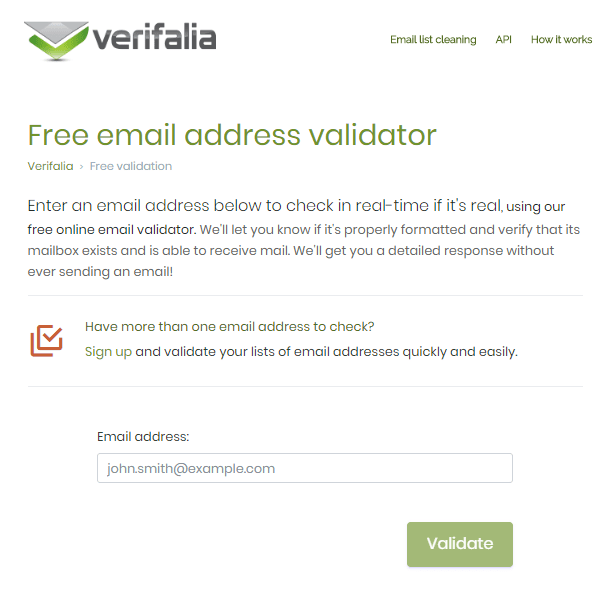 Verifalia has a free email verification tool for anyone looking to verify emails individually, which is pretty cool.
I often find myself going back to this tool for verifying emails on a one-off basis, if I'm looking to check multiple sources before sending out a message.
If you're looking to verify a list of contacts, you may want to look into their paid plans.
They get major points for usability and ease of use; everything is intuitive.
The other thing I appreciate is the fact that they give you a list of factors behind the validity of an email.
After all, determining whether or not an email is valid isn't exactly as straightforward as we'd like to think — the backend has to take into account things like: syntax validation, DNS records, honeypot detection, SMTP server validation, mailbox validation, and more.
Phew! There is quite a lot going on behind the scenes when it comes to email deliverability tools.
If all of those factors make your eyes glaze over, no worries — you can just let Verifalia handle it all for you.
Features: Email verification
What makes it awesome: Ease of use, plus it gives you a list of factors which contribute to their decision of whether or not an email is valid
Price: Free for single contact email verifications. If you want to verify bulk lists, paid plans start at $9/month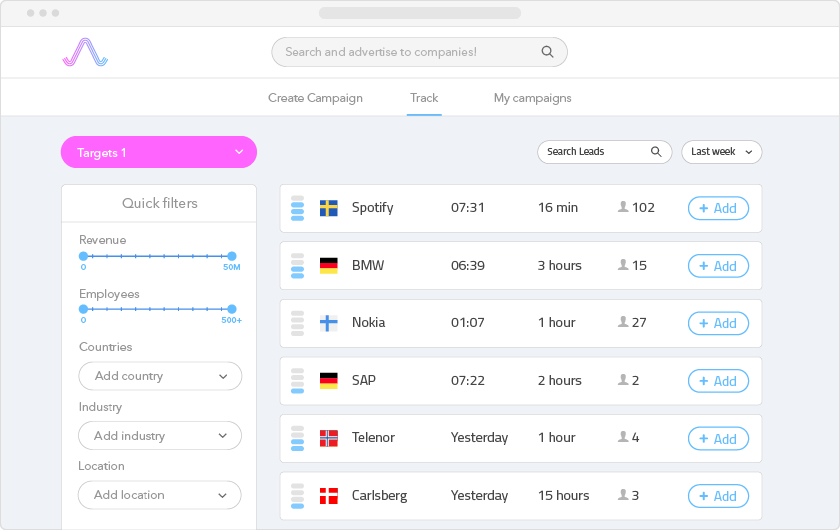 Many deals are won simply by reaching out at the right time.
But you can't always be a mindreader and know exactly when a prospect has an urgent need for your solution (as great as that would be).
With Albacross, you can reach your prospects at just the right time by pulling up a list of organizations that have recently visited your website.
But it doesn't just stop at telling you who's visiting your site ⁠— they also give you suggestions on how to contact them (so that you don't have to do as much digging around).
Features: See a list of recent companies that have visited your website (so that you can contact them at the right time).
What makes it awesome: Want to reach hot prospects at JUST the right time? Ever wish you had a crystal ball?
Price: Pricing starts at $149 a month, with a free trial available.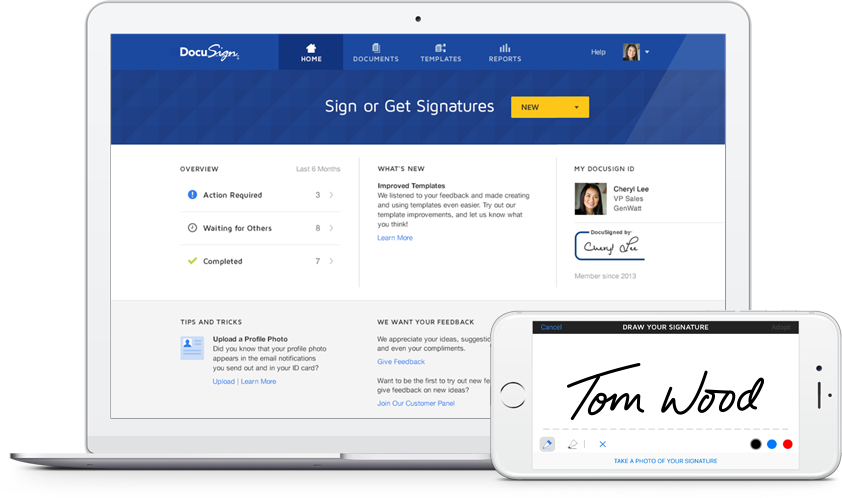 Once a client accepts your proposal, we all know that the deal isn't done yet until they sign on the dotted line (after that, you can pop the champagne!).
DocuSign makes it easy to win the deal by providing simple e-signature software that makes it easy to send any document to a client to sign.
In the past, you may have had to email a document to a client who would then have to scan it and send it back, adding more and more time to the deal timeline and process.
Now, you can send it over digitally and all they have to do is read and sign. Zero scanning or back-and-forth necessary, which brings you closer to the finish line for winning that deal!
Features: Simple e-signatures
What makes it awesome: Flexible e-signature tool that's easy to use
Price: Pricing starts at $15 per month (free trial available).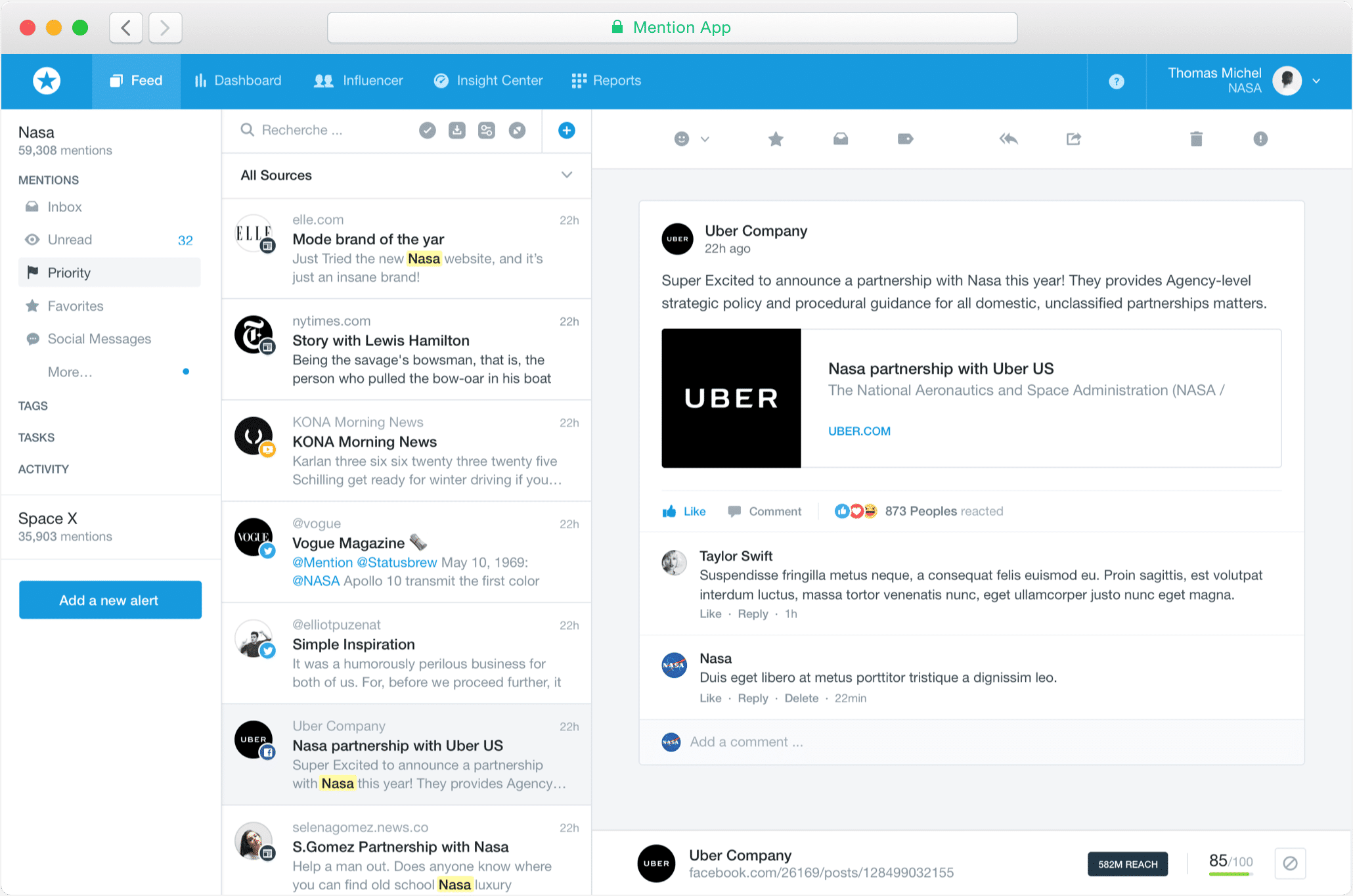 While many marketers may use this tool to monitor brand mentions, it's also used by top sales teams to zero in on brand mentions and then go one step further by engaging with potential customers.
Not only can you monitor your brand mentions, but you can also receive alerts for competitor mentions (for example, if somebody is tweeting about looking for an alternative to a competitor, it is useful to know).
Features: Brand mention notifications
What makes it awesome: Join the conversation whenever your brand (or a competitor's) is mentioned online.
Price: There is a free plan available, and paid plans start at $29 per month.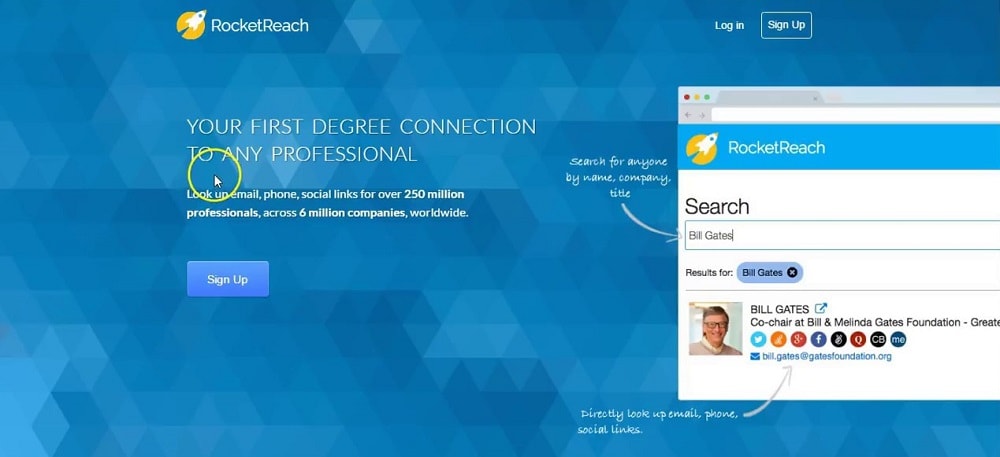 This little Chrome extension helps you in finding contact information for people on websites.
In addition to helping you find the domain owner's contact details, it also shows you estimates for website traffic, plus any other domains that person owns.
This helps give you the full picture and context for that prospect's company (beyond just an email address).
Note: This extension was last updated in 2017, but has raving reviews. To see if it works for you, they give you a chance to test it out.
Features: Contact information from social profiles and sites
What makes it awesome: Domain intelligence (ownership details)
Price: There is a completely free 7-day trial, then the paid plans start at $99 for up to 1,200 queries/mo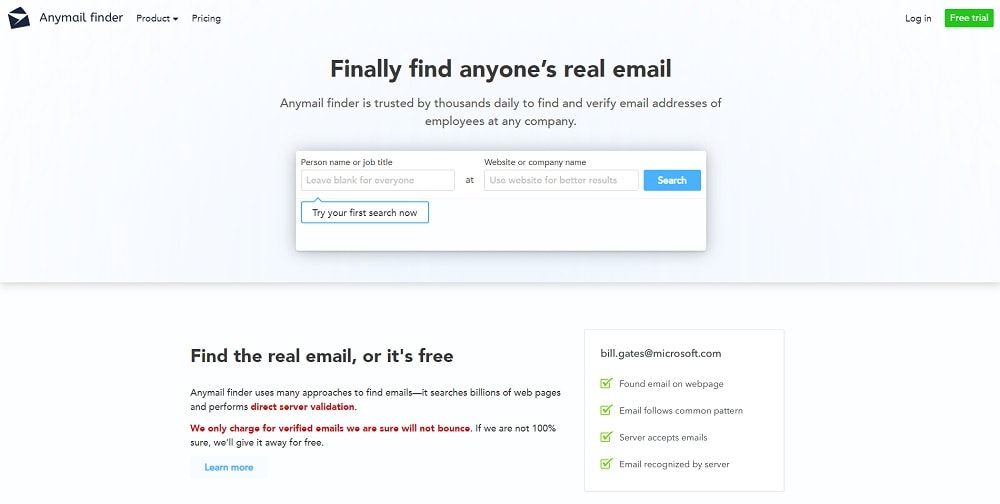 Search for first name, last name, company name of your prospect and it will automatically show you the exact email address it predicts for them (you can also upload bulk lists, for bigger jobs).
Many services that offer email validation make you pay for invalid or uncertain emails (ugh!), but Anymail Finder does not. You only pay for emails they are confident about, so that you don't have to pay for risky/unknown emails.
I like that their pricing system is fair, and with the way their pricing works, it's actually in their best interest to provide people with the most accurate emails. Incentives are aligned to help the customer be successful.
You only pay for emails that actually work, which is pretty cool.
Features: Email verification
What makes it awesome: You only pay for verified emails that they're 100% sure are correct (any emails that are marked as "unsure" are free).
Price: Free for up to 20 emails, then paid plans start at $49/mo for 1,000 verified emails.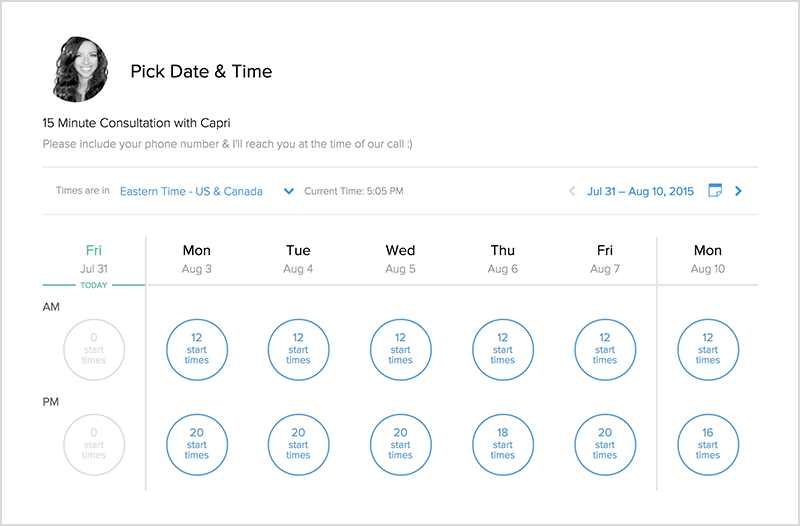 If you've ever scheduled a sales meeting with a prospect and had to find a time that worked for both you and the prospect, then you know how much back-and-forth there can be.
And each message creates more and more work for both you AND the prospect.
Plus, if you're in different timezones, it becomes even more painful and time-consuming (someone might even accidentally miss the meeting due to timezone confusion!).
That's why Calendly is so awesome: simply send over your link, and anyone can find a time that works for them (based on your selected availability, as defined by you).
Plus, calendar invites are sent after they choose their time. It's basically like having your own personal scheduling assistant without the cost or training!
Features: Easy scheduling & meeting booking tool
What makes it awesome: Prospects can book a time on your calendar based on your availability, without as much back-and-forth.
Price: Free version available, with premium starting at $8/user/month.
Conclusion
I hope you've found this roundup helpful. My goal with this resource is to save you many hours of time, and to save your browser from having 20+ research tabs open at once.
Each tool was placed on this list based on experience, research, and review evaluation from multiple sources to help you weigh all factors and save you time.
All in all, finding email addresses for your prospects (and making sure they're accurate and actually delivered) can be a seriously tedious and time-consuming task.
That's why these tools can be absolute life-savers if you and your team would rather be focused on winning deals.
As you scale, adopting time-saving (and revenue-generating) tools is the way to go if a lot of your time is currently being spent on manual work. The more you automate, the more efficient your processes will be.
Over to you: What email discovery and verification tools have you had the best experiences with? We'd love to hear about it, so feel free to share your thoughts and reviews in the comments below!