We see more and more frustrated Lemlist users trying QuickMail every week. Most of them are so happy with QuickMail they upgrade to a paid plan before their trial ends.
This page will explain why virtually every ex-lemlister switched so quickly after discovering QuickMail.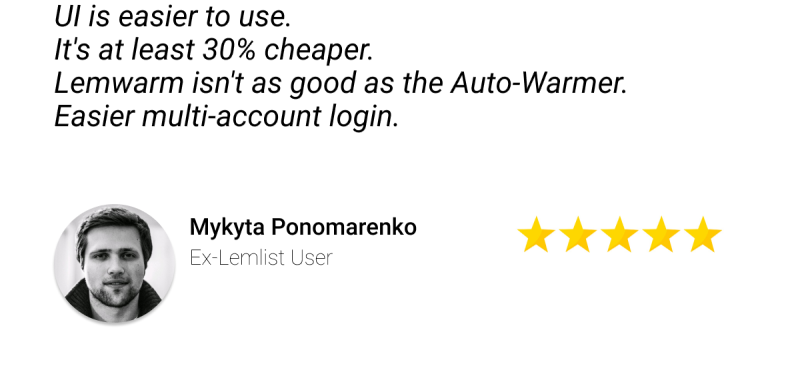 One, never pay for email warm-up again.
Not every Lemlist alternative offers inbox warm-up. QuickMail does.
But we believe that people should not pay for higher deliverability. That's why we automate your email warm-up for free. We want you to win at cold outreach, not at how many tools you're paying for.
Any decent warm-up software is basically a network of inboxes exchanging emails and replying to each other to increase engagement. Not exactly rocket science, despite how Lemlist markets it.
Our Auto-Warmer does everything that lemwarm does and more actually – we exchange emails on your behalf, monitor deliverability daily, unspam your emails in other people's inboxes, auto-archive them, etc.
Plus, unlike Lemwarm, our Auto-Warmer uses business language (not vegetables and animals) so that your warmup emails are in line with your actual outreach emails.
Two, switch between accounts in just a couple of clicks.
If you manage more than one account or inbox, you know what a massive pain it is to switch between them. Not to mention the security risk of sharing credentials with other people.
It takes 2 (two!) clicks and zero typing to switch from one account to another in QuickMail. No logging in and out or juggling browser profiles.
Everyone can simply use their own personal login.
Three, auto-import new prospects directly from a Google Sheet.
With QuickMail, not only can you import prospects directly to your campaigns from a Google Sheet. The whole process can be fire-and-forget.
Authorize access to your GDrive once, and pick a Google Sheet. Prospects will get imported automatically whenever the spreadsheet changes.
So you can say goodbye to tedious and error-prone manual imports every few days.
Four, bring your whole team over at no extra cost.
We charge per inbox, not per team member. In fact, we want you to bring over as many people as you need to get the job done. QuickMail is one of the few Lemlist alternatives to not charge per seat.
With QuickMail, you'll only pay for what you use – the inboxes. One person, five, or fifty – doesn't matter, everybody can have their own credentials at no extra cost. We don't want you to have to choose between paying an extra license or compromise on security.
Plus, you'll have the whole change history at your disposal, so you can sleep well at night. You'll know that if something goes wrong, you can always figure out what happened or who did what.
Five, scale in volume easily and safely.
With QuickMail, you're not limited to a single inbox per campaign.
You can use multiple inboxes per campaign to spread the load across several inboxes. That way, you can increase the daily sending limit of a campaign without risking your deliverability. All with a single click.
Plus, you'll see how much easier it becomes to run AB-tests and make tweaks on a single campaign, not a dozen of them.
Finally, enjoy literally the best customer support.
Our customer support is in the business of solving problems, not marking tickets closed.
Your business workflow is specific to you, so we won't insult you by using canned replies, templates, or asking you to turn on and off your computer.
Basic questions, complex workflows, unconventional setups – you name it. We're here to help you be successful with your campaigns.
Try us, it's on the house.
Those points were only a portion of the feedback we amassed from ex-lemlisters. You'll find many more benefits like the way QuickMail handles automation to save you time and give you full control over your campaigns.
So why not give us a go? All you need to start is a prospect list, an inbox, and the copy for your first email. All of which you already have in Lemlist.
The 14-days trial is on us.